Mat Belcher, London 2012 470 Olympic Gold medal skipper, and training partner crew Will Ryan teamed up in early 2013 and dominated the 470 Men's scene into 2015, winning a record 18 regattas in a row. They won three World Championships but then they struggled a little by their very high standards, missing the top step on the podium at the 2016 Worlds and finishing with a Rio Olympic 2016 Silver medal.
After a long lay-off they returned with their coach Victor Kovalenko to the international Olympic class circuit winning the 2017 Hyeres World Cup in France a few weeks ago with a day to spare. Next up they headed just along the Riviera to Monaco, for the 2017 470 European championships, where they finished third behind two young teams Foch/Dackhammar (SWE) and Pirouelle/Mion (FRA) on the weekend.
A disappointing result, one might think.... 'No,' say all three, it was 'Mission Accomplished'.
Mat Belcher said: 'We knew this would very much be a light wind event, the main reason we wanted to do it, to build our light weather experience and obviously, Monaco was a pretty cool place to visit.'
They were leading the regatta until Thursday, when disaster struck in the second race. As Belcher explains 'A front came though, it was blowing 22-23 knots, with quite big waves. We were winning the race well, over half way through, when the forestay broke, mid-wire.
'Disappointed to have that happen when we were leading but for us it wasn't so much about our performance in heavy weather, we know we are strong in those conditions, it was more about winning in light winds and we did that.
'We left Rio straight after our event and it was difficult with all the post-Olympic commitments to get together and debrief and spend some time looking at what the future might hold and now we've had the opportunity to do that.
The competition was great and we were sailing well and irrespective of the result we need to discover if we still we have the level of motivation required to be on the circuit for three and a bit years, time away from family and everything else. We had a really good time and it was important for our team at this stage to have that experience.'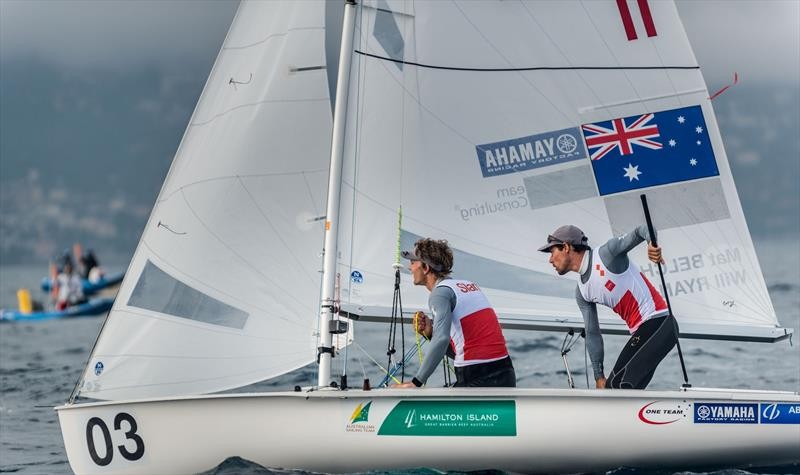 © Mesi: Belcher and Ryan manoeuvring during the Monaco European Championships
Victor Kovalenko added 'I was very happy with the performance of Mat and Will, certainly a step up from last year. They were very switched on. Very sharp and very well prepared and ready to race.
'Mat and his family are settled on the Gold Coast and Mat has been working hard there. At the same time, Will has benefited from a lot of sailing in big boats and MC32 as a tactician and his skills in that area are continuing to grow. He is fresh and in really good shape, very strong. During this Monaco regatta, he was running every morning. He ran 35 km on his day off.
'This regatta was about light wind sailing and in the light, they won races well. The last race was a great example. The Malaysian team were easily the lightest in the fleet and in 3-4 knots they were very fast and led from the start but on the final downwind leg Mat and Will sailed through them. An incredible effort.'
'On Saturday, the race committee was trying to make a medal race in super light conditions, 2-3 knots. Our team had a very good start, midway up the first beat they were leading the fleet and the Swedish team was seventh, so they were in Gold medal position. Of course, the Race Committee sensibly abandoned the race, it was just too light but the quality of their light wind sailing is a strong message for the fleet.
'There are a lot of new young fresh faces in the class, very good sailors. The young Swedes are working hard and they are very good. The class is very healthy now and the management of the class is fantastic. It is really interesting to work in this environment now.'
Will Ryan said 'These two events allowed Mat, Victor and I to re-taste the European competition and see if we felt the team had more development potential. The sailing has been enjoyable and it has been nice to revisit a familiar location in Hyeres and something new in Monaco.
'Even with our minimal training this year we are sailing well as we saw in Hyeres; and having been leading here in Monaco in both the windy race before our forestay broke, and the medal race before it was abandoned, we know we can be competitive. Now it is just about aligning some of the other pieces of the puzzle before making decisions going forwards.'
Kovalenko commented 'We are coming back from this trip very satisfied. After a strong showing in Hyeres this challenging light weather regatta was just what we needed. We had different conditions, light wind, medium winds. We had very interesting combinations of currents and wind but as Will said the more difficult the better because they can show their skill in all conditions.'