Unlike the Men's 470, the Women's fleet has not seen any crew take the bull by the horns and dominate regatta after regatta.
Come race time on Friday 3 August, 20 boats featuring 40 sailors will line up aiming to get a good start in their quest for an elusive Olympic gold medal.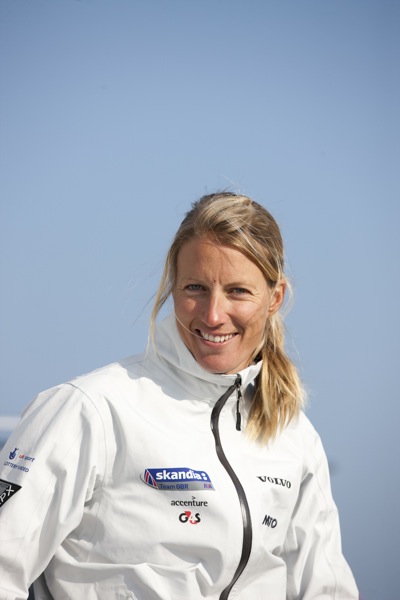 © RYA: Saskia Clark (GBR)

Hannah Mills and Saskia Clark (GBR) come into London 2012 as the Women's 470 World Champions and with that on their shoulders there is an expectation for them to deliver. However the girls won't let that pressure get to them as Mills said, "I really want to enjoy the experience and not get to overwhelmed by it but make sure we're ready so we can sail the best we can in any situation."
Clark added, "Our focus has been to prepare as well as we can for it and turning up and delivering our best performance. I do believe if we did that on the day we'd stand a very good chance of being on the podium."
The Brits enjoyed a terrific tussle with Japan's Ai Kondo and Wakako Tabata at the Weymouth and Portland International Regatta, Olympic Test Event, last year. The Japanese took gold in a thrilling Medal Race on the Nothe Course and will be strong contenders for Olympic gold.
Like Mills and Clark the Japanese pair will be sailing at their first Olympic Games together. Tabata said, "When I started sailing I did not even know there was an Olympic event. So I was just sailing for delight rather than competing. The time is getting close to London 2012 and we just do everything we can do every day."
Five time Women's 470 World Champion Lobke Berkhout won silver at Beijing 2008 with Marcelien de Koning. Berkhout teamed up with Lisa Westerhof after Beijing and the pair hit it off straight away winning 470 Worlds titles in 2009 and 2010. They bring a bronze medal from the 2012 470 Worlds into London 2012 and if the breeze is up they'll be contenders.
Spain's Tara Pacheco and Berta Betanzos took gold at the 2011 ISAF Worlds in Perth, Australia last year and can mix things up at the top of the fleet. Jo Aleh and Olivia Powrie (NZL) have a regatta victory on Weymouth waters and bring that confidence into the competition.
Sydney 2000 Women's 470 gold medallist Belinda Stowell (AUS) and Beijing 2008 Women's gold medallist Elise Rechichi (AUS) have the knowledge and know how when it comes to winning Olympic gold medals. Stowell comes into the Games fresh from a back injury but nonetheless is prepared,"The back's really strong," she said. "I'm glad to get it back to full strength. It's been a systematic progression back to 100%."
At 18-years-old the youngest sailor in the fleet and the competition, Lara Vadlau (AUT), will make her Olympic Games debut two years on from winning gold at the Inaugural Youth Olympic Games, Singapore 2010. Vadlau said, "The Youth Olympics was a really great event but the jump to the 470 was to a much higher level. It won't be easy at London 2012 but I think we can do a good job."
One year on from Singapore 2010 Vadlau won gold in the 420 Girls at the 2011 ISAF Youth Worlds and took one of the final qualification spots for London 2012 at the 2012 470 Worlds in Barcelona, Spain. She will sail with 25-year-old Eva-Maria Schimak.
The Women's 470 fleet set sail at 12:00 local time on Friday 3 August on the Weymouth Bay West Course. The fleet enjoy a lay day on 6 August before racing resumes on 7 August. The Women's 470 will play to the Nothe Spectator area on 10 August where the gold medallists will be decided after the Medal Race.