11 January 2014

The Bloody Mary Pursuit Race was held for the 41st time on Saturday at Queen Mary Sailing Club attracting 332 entries in 66 classes from 110 clubs all around the country. With the latest bout of stormy weather having passed through a few days earlier, the race was run in glorious sunny conditions a light breeze that was forecast to die off during the day.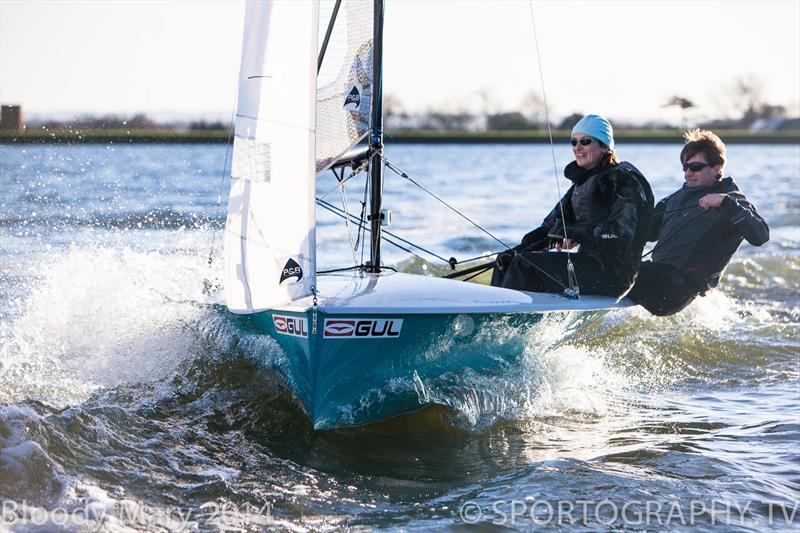 The Toppers, with the largest fleet of 34 entries, was led off the start by Michael O'Driscoll from Crawley Mariners. As the event unfolded an RS feva sailed by Will Taylor and George Catchpole took the lead after about an hour. The Solo of Michael Sims was closing fast with another Solo sailed by Tom Gillard right behind. The Lasers lead by Craig Williamson were also in contention.
With 24 minutes to go the National 12 of Graham Camm and Zoe Ballantyne which they maintained to the end. It's a fantastic result for this super National 12 pair who can now claim to have won the Bloody Mary twice!
In the closing stages of the race Tom over took Micheal in the Solos and two International 14's stormed through into the top 10 as the wind stayed fresh throughout the race.
Overall Results: (top ten)
1. Graham Camm and Zoe Ballantyne, Burghfield, National 12
2. Jon Ibbotson and Charlotte Stewart – Ranelagh SC – National 12
3. Paul Bartlett and Greg Bartlett – Starcross YC – Icon
4. Ben McGrane and James Hughes – Netley SC – Int. 14
5. Archie Massey and Harvey Hillary – Itchenor SC – Int. 14
6. Thomas Gillard – Sheffield Viking – Solo
7. Craig Williamson – Staunton Harold – Laser
8. Rob Cage – Thames SC – Laser
9. Nick Copsey and Luke Lazell – Hunts SC – National 12
10. Michael Sims – Carsington SC - Solo
First Lady helm was Karyna Manuel, Grafham Water, Laser Radial
First Queen Mary Helm was James Baxter, Laser
First junior was Will Taylor, Alton Watersports, Feva
Winner of the Grand Master prize was Richard Marshall, Poole YC, Osprey
Class Prizes:
29er - Matt Venables & Curtis Mearus from Sulton
Laser Radial – Karyna Manuel from Grafham Water
Merlin Rocket – Nick Craig and Toby Lewis from Frensham Pond
Musto Skiff – Ben Schooling from Datchet
RS200 – Paul Hammett and Crew from HISC
RS400 – Richard Gray and Jon Dyas from Queen Mary
Topper – Michael O'Driscoll from Crawley Mariners
Enterprise – Ann Jackson and Alan Skeens from Burghfield


FULL RESULTS HERE: http://www.thebloodymary.org.uk/results


Finally in the Ultimate TracTrac Battle of 'Topper v Moth' there was a big prize giving cheer as the Topper won on the day. Follow the link below for Tracking replay.

www.tractrac.com/index.php?page=clubpage&id=20