I did this interview with Andrew 'Bart' Simpson in 2008, a few weeks before he and Iain Percy would go on to win gold in one of the closest fought Olympic battles ever seen. At the time I spoke to Bart, there seemed little prospect of gold in China. This interview was originally published in Yachts & Yachting magazine...

INTERVIEW WITH ANDREW 'BART' SIMPSON, PART 1

Could there be any reason to believe that a team that had just finished 52nd in the Star World Championships had any hope of winning a medal at the Olympic Games later in the year? On the face of it that question seems like a no-brainer. How could any team have serious designs on a top three at the Games, let along winning gold? But if you know that the team in question is Iain Percy and Andrew Simpson, and you know anything of what these sailors have achieved, then you might change your view.
Since Andrew 'Bart' Simpson took over from Stevie Mitchell at the beginning of 2007 to start crewing Percy in the Star, it has been a rollercoaster ride for the 31 year old from Dorset. When Percy and Bart teamed up they were still in the thick of an America's Cup campaign with +39 Challenge, the ill-fated, underfunded, mismanaged syndicate from Sicily.
Those were frustrating times for Percy and his crew of former Finn sailors, but it did at least allow him to see first-hand the windspotting and strategic abilities of Bart Simpson. These two have long been good mates, dating all the way back to their rivalry as teenagers in the Laser RYA Youth Squad in the early 90s. It's not always a safe bet forming a sailing partnership with one of your best mates, but Percy saw in Simpson a special ability for sniffing out the breeze, a valuable commodity in short supply at the dubious Olympic venue of Qingdao.
The +39 Challenge did not fare especially well in Valencia, but then it would have been a surprise if it had worked out otherwise. However, the team's early exit did release the underpractised new partnership for some valuable weeks' training building up to the ISAF World Championships in Cascais. Revelling in the strong breezes, which has always been Percy's strong card, Percy and Simpson bagged a bronze medal.
In the autumn the British Star crew led the European Championships at Lake Garda for a good part of the week, despite running aground during one race. Going into the final race they held a slender two-point lead. However it was close stuff and in the end a fifth in the last race relegated them to another bronze medal position. Not too shabby for a first season together though.
One of the weaknesses that they picked up on at Garda was a lack of downwind boatspeed in the lighter conditions. Over the winter they have been working hard in Valencia and Miami on overcoming such weaknesses, not least in developing a new boat with out-of-fashion German boatbuilder Mader, aided by technical input from Juan Kouyoumdjian, the Argentinean designer with a strong pedigree in the Volvo Ocean Race and America's Cup. In a fleet where the accepted norm is either an Italian Folli or Lillia hull, this is a brave and risky move in search of something special for Qingdao.
When the Brits found themselves leading the Bacardi Cup earlier in the season, the signs appeared good for the new boat. Percy and Simpson reported exceptional downwind speed – so last year's problem solved – but at the expense of upwind pace. On the final day a Portuguese team overtook the Brits who had to settle for runner-up. Not a bad result, you might think, but Percy and Bart weren't comfortable with the new boat. Back to the drawing board.
This meant they had to charter Iain Murray's second boat as their competition boat for the World Championships in Miami. Despite this, Percy and Bart were bullish about their chances. Even in a borrowed Lillia they were proving fast in training. Come competition time, though, it was a different story.
"It's pretty hard talking about it, to be honest," said Bart a couple of weeks after Miami. "We were feeling pretty good going into the Worlds, we were winning most of the training races every day. It was one of these weeks where whatever we did seemed to go against us. On the start line it would wind 45 degrees right and you'd be stuck, unable to get out." They were over the line in another race. "We managed to get an OCS for a third-row start which was pretty impressive. I think just about everyone was OCS, but a lot got away with it." They had gear failure in another race, when an upper shroud terminal snapped on their new mast. The silver lining was that they managed to save the rig, even if they had to retire from the race.
The one really bright moment came in race 5, which they won. "We were fast upwind in the lightest race of the week, sailing away from the fleet," says Bart. Which begs the question, if they have world-class pace in a borrowed Lillia, can they really hope to do better with their development Mader? "We're working on getting the new boat right, we've made a few changes. Mader has been fantastic, and it's been great working with Juan K, having the input of somebody who's so clued up about these things and who is a good Star helmsman in his own right. If this other boat can come good, then great, we'll take it. Otherwise we've got a great back-up boat [a Lillia hull] ready to go."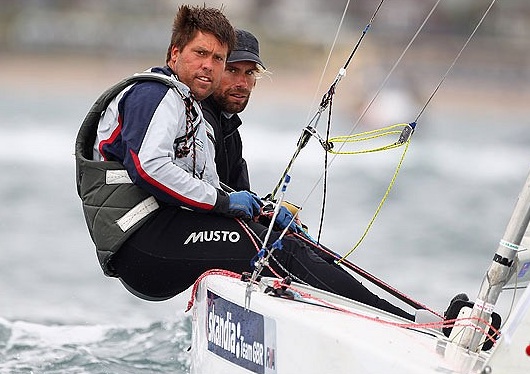 Andrew "Bart" Simpson - © Getty Images
Time is running out though, as Bart freely admits. They were about to embark on some intensive testing at Weymouth in early May before heading off to the Breitling Regatta in Holland for some more race practice. Which they boat they take to Holland depends on the result of that testing in Weymouth, but they know they will have to decide soon about which boat is going to get packed up for the slow boat to China.
So this year is hardly going to plan, but there is no sign of this causing cracks in the partnership. They have, after all, been the best of mates for the best part of 20 years. Their paths first crossed in the junior classes, the Optimist and then the Laser.
It all started for Bart when he went sailing with his dad in a Seafly out of Christchurch, aged just six. He did a bit of club racing in an Optimist at Datchet Water, before doing his first championship, the Optimist Nationals in 1985. He finished 94th out of 95. Hardly a morale-boosting performance at the tender age of 9, but Bart says: "It was all too new and exciting to give up, I wanted to find it out more about it." He was a fast learner, winning a race at the Optimist Nationals a year later and finishing 13th overall. A massive improvement, which he credits to a nucleus of keen and enthusiastic Optimist sailors at Datchet. However, he didn't get much better over the next few years, and it wasn't until he switched classes to the Laser that he realised why. "I got too big for the Optimist when I was still quite young," says the big-boned Bart. "I didn't realise it at the time, but once you get over 8 stone you're really struggling to be competitive in the Optimist."
So when he changed up to the Laser Radial, it was a pleasant surprise for Bart to find himself beating other Oppie graduates whom he had considered to be the better sailors. He discovered he wasn't such a bad sailor after all, now that he was back in competitive weight territory once more. However he still wasn't that focused on achieving anything in particular. He crewed a 470 at Datchet with Charlie Walters (who still sails at Datchet and won the 505 Nationals a few years back) and learned a bit of team racing at boarding school in Berkshire.
Going to a Laser qualifier at the age of 14 made quite an impression on Bart though, especially the performance of Kiwi sailor Nik Burfoot who had come to live in the UK for a couple of years. "I think he won just about every race of every qualifier for a year in the UK. It was quite interesting to see what the British guys thought was good and what was actually good in world terms."
A year later Bart was contesting the Youth Trials at Lake Bala. Amongst his rivals – Iain Percy and Ben Ainslie. And the finishing order? 1st Simpson, 2nd Percy, 3rd Ainslie. Bart and Percy finished on equal points but Bart's victory in the final race gave him the series on tiebreak. It didn't earn him selection for the ISAF Worlds however, as the selectors decided to give Percy the nod. "I was pissed off," says Bart. "I didn't sail for a year." Pissed off at Percy? "No, pissed off at the system. But to be honest he was very good. I was quite good on lakes and it was at Bala, but all round, Percy was the better sailor," concedes Bart generously.
Ironically it was the Bala showdown which forged the friendship between Bart and Percy, and Ainslie too for that matter. But what was it that brought Bart back from his self-imposed exile from the sport? "The Laser Europeans were at Hayling the following year, and at that point I was still not too heavy." Note the choice of words there. Just half way through his teen years, and already Bart was outgrowing the Laser. He finished 17th, not too bad for someone who'd barely sailed in a year.
With another year to the Olympic trials, Bart would have liked to put more time into the Laser, just as all his friends were at Stokes Bay or Weymouth, but he was still at school. Having got his A levels out of the way, he put in a few months' hard work before the Weymouth trials in autumn 1995. "I was actually leading the trials half way through the week, which was quite bizarre," Bart recalls. He slipped to 5th overall by the end, with the teenage talent Ben Ainslie earning the right to represent Great Britain in Savannah a year later.
The following few years were taken up with university, and a bit of Laser sailing on the side. Bart finished 5th in the 1999 Laser Worlds, but beating the ever-improving Ainslie was never on the cards. Instead he jumped into a Finn for the first time at the Olympic trials in Weymouth in early 2000, and found instant speed – probably something to do with being in a boat that properly supported his by now fully-grown, XL bodyshape. Iain Percy's selection for the Sydney Games was never in doubt, but Bart got his first taste of the Olympics when he went as tune-up for his friend.
With Percy winning gold in Sydney and duly retiring from the Finn to take up his Star campaign with Steve Mitchell, Simpson could now see a path towards Olympic glory in Athens. He was the No.1 Finn sailor in the country. He notched up a number of respectable results, a clutch of podium positions at ISAF Grade 1 events and runner-up at the Europeans in 2001.
Meanwhile, Ben Ainslie had won his gold medal in that epic match race against Robert Scheidt in Sydney Harbour and had been snapped up by America's Cup team OneWorld in Auckland. However, this proved to be an unhappy experience for the young Briton who resigned from the team in early 2002 to embark on a late run at the Athens Olympics, not in the Laser which he knew so well, but in the Finn.
Ainslie made an instant impact on the Finn fleet, winning the Finn Gold Cup at his first attempt and establishing himself as the dominant force in the men's heavyweight singlehander. Suddenly Bart's grip on Olympic selection looked nothing like so secure. How did he take to Ben coming in and taking over 'his manor'? "Not very well. I was a bit peeved, because he's a friend. But you've got to race people regardless of who they are. Sometimes it's hard to be as ruthless when you're racing against your friends. So no, I didn't deal with it that well, to be honest."
By the end of 2002, Bart's sailing and his results had gone downhill. "I ended up trying to beat Ben rather than trying to sail my best." He took himself to a psychologist. "I wasn't thinking the right things. He taught me to refocus on sailing the best you can rather than trying to beat anyone else. He helped get my brain back on track, and I made some steps forwards, focusing on improving my own performance rather than worrying about anyone else."
Read the rest of the Bart Simpson interview...