The central Solent has a reputation as being a complex place in which to sail, but many of the local wind effects are not difficult to figure out. Rupert Holmes looks at Solent Sea Breezes and Norris Nadgers.
Solent Sea Breezes
The presence of the Isle of Wight has a significant effect on the formation of sea breezes in the Solent area, which take longer to get properly established than elsewhere on the south coast. On a day in which a sea breeze is likely to form – usually a warm sunny one following a night with light northerly breezes – keep an eye on cumulus cloud forming over the land, particularly on the mainland. This is a key indicator of conditions that will lead to a sea breeze – and the period of calm that may precede the new wind.
The eastern part of the Solent is likely to be the first to experience the sea breeze – usually as a south-easterly that gradually makes its way past Ryde and towards Cowes. However, at the same time there's a tendency for a sea breeze to also build in the western Solent. Initially this is likely to be weaker than that in the east, but as the day wears on, the cumulative driving forces behind the south-westerly breeze in the western Solent become progressively stronger.
The net effect is often a dead patch in the central Solent as the early south-easterly loses its battle against the incoming south-westerly breeze. Keeping your eyes out of the boat and looking for changes in the wind patterns both to the east and west of where you are sailing helps enormously in being able to set yourself up in the best place for the new wind when it arrives.
Norris Nadgers
These are the gusts of wind – interlaced with holes – that form off the high ground at East Cowes in offshore winds. The tall trees, combined with land that falls steeply into the coast, mean that even in strong south-westerly winds there's very little breeze close to the shore.
However, it's easy to read the wind on the water here – both as a wind line defining the relatively calm zone inshore and as the bullets of left-shifted pressure further offshore. Even with a small crew it's therefore essential to have a crewmember dedicated to calling the wind here – the gusts are very visible on the surface. In strong winds the wind increases considerably immediately west of the headland at East Cowes, so be prepared to change gear on sail trim.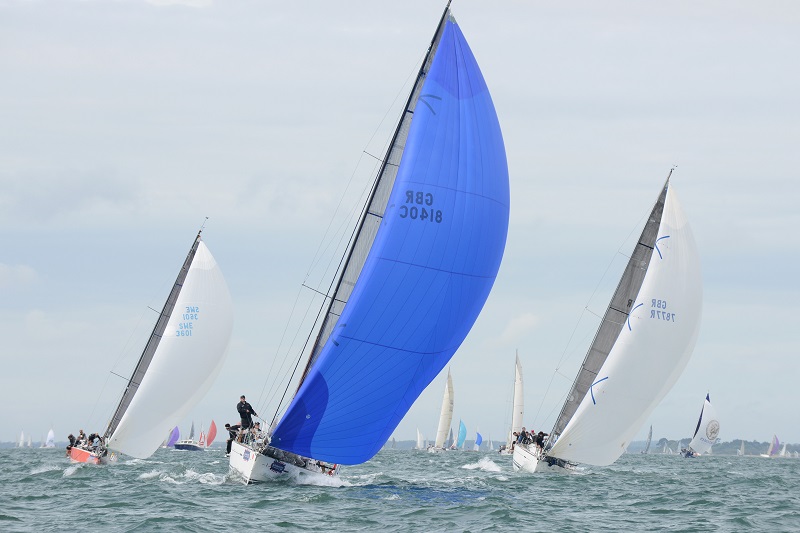 Managing the Local Wind Effects while Racing at Aberdeen Asset Management Cowes Week - © Rick Tomlinson