Draycote Dash Pursuit Race 2018 – perspective of a Musto Skiff…..
I always enjoy a pursuit race, being in a faster boat there's something very satisfying about overtaking boats whilst dynamically planning and changing your race strategy. The Draycote Dash is one of the most challenging and always involves multiple marks – this year was 12 – with a range of angles over the numerous legs. In Musto Skiff events we only ever complete monotonous windward / leeward courses so this format is refreshingly different and provides a real opportunity to practice boat handling and tight reaching.
The first part of the day was to try and memorise the course and I spent 20 mins with RS800 team of Ralph & Sophie Singleton over a cup of tea learning and rehearsing the order of the marks. Although starting late we have lots of boats to follow it helps to visualize the course and make a shore based judgement over whether the kite can be held on the reaches.
Pre start I drank most of my Selden water bottle and took two energy gels as there would be no chance during the race to take any fluids on. The Musto datum was on 45 minutes so I started my watch with the normal 5,4,1 countdown mode on 40 mins so that it would give me the warning beeps in the last minute and then count up the elapsed time from our start gun – I had 75 mins left to catch the leaders!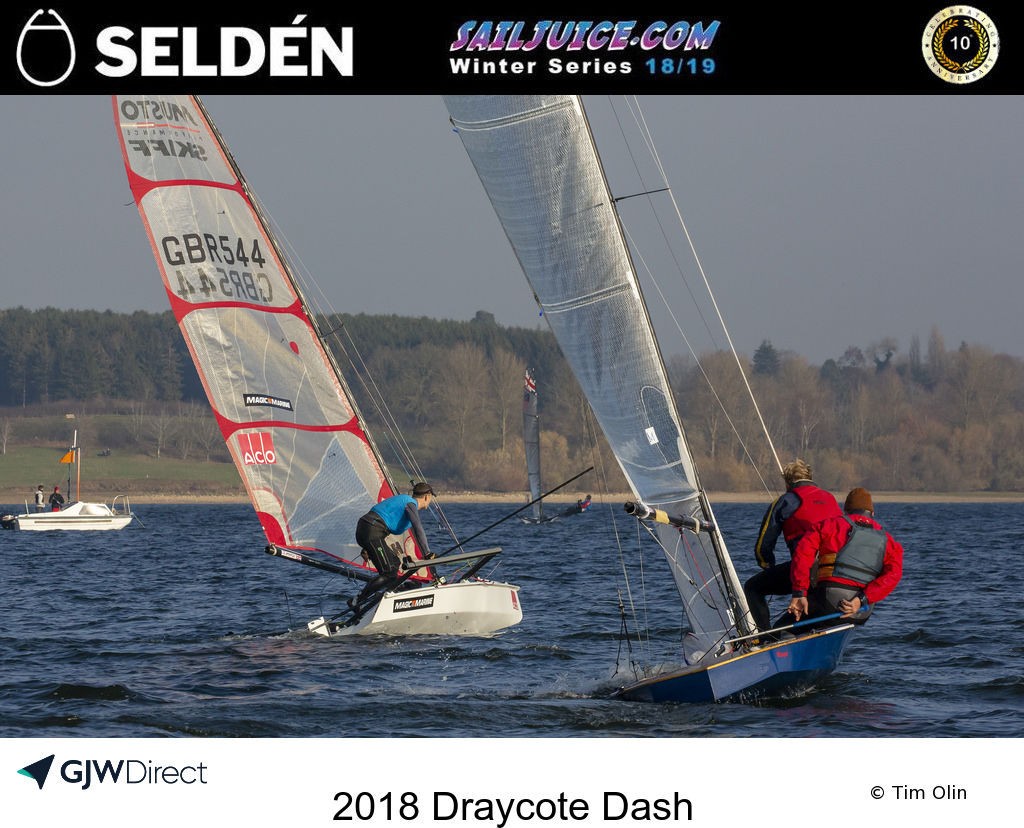 It was nice to start with only 2 other boats, Andy and Stuart rather than 32 the previous days' fleet races - getting off the short line was the hardest challenge with boats with soft mainsails able to hold station much more effectively than those with fully battened sails such as the Skiff. After the start the immediate focus boat was Roger Gilbert & Ben McGrane in the 505 as they're excellent sailors and it's always helpful to have a target boat to aim for. It took me 7 legs and 24 minutes to get past with their combined tactical experience making it rather tricky as they came back through twice on the beats.
The next challenge was the RS400s and Fireballs which seem to clump together and are particularly sharp on their rules. Fortunately I was able to get past most of them on the run but had to sail pretty hot angles to keep clear enough to windward to avoid any potential luffs. My philosophy in a pursuit race is to try and avoid getting into any compromising situations and essentially sail wide and clear enough not to affect anyone.
Pete Gray and the team in the National 18 can also be tricky to navigate around but fortunately I passed them to windward on the longer starboard reach and with the majority of the faster boats now dealt with my focus shifted to keeping the beats simple. I would normally play the shifts more but was favouring keeping clear air and staying out of way of Lasers and Solos which can tack very quickly and often without warning.
With 20 mins left it felt like I was about half way through the pack but I was wary the first hour of the race had been windier and the breeze was starting to fade so the front runners might be too far ahead to catch. With this on my mind I nearly came unstuck at a starboard windward mark, the unfamiliar rounding catching me off guard and forcing a crash tack. Fortunately I got away with it and that focussed my mind and got the concentration back!
With 10 minutes left I could now make out the front runners, a couple of 2000s and the Laser of Alistair Goodwin who I knew were my main rivals. I glanced back to see that the pink spinnaker of the Singleton's RS800 was a safe distance behind so pressed on passing the Enterprise of Anne Jackson with around 7 mins to go.
With a short beat up to the lightest part of the course on the far shore I was worried that I had too much left to do but the wind fortunately stayed up. I rounded in a helpful gust and with 4 mins left popped the kite for the last time and pushed hard downwind gybing to stay in the pressure. At the last leeward mark I'd managed to overhaul Alistair and with less than a minute to go it was just the 2000 of Jasper Barnham and Serena de Nahlik left to pass. I rounded and footed off into low and fast mode with the finish RIB's in sight and with 10 seconds left I squeezed through the lee of the 2000 and took the gun. What a great race, physically and mentally draining! I was thrilled as I'd come really close to winning the pursuit back in 2013 finishing 3rd behind Pete Gray and Mike Simms so it was nice to finally clinch it.
Thanks to my sponsors SpeedSix and Magic Marine and event sponsors Sailjuice, SailRacer Selden and Fernhurst books and of course the team at Draycote Sailing Club for running another flawless event. I look forward to seeing you at the next round of the Winter Series at Datchet Water on 8/9th December.