A month ago I was commentating on an eSailing regatta at the RYA Dinghy Show in North London. Up on stage behind their ipad 49ers were up-and-coming 49er talent Elliot Wells alongside our British Olympic reps in the 470, Luke Patience and Chris 'Twiggy' Grube, flanked by the recently crowned Nacra 17 World Champions John Gimson and Anna Burnet. It was an innocent game staged in more innocent times. No one really cared that Patience won the game. Except for Patience.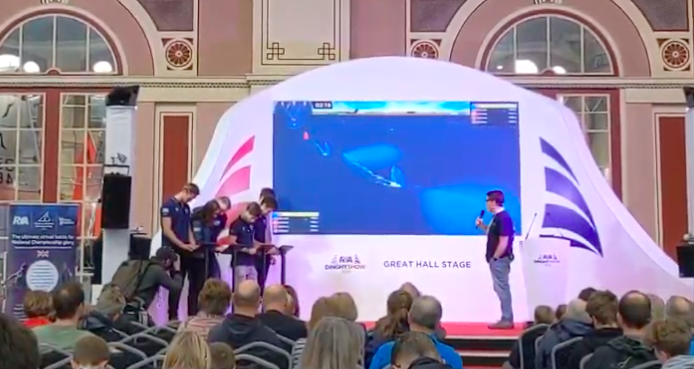 How things have changed in the world since. The coronavirus looms over everything we think and do. For Olympic athletes of all disciplines, they now have an extra year to hone their skills for Tokyo 2021. However, with no clear end in sight for a lockdown that is affecting more than a quarter of the world's population, desperate times are calling for desperate measures. Word is that eSailing will be used as the determining factor in who qualifies the final remaining spots for the Olympic Regatta if water sailing regattas can't be held. Yes, re-read that last sentence again. eSailing and Virtual Regatta to decide the outcome of your Olympic campaign!
For students in the UK building up to their GSCE and A Level exams this summer, such an extreme solution might not seem so alien. After all, with no prospect of being able to sit in packed exam halls this June, teachers are now being asked to award the grades that they believe each student would have earned in a formal exam situation. Think about it... baking a cake for your teacher could lift you up a grade! Strange times indeed.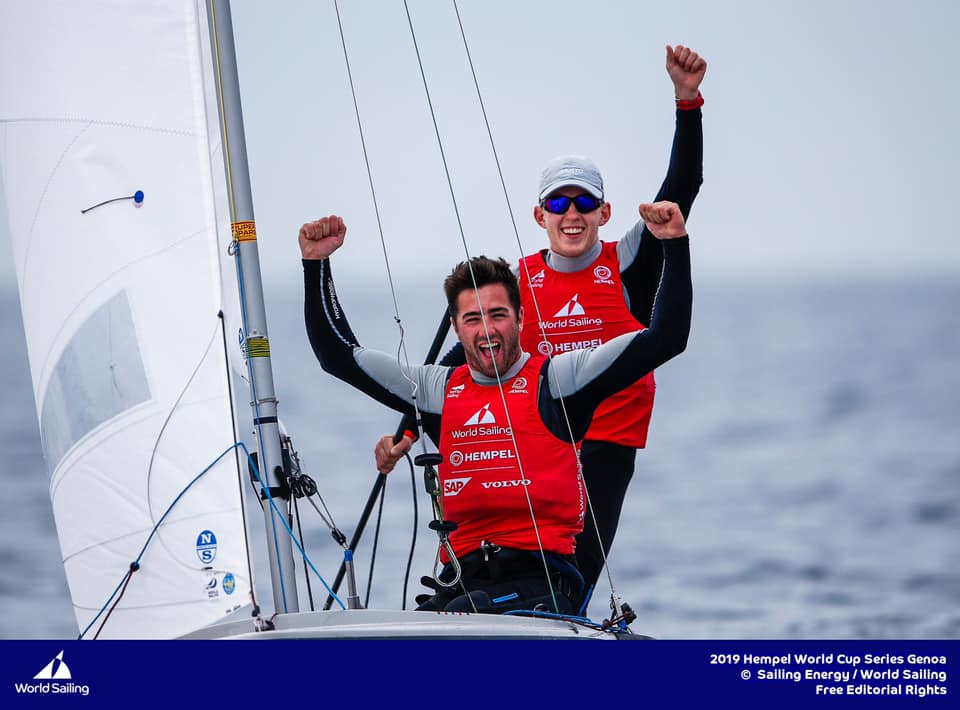 Greg Siegwart: ready to make the transition from one sitting-down sport to another
If such extreme measures are good enough for deciding the future for students, perhaps eSailing is good enough for Olympic aspirants? The Brits can sit back and bask in the fact that they qualified the nation in all 10 sailing disciplines as far back as the combined World Championship in Denmark in the summer of 2018. On the other hand, less than two weeks from today, 16 different nations had been due to be gunning for one remaining European spot in the singlehanded Finn class. That penalty shoot-out was due to take place in Genoa, in the north of Italy. I was due to be working as part of the commentary team there, as I did last year. If the wind were to repeat itself from 2019, I think I might prefer my chances on Virtual Regatta rather than placing my Olympic destiny in the unpredictable hands of those swirling zephyrs that bedevil what is often a windless corner of the north Mediterranean.
So, will Olympic futures really be decided on an ipad? And which tablet or smart phone will prove superior? Where 470 sailors are used to considering the pros and cons of a Ziegelmeyer or a Mackay hull, now they will be feverishly trialling Apple iPads against various Android offerings such as the Galaxy tablets made by Samsung. But maybe not the Huawei tablets, for fear of interference in gameplay by the Chinese government.
World Sailing opened the door for this possibility in 2017 when the sport's forward-looking governing body adopted the 'Sport, Nature, Technology," and began e-gaming. In fact, a senior member of the World Sailing leadership team has been keen to use more e-sailing regattas in place of on w-sailing (water sailing) regattas to enhance its sustainability claim in the sponsorship marketplace. "We've been pushing Virtual Regatta hard to ensure the racing is as similar as possible in e-sailing mode as w-sailing mode to ensure fairness across both platforms," said the leader who wished to remain anonymous.
I contacted a few sailors for comment but most of them hadn't heard any such mention of this virtual alternative to real-world sailing qualifiers. It was news to Swiss 470 sailor Grégoire Siegwart when I spoke to him, although he was surprisingly relaxed about the news. "I finished 50th at the e-Worlds last year but since we flew back from Palma [after the recently postponed 470 World Championships] I have been playing a lot on Virtual Regatta. I would say there are many advantages, a much cheaper campaign, much more eco-friendly, everyone has the same chance to win as you don't need a new boat and obviously many more people can seriously e-race at a high level."
When I mentioned Patience's victory at the Dinghy Show, Siegwart responded: "I think that Luke saw this coming. I was certain that sailing was going this way and I have been sailing the 470 for the past few years really so I could learn the best tactical moves from top sailors like Luke, and apply those skills to my e-sailing. The tactics translate really well from the water on to the digital playing field."
For someone who has won an Olympic silver medal in the real world [470 - London 2012], Patience is refreshingly open minded about such a big step, were it to happen. "Taking our sport into the digital arena has massive advantages. It's a saving all round and means I can race guys like Greg hard on the race track but don't have to endure him shouting at me! More seriously though, as a slightly older sailor in the fleet it would mean I can spend more time sailing and less time in the gym."
Patience is one of a number of British sailing stars set to compete in a demonstration event online later today: https://www.yachtsandyachting.com/news/227907/The-cr%C3%A8me-of-UK-dinghy-racing-virtually-set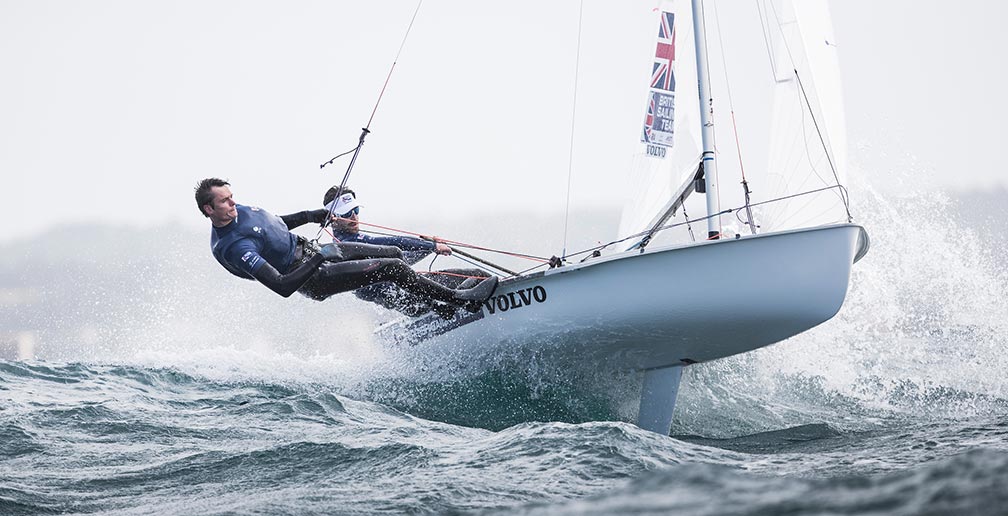 © RYA: Is e-Sailing really a viable replacement for the white-water thrill of taking on the elements in the 470? Images like this could soon be a relic of the past
Manager of the 49er and Nacra 17 classes, Ben Remocker, spoke to me from Vancouver. "I don't see why it couldn't be decided this way," he said. "Whenever there is a new class in sailing, you see the specialists come to the fore at the beginning but gradually the best sailors work out a new challenge and the cream always rises to the top. I think we'll see the same if sailors are forced to learn their craft on a digital tablet. And anyway, most of these millennials spend more time with their face in a screen than proper sailing. 49er sailor Bart Lambriex (NED) placed 7th at the 2019 e-sailing world championship and he did it without training too much. The skills from real sailing and e-sailing are quite transferable." This switch to a virtual race could prove hard for older sailors like Santiago Lange, although fortunately the 58 year old Olympic gold medallist from Rio 2016 has already qualified in the Nacra 17 for Argentina. This could play well with the International Olympic Committee and the Olympic Movement generally, which prides itself on bringing the world's youth together. A move to digital could be one way of putting the older heroes out to grass once and for all.
Of course you might be forgiven for thinking that this whole idea is pie in the sky. Except that... World Sailing announced just a couple of days ago that it had upped the stakes with its partnership with Virtual Regatta and invested further in bringing e-sailing as an accepted w-sailing alternative.
"eSailors can compete at Trofeo Princesa Sofia Iberostar on Virtual Regatta from today (Monday 30 March until 3rd April), at the Hempel World Cup Series, Genoa from 11th – 18th April, and at Kiel Week from 20th – 28th June, while other events will be launched at a later date.
"Both World Sailing and Virtual Regatta have worked closely with each regatta to recreate each one as a virtual racecourse, available for eSailors all over the world to take part in."
https://www.sailjuice.com/articles/iconic-olympic-class-regattas-launched-virtual-regatta
Although there is no explicit mention of using these regattas for Olympic qualification, it doesn't take much of a leap to see the direction of flow here. The attention to detail that has gone into these virtual race courses would surely only be worth doing if there were bigger plans in play.
Whilst it's easy to disagree with such a radical step, one can also understand the pressure that the authorities must be under to make things work in the coronavirus era. If the qualifiers do go down the digital route, I hope that we get to see these races played out on big gaming platforms like Twitch. Teenagers already compete for huge sums in live-streamed finals of ragingly popular games like Fortnite. Have a gander at this article to see what Egal Bernal earned for winning cycling's most coveted prize, the Tour de France. And then compare that poultry sum with what a 16-year-old gamer named Kyle "Bugha" Giersdorf earned for winning a game of Fortnite!
https://www.cyclingnews.com/news/tour-de-france-a-lot-of-work-for-a-relatively-small-prize/
Suddenly, flipping the digital switch on sailing doesn't seem so silly after all! Could it really happen? What do you think? And which sailors do you reckon would make a successful switch from carbon tiller to touchscreen tablet? I'd love to get your feedback.
Go to my Facebook page and join in the debate: https://www.facebook.com/SailJuice/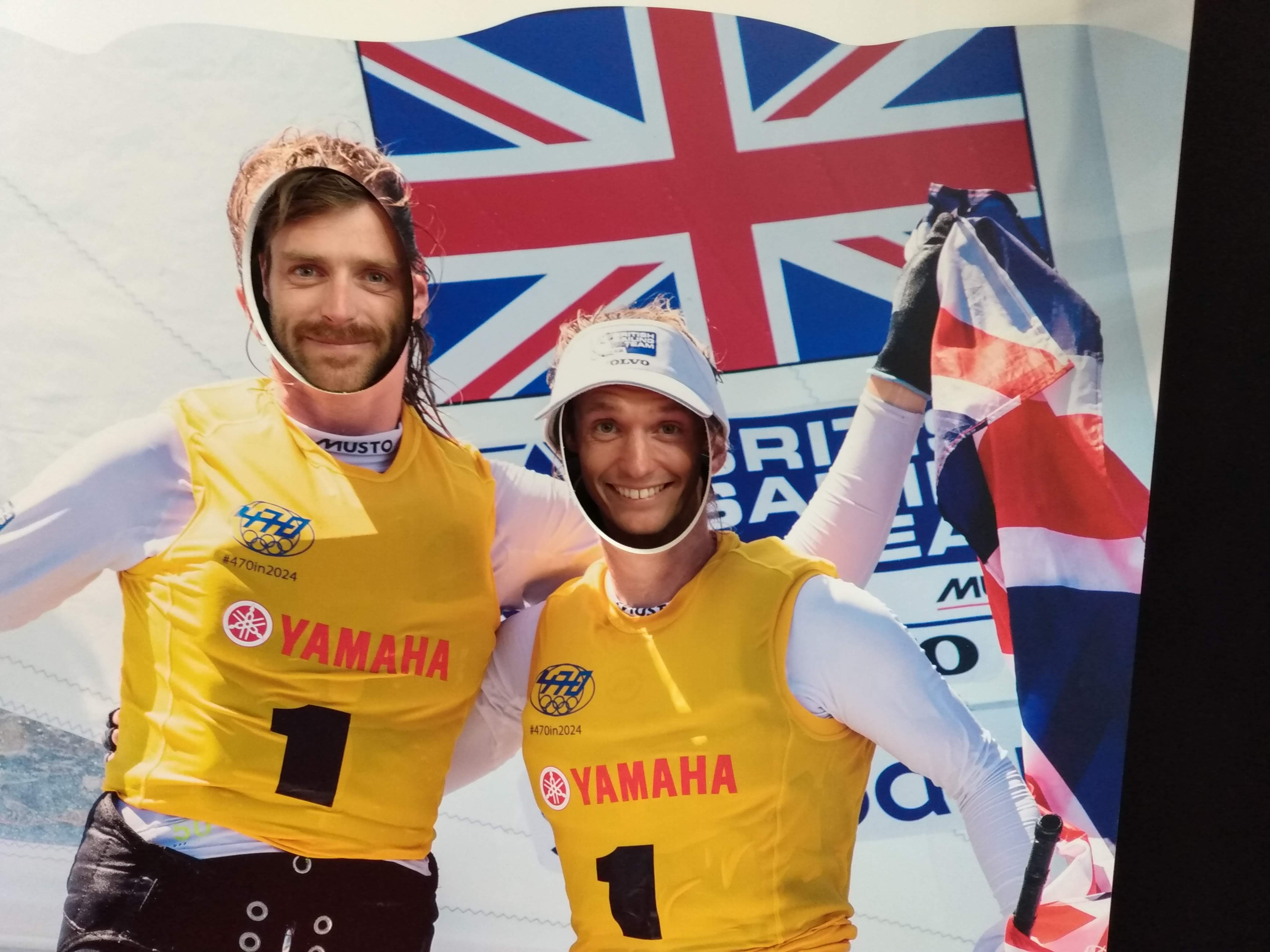 Could Luke Patience and Chris Grube be flossing their way to victory if Olympic Sailing follows in the footsteps of Fortnite?