After a week of severe frost in the Netherlands, the thaw kicked in. The adventures of the Dutch ice sailors were therefore short, but powerful. Under challenging conditions - cracking ice and crowded lakes - top speeds of almost 50 knots were achieved. And that resulted in unique and one-off adventures.
They had been looking forward to it for a long time, the Dutch ice sailing community. Boats were prepared in the late evenings, and every lake in the country was closely monitored during the severe frost. After some nights with temperatures dropping below zero, the moment was finally there. The designated ice master gave the green light - resulting in wildly enthusiastic Whatsapp-groups. Former Olympian Kalle Coster was also delighted: "It was fantastic to be back on the ice after 9 (!) years of not sailing. Unfortunately, it was a relatively short time, and we did not have enough ice to do any actual racing which I enjoy most."
The adventures on the Westeinderplassen (local lake near Amsterdam, red) were sometimes quite intense as speeds rose up to 46.7knots - with MAX as a technological witness. "I forgot how fast these things are, and how reactive they are to any movement on the steering, they are great fun. It also puts the current AC in perspective, they are going faster on the water then we are on the ice," said Kalle.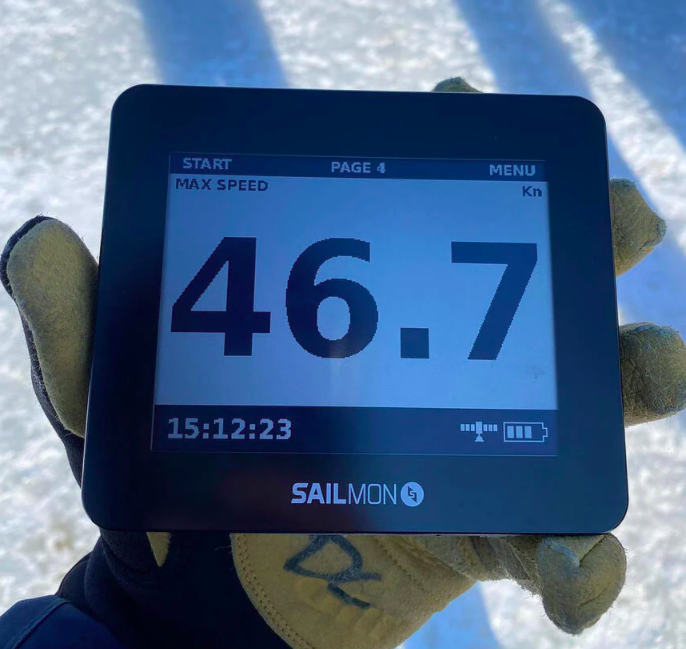 Ice sailing is certainly not completely without danger. An accident is always lurking due to the far from ideal circumstances. A fact that Kalle experienced during a crash. "Painful?" Well, mainly for my ego! The last time I sailed nine years ago, I crashed as well and now to finish again with a crash is certainly not good! This time my plank just snapped at full speed, luckily I wasn't hurt, apart from some bruises. I have to find a new plank quickly because who knows, maybe we will get some more ice later this season!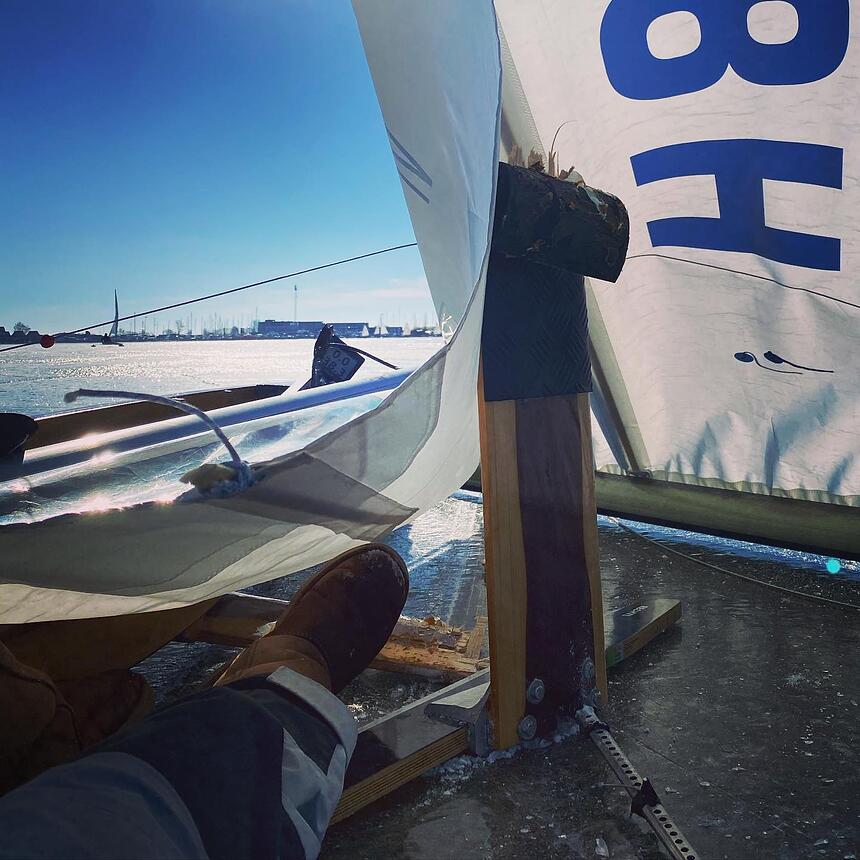 It is not surprising that Kalle, in particular, has a great passion for ice sailing. As a professional MOTH sailor, he has extensive experience on a boat with similar (characteristics?) conditions. "Moth sailing is almost like ice sailing but with your swimming pants on. One big difference is that there is more control in moth sailing'' according to Kalle. A preference? That's like choosing between your children. Kalle explains: ''I love the fact that you can go moth sailing all year round, and you can't really go ice sailing that much unless you have a lot of time to chase the ice. Both are fun but also different, the catching all pressure with the rig in Ice sailing is truly amazing. But in the end, I want to do some racing and if you can race with your friends any boat is great fun!''
Now that the thaw has set in, the ice fun is likely to be over, given the Dutch climate. Eyes are on next year. Although... The real enthusiast always keeps on hoping. "Next year? I'm still hoping for another freezing period this year and a new plank!''