Audio (8 minutes): Anna Tunnicliffe reflects on a dramatic conclusion to the last Olympics. The Laser Radial Olympic Champion talks about what she's been up to since then, and why she's back on the campaign trail so early for Weymouth 2012.

To download this MP3 audio file to your computer, click the link below to go to the Download page:
Download Anna Tunnicliffe campaign update MP3 file...
Full transcript of the interview below the photo...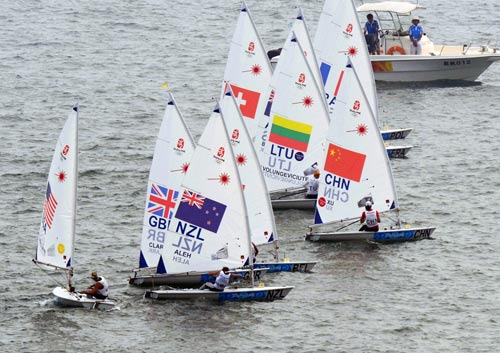 Anna Tunnicliffe turning back to restart in the Medal Race...

SailJuice
: Hi Anna. Firstly, I want to ask you about the medal race. I was in Qingdao in the boat park interviewing other medalists and I missed the drama of your medal race, so could you talk us through that, because the gold medal was by no means a certainty, was it?
Anna
: A medal was definitely a certainty, but it was just which colour, so I knew what I had to do in that race - I had to finish top four if the Lithuanian girl won. So we start the race, and I start hearing the race committee boat saying numbers of boats that are over, and I was the most right hand boat - right underneath the committee boat - and I heard him say the boat below me and I knew I was pretty close to her so when we stopped it and the individual recall flag went up, I thought 'Oh man, this is not good'.
So I restarted just to be safe. I figured I can't lose a medal but I could lose the gold medal if I was over and didn't go back, so I went back and figured cos the conditions were fairly light, that I'd be able to fight my way back. The first beat didn't go so hot, I rounded the top mark in 8th, with the others far enough in front of me that I was in the bronze medal position and lost another boat downwind which just made it even worse and then after the second beat I knew the right hand side didn't work the first beat and I kinda saw a bit of pressure on the left hand side. I went out to it, and didn't know it was gonna quite be that big of a shift, but it worked out alright. I grabbed the top mark in third and knew I had the gold medal wrapped up as long as I made it to the finish line penalty free.
SailJuice
: So how much luck are you prepared to admit was involved in that?
Anna
: I'd say there was
some
luck in that the shift was as large as it was, but I did see the left hand pressure out there, and all my competitors moved to the right of me, so it was all my gain really to be on that side. Anyone could have that seen that pressure I guess.
SailJuice
: Six months later, congratulations! What's it been like in the last six months, what's been going on for you?
Anna
: Well it's hard to top the eight medals that Michael Phelps got in this country. I've just gone round the yacht clubs that have supported me, and saying thanks, and speaking to kids and trying to encourage them, and just doing a bunch of speaking engagements and it's been fun! I've had a good time with it.
SailJuice
: So now you've just done the Miami OCR, and you won that didn't you?
Anna
: Yes I did.
SailJuice
: And you've just won the North Americans in the Laser Radials as well, so you're straight back into it. I know that some of our people, for example Paul Goodison, are taking a bit of time out. How are you finding yourself able to get back into it so quickly and pick it up from where you left off?
Anna
: After the Games, I didn't touch my boat until December, so I took a long time off my Laser, did a lot of match racing, and I did some triathlons. Just other stuff to keep me competitive, but not in the Laser, and now that the seasons started again, it's time to get going so I'm not doing as much training as I've been doing in the past; I'm just showing up at a lot more regattas in sailing so I'll just train two or three days before an event and then go compete in an event rather than doing too much, cos it's so very easy to get burnt out - especially now after having done the last four years really really hard. So I'm just slowly ramping it up, but the competition is good and so I might as well get back in there and keep competing.
SailJuice
: You've had a long running rivalry with Paige Railey, and she's got back into the class again for another go at it. So how's it going between you two?
Anna
: Good! We actually teamed up; we're training together, and we're getting some really good training sessions in and pushing each other hard. I think it's gonna be really good for us. Whoever wins the next trial will look good for hopefully winning a gold medal.
SailJuice
: You're both absolutely gold medal standard, so that's probably very likely. What always amazes me about Lasers is that it's the most one-designed boat, and yet people have stood out in the class as being untouchable - I'm thinking particularly in the men's division, probably more so than in the women's. People like Robert Scheidt and Tom Slingsby has won the last two Worlds. Why is that do you think when the boats are so similar? Why is it that some people can still dominate?
Anna
: I think because the boats are similar, certain people have certain physiques - like good physiques for the boat and if they're very fit. Take Tom for example, it's been windy at the last two Worlds, he's extremely fit, he's built for a Laser, and on top of that he's an amazing sailor. If you put all the right ingredients in you get a continual winning streak. You couldn't put somebody that's 60 kilos in a full rig. It doesn't matter how good of a sailor they are, they're not gonna win in that boat. In other classes you can change your rigs or your sail depending on your weight and wind condition. In ours, this is what you've got, so go sail! Sometimes you win cos you're smaller or bigger and sometimes you're just perfect for the boat.
SailJuice
: So the fact that the boat is so unchangeable means that you really need to fit the boat if you're going to stand a chance in doing well. How about you? What are your statistics? What height are you, and am I allowed to ask a girl what weight she is?
Anna
: Yeah you can ask! I don't know what I am in centimetres - I think I'm 168... 5 foot 7 in American terms, and 64 kilos right now. I'm trying to get up to 65 or 67 kilos. I'm short relative to most of my fleet, so I struggle a bit against the taller girls in the big breeze. But I'm fairly fit so I think that compensates for it a little bit.
SailJuice
: What's your fitness routine? What are the things that really make the difference for you?
Anna
: I really really love running, and Lasers are a very physical boat so I think cardio is very important. I've run since high school and do it competitively whenever I can, so I train hard for my running and I think my cardio really shows in the wind. And I lift weights; I don't enjoy doing that as much, but it's got to be done - it's part of the job, so I do that as well.
SailJuice
: What are the reasons for lifting weights? Is it for increasing body mass or is it for the strength it gives you?
Anna
: A combination of the two. We all lost weight for China so I'm trying to gain weight back up to where I was beforehand. So I'm lifting to gain weight right now, and when I'm up to weight, I'll just lift for strength and endurance.
SailJuice
: How scientific is it in the States in terms of how you go about your fitness training? I know it's very scientific in the UK in terms of testing blood and all that sort of thing. Do you do all that sort of stuff?
Anna
: We don't do it necessarily as a team. We're making some big changes this quad, which'll lead us to similar stuff to what the Brits do. But for me, I know my body pretty well, and I go do my own tests. I look after myself and see where I am and have an idea of where I need to be, and try to work towards that.