With sub-zero temperatures, bone-chilling winds gusting over 25 knots, just 61 entrants and 29 finishers, this year's Bloody Mary must go down as one of the toughest in its 37 year history. This classic pursuit race throws up many different kinds of winners, and this year it was the turn of a 505, immaculately sailed by Staunton Harold's Andy Smith and Tim Needham, to lift the coveted trophy.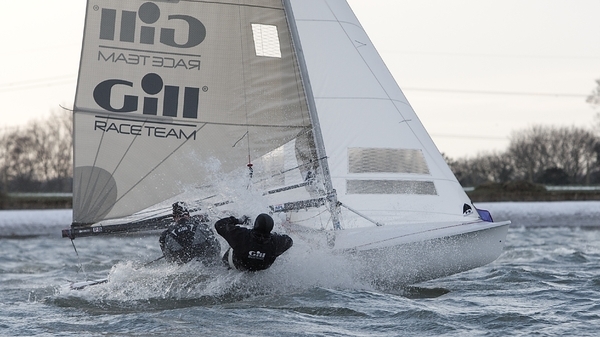 © www.ianroman.com: Andy Smith & Tim Needham win the Bloody Mary 2010
Smith, a former Fireball World Champion, has just teamed up with Needham in the Five-Oh, and this was only their fourth time out in the boat since both moving on from the Fireball at the end of last season. "We had plenty of thoughts about not coming to the Bloody Mary," said Smith, "but obviously we're very glad we did. We went out in consolidation mode, because in these conditions we thought it would be a race of attrition. So we didn't push it mega hard, and it worked out in the end."
As the race drew closer to the 2.30pm finish time, sheets, control lines, blocks and cleats started freezing up. "We didn't adjust a whole lot of things while we were racing," said Needham. "We didn't try raking the rig, which is just as well because when we came ashore after the race and let the rig off - nothing moved. The shrouds, the forestay, everything was iced up."
Neil Ashby and Sam Proctor were the 505's closest rival for victory in a RS800, with Richard Whitworth and Olly Turner coming third in a Merlin Rocket. Pete Barton and Ben Paton were fourth in their Cherub, showing great bursts of speed in between a number of capsizes, some of them spectacular. "We had quite a few capsizes," admitted Lymington's Barton, a multiple champion in Cherubs, RS800s and Laser 4000s. "We were fast in a straight line, not so good on manoeuvres. When it's icy like this, today's all about losers, not winners. The ice came into play. When it got above 20 knots plus the ice, it wasn't going to be our day."
Still, Barton and Paton's antics delighted the crowd, and commentator Mad Jack Nicholson judged the Cherub's stern stand to be a worthy recipient of a subscription to SailJuice.com for 'Most entertaining moment of the day'. Barton was honoured: "In one of our capsizes we had our weight too close to the stern, and the bow ended up tipping right over the top. We aim to entertain the crowd, put on a show and try and win the race if we can." Well, two out of three ain't bad.
The fleet was peppered with champions and stars from all kinds of dinghies. Reigning Laser National Champion Dan Holman was 7th in his self-designed Punk singlehander; multiple Endeavour Champion Nick Craig finished just ahead in 6th in the Phantom. Geoff Carveth held off two RS600FF foilers, sailed by Sam Pascoe and double Olympic medallist Simon Hiscocks, to win the foiling trophy in his Bladerider Moth. With control systems freezing up, however, it was not a great day for foiling, with these delicately balanced machines threatening to buck their jockeys off their mounts at any point.
This was a brutal event for the competitors, but however tough it was for them, it was even harsher for the volunteers at Queen Mary Sailing Club who run this event like clockwork. The rescue boat crews and the shore team who helped people pack up boats for the drive home helped make a challenging day a little more bearable.
The Bloody Mary was the first event of a brand new series, the SailJuice Global Warm-Up. This new winter travellers' series brings four of the biggest winter handicap racing events into a unified series, to find out just who is tough enough to race their way through Britain's toughest winter in more than 20 years. There are more than £2,000 of prizes up for grabs, not only for the winners but for sailors throughout the fleet.
The four events of the Series are:
Bloody Mary, Queen Mary Sailing Club
9th January 2010
Steve Nicholson Trophy, Northampton Sailing Club
30th January 2010
John Merricks Tiger Trophy, Rutland Sailing Club
6th/7th February 2010
Hoo Freezer, Hoo Ness Yacht Club
28th February 2010
Prizes include a two-day 'Learn to Fly' sailing course in Spain. This is not just any sailing lesson, but an opportunity to learn how to sail a foiling Bladerider Moth at Pro-Vela's spectacular Performance Sailing Tuition centre in Mar Menor, Spain. Rooster Sailing is supplying £300 from its technical sailing clothing range, and Holt is offering £300 of gear from its High Performance Hardware range. Hyde Sails is offering a voucher for £200 worth of sails or accessories. Yachts & Yachting is providing annual digital subscriptions to the UK's leading performance sailing magazine, and SailJuice.com is giving annual subscriptions to its 'How to Sail Faster' website.
To find out more about the SailJuice Global Warm-Up, including the Notice of Series, How to Enter (it's not too late, even if you didn't race in the Bloody Mary), and more about the prizes on offer, click here:
www.sailjuice.com/categories/global-warm-up-2010
Sponsors of the SailJuice Global Warm-Up
Pro Vela: www.pro-vela.com
Rooster Sailing: www.roostersailing.com
Holt: www.holt.eu
Hyde Sails: www.hydesails.com
Yachts & Yachting: www.yachtsandyachting.com
SailJuice: www.SailJuice.com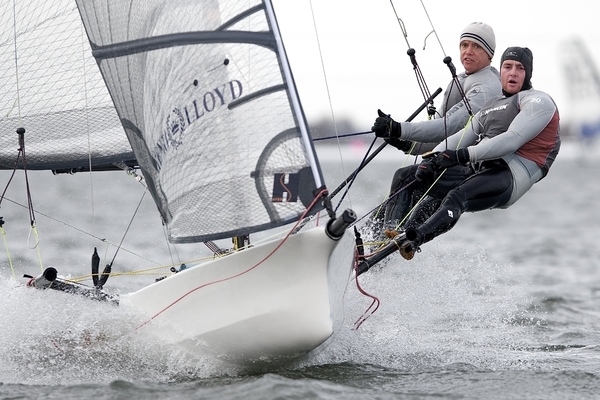 © www.ianroman.com: Pete Barton and Ben Paton in the Cherub