An unpromising forecast failed to deter 148 boats from coming to Northampton Sailing Club for the Steve Nicholson Memorial Trophy. Competitors might have had to chip some ice off their boats as they rigged up on Saturday morning, but by the time of the first race for the Doublehanded and Singlehanded fleets, the sun was warming up nicely and the breeze was blowing just strong enough for some good hiking and trapezing conditions.
Where Peter Barton had capsized his way around the Bloody Mary three weeks earlier, the more moderate conditions suited his T-foiled Cherub to a T, with Barton and crew David Ellis winning both races of the Asymmetric fleet. Mike Cooke from Bristol Corinthian foiled his International Moth to victory in both races of the 7-boat foiling fleet.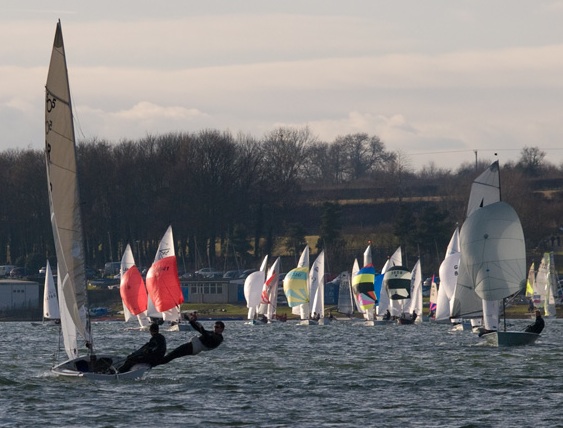 © www.chunkypics.co.uk: Andy Smith & Tim Needham at the Steve Nicholson Trophy 2010
In the Doublehanders, such was the lead set by the sole 505 of Andy Smith and Tim Needham that it looked as though the Bloody Mary winners from Staunton Harold would add the Steve Nicholson Trophy to their cabinet. However it was the Merlin Rocket fleet who dominated proceedings, sailing on level terms with the Fireballs through the water whilst enjoying a handicap of 1014 compared with the Fireballs on 982. Two Merlins finished on equal points from the two races, but a 1st place in the morning heat gave victory to Matt Biggs and Ben Hollis ahead of Ian Dobson and Matt Mee.
Just as the Merlins dominated the Doublehanders, the Phantoms smoked the Singlehanders. Andy Couch got two bullets and Simon Hawkes got two 2nds ahead of Steve Bolland's RS300 in third place.
The Steve Nicholson Memorial Trophy was the second event of the brand new series, the SailJuice Global Warm-Up. This new winter travellers' series brings four of the biggest winter handicap racing events into a unified series, to find out just who is tough enough to race their way through Britain's toughest winter in more than 20 years. There are more than £2,000 of prizes up for grabs, not only for the winners but for sailors throughout the fleet.
After two events, victory at the Bloody Mary plus their 3rd at the Steve Nicholson keeps Smith & Needham's 505 in pole position, although Barton's dominant Cherub performance at Northampton combined with a 4th at Queen Mary means the Lymington sailor sits just a point behind at the half way stage of the Series.
TOP 10 IN THE SAILJUICE GLOBAL WARM-UP AFTER TWO EVENTS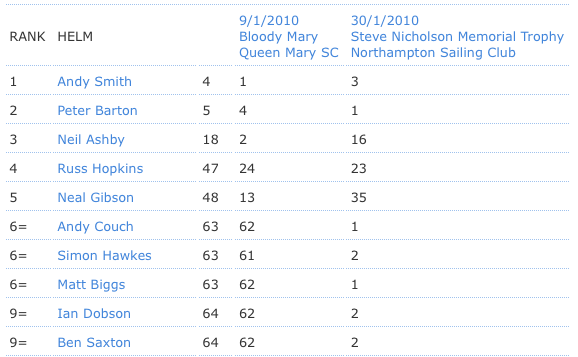 CLICK HERE for complete results for the SailJuice Global Warm-Up