Jo Aleh certainly knows her history. Her country has won medals in the windsurfing in recent memory, but as the Kiwi 470 gold medallist pointed out today: "New Zealand hasn't won a 'sit down' sailing medal since 1992, and a New Zealand woman has never won a gold medal in a sit down boat." So she and her crew Olivia Powrie made a little piece of history today.
So did others in the 470. Lobke Berkhout's bronze medal crewing the 470 makes her the most successful Dutch sailor of all time, now the holder of two Olympic medals and five world titles.
Malcolm Page retires as the most successful 470 sailor of all time, winner of the past two Olympics crewing for two different helmsmen, and a six-time world championship winner. Now he hangs up his trapeze harness to move into the coach boat for Rio 2016, with Belcher looking to find a replacement for Page. Big boots to fill for whoever that might be.
Australia has been threatening Britain's dominance of Olympic sailing for some while, and now the three golds - in the three classes where the Aussies were expected to dominate - moves them to an unassailable lead at the top of the standings. A medal count of five for Team GB, can't be beaten, but the quality of the metal means Australia trumps Britain. And with the semi-final of the match racing cut short due to a lack of wind, Spain and Australia move through to the finals, guaranteeing the Aussies at least a silver and possibly a fourth gold.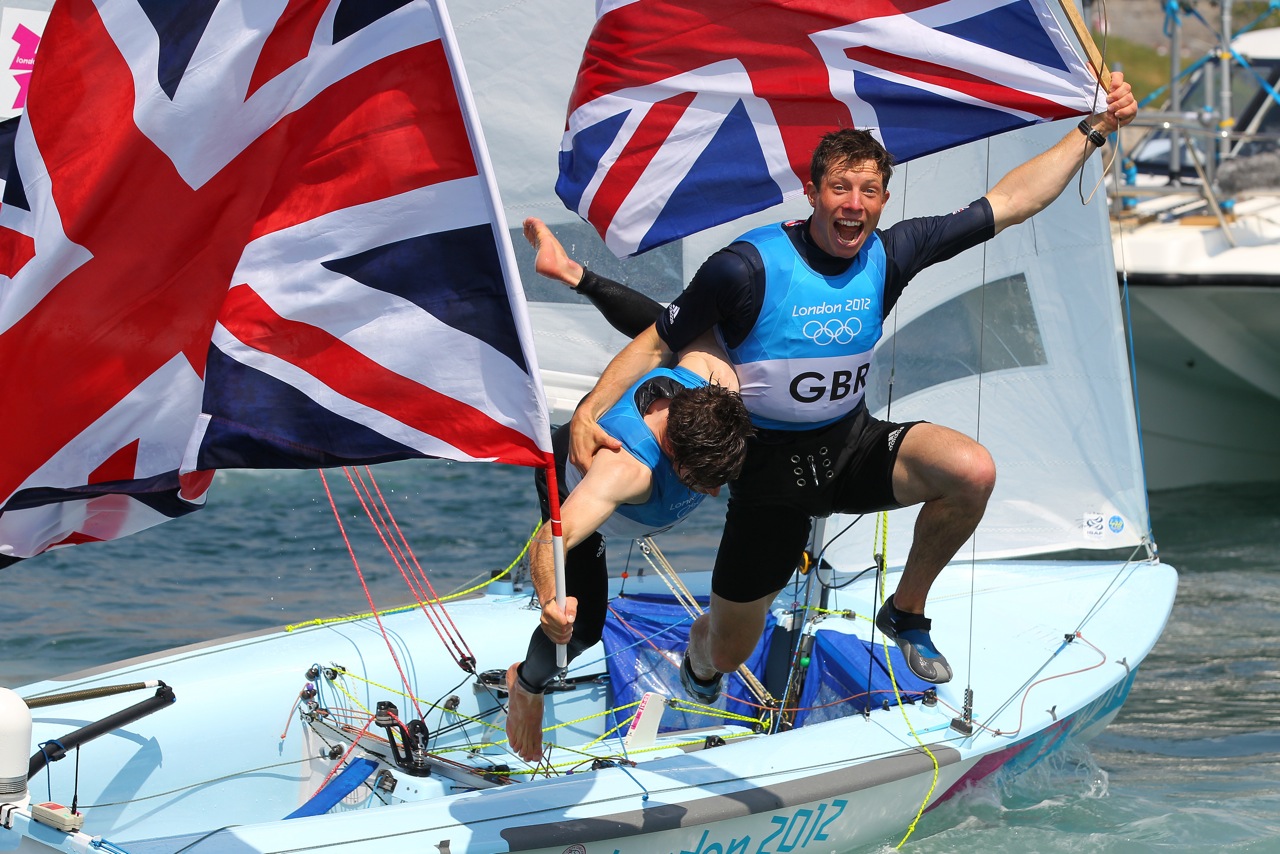 © Richard Langdon: Luke Patience and Stu Bithell dive off their 470 after winning a silver medal
What a ridiculous situation for women's match racing after 13 days of competition and a ludicrously long round-robin process that whittled 12 teams down to eight. So many days to achieve so little, and no time left to resolve matters at the business end of the regatta. Russia and Finland must feel robbed, unable to race off the rest of their best-of-five semi-finals. I'm told this is not unusual in match racing regattas, but that doesn't make it right.
Anyway, after a fortnight in the press centre in Portland, I'm off to the Nothe tomorrow to see what all the fuss has been about. With 4,000 spectators crowding the hill outside Weymouth town centre, this venue has been polling among the highest for spectator satisfaction - and we're talking about all 26 sports and their venues, athletics included. If that is the case, then the Nothe has been a success beyond even the expectations of the organisers, even if the racing has been very random at times.