Eight years ago in Athens, Joe Glanfield had wrapped up an Olympic silver medal with a race to spare. He was sailing in the men's 470 with helmsman Nick Rogers and if they played their cards right against the Americans in the final race, a gold medal might even come their way.
They spent the day before the showdown relaxing back at their digs, chilling out and watching TV. They went and raced the Americans, but were ill prepared for the match race that ensued in the pre-start. The wily old dogs from the USA, Paul Foerster and Kevin Burnham, stitched up the young Brits and crossed the finish line as Olympic Champions. The 47-year-old barefooted Burnham famously back-flipped off the 470 in celebration.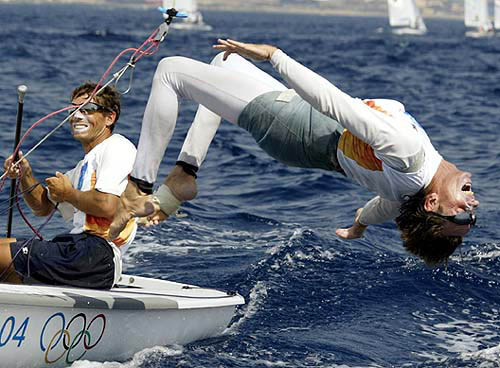 © Reuters: Kevin Burnham back flips in celebration of Olympic gold in Athens
Still only in his early 30s but already retired from competition, Glanfield is now on the verge of becoming a gold medal coach. He finds his athletes, Hannah Mills and Saskia Clark, in a similar situation to his own in Athens 2004. Glanfield is determined that the GBR 470 girls won't make the same mistake as he and Rogers did eight years ago.
Today, the day before the Medal Race, the Brits were scheduled for some match race practice with training partners - young, up-and-coming 470 racers Sophie Weguelin and Sophie Ainsworth. Well, I say 'up and coming' but actually the Sophies won the 470 European Championships just a month ago in Scotland, albeit a lot of the big names were absent, focused instead on final preparations for Weymouth.
There hasn't been much wind today, so whether or not the match racing practice took place, I'm not sure. Certainly the Men's 470 medal race has been postponed until midday Friday, so the lucky visitors to the Nothe will get a double hit of 470 action.
But match racing practice has been a key part of the GBR 470 build-up, so both the girls and the boys are looking forward to a one-on-one battle with their antipodean rivals. Luke Patience and Stu Bithell have a tougher job on their hands, as they have to get another boat between them and the Aussies, Mat Belcher and Malcolm Page. For the GBR girls v the Kiwi girls, it's a straight who-beats-who battle.
I asked Jo Aleh and Olivia Powrie what match racing experience they had. "Not me," said Jo, "but Olivia's done a bit." So maybe they'll swap round in the boat with Olivia doing the steering? No, of course not. But hopefully for their sake they've been swotting up on a few match racing moves. Can't wait to see it all play out tomorrow.
However it turns out, this will be the first medal GBR has ever won in the women's 470. Glanfield is delighted with how his team has gelled in just 18 months of sailing together: "The girls have been very consistent and really risen to the occasion of the Olympics. All their preparation has paid off. They started to show at the Worlds [which they won in Barcelona] how consistent they can be and they just carried that on event after event.
"They sail the boat well and they manage to do that while they are in tight situations with other boats. But what they have also really developed is they stay in logical mode. They don't panic and get emotional so they still spot the opportunities.
"They will be delighted to be in this situation, they will love the opportunity to race the Kiwis and try to get that gold medal. I think you always have to be realistic. It's one 30 minute race; the Kiwis have sailed brilliantly so it could go either way. But they are certainly ready for this situation, we have prepared for it, and I think they can feel they can give a good representation of themselves."
The winner takes all scenario on the Nothe spectator course at Weymouth and Portland potentially lends itself to the Kiwi and British boats sailing their own race within a race and ignoring the rest of the fleet. But Joe believes that will not necessarily be the case.
He added: "They will obviously have their eyes on the Kiwis but because it can be so shifty [on that course] you always have to know what's going on with the wind and know when you've just got to race your own race.
"I think they are delighted to have a medal, I could see relief in their faces. That is why it's quite good to have a day in between yesterday and the medal race because it just gives them the chance to get over the first hurdle and then really concentrate on winning gold, which is what we all want."