The GJW Direct SailJuice Winter Series gets under way this weekend at the Draycote Dash, the first of six major winter handicap events in this tough Series.
The previous Draycote Dash brought last year's Series to a controversial conclusion as a Fireball attempted to match race its rival Phantom and Scorpion out of overall contention. But in the end it was the Scorpion sailed by Peter Gray and Rachael Rhodes who prevailed to win the 2011/2012 winter handicap championship.
Who will win this weekend? With the Great Lakes group of handicapping experts having further refined the PY numbers since last year, predicting a winner has become much more difficult. Last year's Series saw nine different classes filling the top 10 places of the SailJuice Series, showing how far the handicapping system has come in just the past three years when two or three classes were dominating event after event.
Chris Gandy is one of the Great Lakes experts and also the organiser of the Draycote Dash. "On Saturday we intend to run at least four average-lap handicap races, with first race not before 11am," he said, "and then on Sunday it's a 100-minute pursuit race, which is worth double points and is non-discardable from your score. We've also got a dinner for all competitors on the Saturday night so it will be a great chance for people to catch up with each other one more time before Christmas."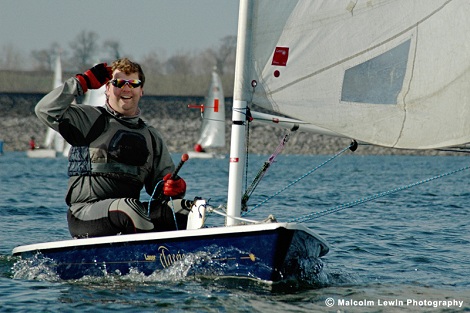 © Malcolm Lewin Photography: Draycote Dash
Among those entered already are Olly Turner in a Merlin Rocket, the winner from the first SailJuice Series three years ago, Ian Morgan who finished 2nd in last year's Series in his Laser Standard, and former Bloody Mary winner Andy Couch in his Phantom.
The Series incorporates these six big winter events, with competitors counting their best four scores, one of which must be the Tiger Trophy:
Draycote Dash, Draycote Water Sailing Club - Saturday 24th & Sunday 25th November 2012
Brass Monkey, Yorkshire Dales Sailing Club - Thursday 27th December 2012
Grafham Grand Prix, Grafham Water Sailing Club - Sunday 30th December 2012
Bloody Mary, Queen Mary Sailing Club - Saturday 12th January 2013
Steve Nicholson Trophy, Northampton Sailing Club - Saturday 26th January 2013
John Merricks Tiger Trophy, Rutland Sailing Club - Saturday 2nd & Sunday 3rd February 2013
There are prizes up for grabs for early entry via the Series website at www.sailjuiceseries.com, and even if you're not coming to the Draycote Dash but plan to race in other events in the Series, it still pays to enter now. The first round of prizes - a subscription to SailJuice.com and a copy of Andy Rice's new book, Asymmetric Sailing - are up for grabs for those who enter in the next day, by end of 20 November. Anyone who has entered three or more events by 20 December could win some great Gul winter gear.
We're also offering a bunch of prizes that are open to competitors but spectators and armchair followers too. We're offering prizes for the best online media contributions, whether they be photos via Flickr, videos through YouTube, or tweeting or blogging through the Series Facebook page. Share your experiences and you could win some great Overboard waterproof cases for your tech (iPads, mobiles and cameras)...
http://events.sailracer.org/eventsites/content.asp?id=20448&eventid=51516
Some classes have adopted the Series as their own class winter travellers' series, and for the class that does the best promotion of the Series, there's the chance to win an OverBoard waterproof bag for your tech (mobile, camera or iPad) - great for live reporting at your events.
In addition to title sponsor GJW Direct Insurance (www.gjwdirect.co.uk/dinghy), the UK's largest direct boat insurer, our silver-level sponsors are:
Gul - Experts in Performance Apparel http://www.gul.com/
Trident - The Dinghy & Yacht Shop on the Web http://www.tridentuk.com/
Overboard - The Leaders in Waterproof Bags & Cases http://www.over-board.co.uk/
and we also have prizes from one of the Series' longest-standing supporters: Holt, renowned for their dinghy and catamaran marine hardware.
SailRacer will be present at the Dash for live reporting of all the action, so you can follow the racing from home. But of course, if you are planning to go to the Draycote Dash...
ENTER NOW!
Sign up to the Series here: www.SailJuiceSeries.com