Can Jason Belben defend his title in the foiling Moth?
What has been a windy start to the GJW Direct SailJuice Winter Series looks set to continue at this weekend's Virtual Rigger 40th Bloody Mary in London. The forecast for the pursuit race classic is a moderate to strong easterly breeze, but that hasn't stopped 256 boats entering in advance, with the prospect of many more entering on the day.
There are 53 classes entered, with the best represented fleet being the Toppers who, as the slowest boats in the line-up, will be first to start at midday. Last to start, a staggering 86 minutes after the Toppers, will be the foiling International Moths, with former Olympic representative Jason Belben of Stokes Bay looking to defend his title from last year. Among those challenging him in the Moth is a newcomer to the class, Rob Greenhalgh, the Volvo Ocean Race winner and former 14 World Champion who won the Bloody Mary a few years back in an International 14. Most fancied of this year's 14 entries will be reigning European Champions, father-and-son duo Andy and Tom Partington who revel in the breeze.
Talent is scattered throughout the range of different classes, and predicting a winner has become harder than ever now that the Great Lakes handicap numbers have created a more level playing field. Having said that, the Fireballs appear to have benefited from the strong winds at the other events of GJW Direct SailJuice Winter Series already held this season. Reigning Fireball World Champion Tom Gillard won at the Brass Monkey and the Grafham Grand Prix during the Christmas period, and now with crew Andy 'Shandy' Tompson the Sheffield Viking is looking for a hat trick. Before he can think about winning the event, however, Gillard will have to stay ahead of some tough competition in his own class, not least multiple Fireball World Champions Chips Howarth and Vyv Townend.
Currently leading the SailJuice Series is Northampton RS600 sailor Peter Nelson who will enjoy the strong wind forecast as much as the Fireballs. Andy Couch won a light-airs Bloody Mary a few years back, although the Phantom sailor believes he will struggle to match that this year, particularly if the breeze remains strong. Another great Phantom sailor - well, a great sailor in almost any boat - is many-time winner of the Endeavour Trophy Nick Craig who this year is having a go in the Devoti D-1 singlehander. Can Craig take the trophy in this, the 40th year of the most famous dinghy handicap race in the world?
You can follow all the action live, either by visiting Queen Mary Sailing Club and enjoying the live commentary, or listening online to professional TV and radio broadcaster Steve Ancsell. Simon Lovesey of SailRacer will be writing blow-by-blow live updates throughout the race, and you can catch the blog and radio commentary at: www.sailjuiceseries.com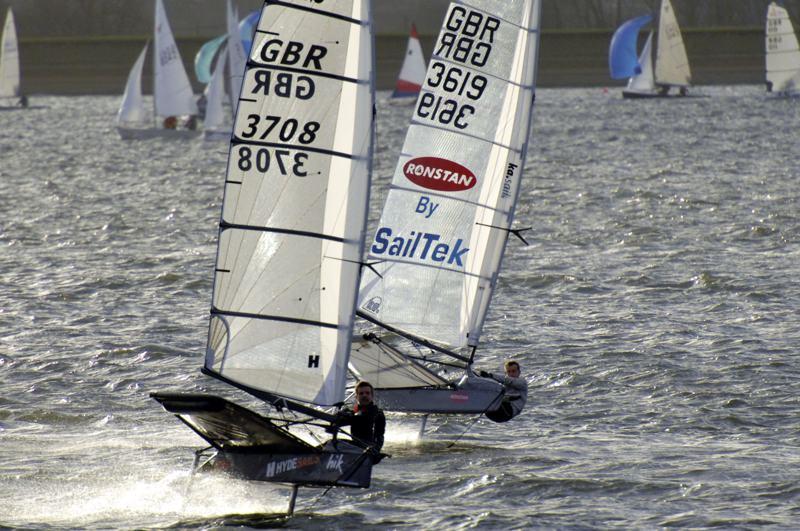 © Steve Arkley: Mike Lennon attempting to hold off eventual winner of the 2012 Bloody Mary, Jason Belben

What is the GJW Direct SailJuice Winter Series?
The Series incorporates these six big winter events, with competitors counting their best four scores, one of which must be the Tiger Trophy:
Draycote Dash

, Draycote Water Sailing Club - Saturday 24th & Sunday 25th November 2012
Brass Monkey

, Yorkshire Dales Sailing Club - Thursday 27th December 2012
Grafham Grand Prix

, Grafham Water Sailing Club - Sunday 30th December 2012
Bloody Mary

, Queen Mary Sailing Club - Saturday 12th January 2013
Steve Nicholson Trophy

, Northampton Sailing Club - Saturday 26th January 2013
John Merricks Tiger Trophy

, Rutland Sailing Club - Saturday 2nd & Sunday 3rd February 2013
There are prizes up for grabs for early entry via the Series website at www.sailjuiceseries.com, and even if you're not coming to the Draycote Dash but plan to race in other events in the Series, it still pays to enter now. The first round of prizes - a subscription to SailJuice.com and a copy of Andy Rice's new book, Asymmetric Sailing - are up for grabs for those who enter in the next day, by end of 20 November. Anyone who has entered three or more events by 20 December could win some great Gul winter gear.
We're also offering a bunch of prizes that are open to competitors but spectators and armchair followers too. We're offering prizes for the best online media contributions, whether they be photos via Flickr, videos through YouTube, or tweeting or blogging through the Series Facebook page. Share your experiences and you could win some great Overboard waterproof cases for your tech (iPads, mobiles and cameras)...
http://events.sailracer.org/eventsites/content.asp?id=20448&eventid=51516
Some classes have adopted the Series as their own class winter travellers' series, and for the class that does the best promotion of the Series, there's the chance to win an OverBoard waterproof bag for your tech (mobile, camera or iPad) - great for live reporting at your events.
In addition to title sponsor GJW Direct Insurance (www.gjwdirect.co.uk/dinghy), the UK's largest direct boat insurer, our silver-level sponsors are:
Gul - Experts in Performance Apparel http://www.gul.com/
Trident - The Dinghy & Yacht Shop on the Web http://www.tridentuk.com/
Overboard - The Leaders in Waterproof Bags & Cases http://www.over-board.co.uk/
and we also have prizes from one of the Series' longest-standing supporters: Holt, renowned for their dinghy and catamaran marine hardware.
SailRacer will be present at the Dash for live reporting of all the action, so you can follow the racing from home. But of course, if you are planning to go to the Draycote Dash...
ENTER NOW!
Sign up to the Series here: www.SailJuiceSeries.com