24 November 2014
Mike Lyons from raced his Halo singlehander to victory at the Fernhurst Books Draycote Dash this weekend. Competing in a record turnout of 104 boats, the Burghfield sailor made the most of light airs on both days.
After four handicap races on Saturday, Steve Bolland was sitting in pole position after steering his RS300 to scores of 1,5,11,(29). However, the Bristol Corinthian sailor was unable to hammer home his advantage on Sunday, when Bolland finished 42nd in the non-discardable, double-points pursuit race finale.
Record-breaking Endeavour Trophy winner, Nick Craig with crew Toby Lewis beat their fellow Merlin Rocket competitors and put in a very consistent series with scores of 11,10,9,11, and an 8th place finish in the pursuit race. This put the Frensham Pond team just a point off overall victory, but discarding one of their 11th places, Craig and Lewis had to settle for 4th overall.
Lyons finished 7th in the pursuit race, just one place behind Craig Williamson's Laser. This was a good enough performance to give Draycote Dash victory to Lyon by just 2 points from Williamson, the Staunton Harold a perennial high performer at the GJW Direct SailJuice Winter Series. For Lyons, this is his second victory of the year at a Winter Series event, having raced his Blaze singlehander to a light-airs win at Oxford Sailing Club's inaugural Oxford Blue back in January.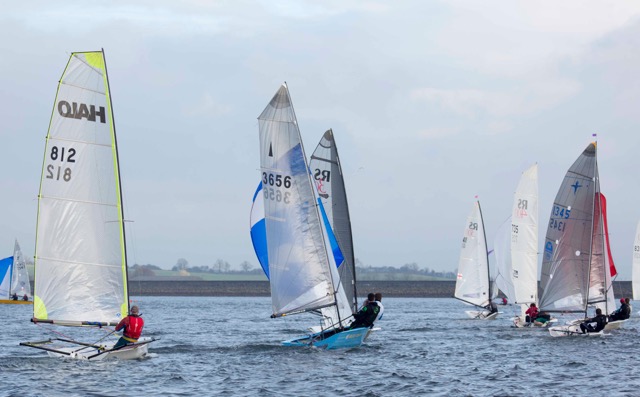 Draycote's Jon Clarke got better race by race, accelerating his Solo to scores of 37, 26, 13, 3, and going on to win the pursuit race on Sunday. This was sufficient to put Clarke on the podium, just 2 points in front of Craig's Merlin Rocket. Clarke beat a strong turnout of Solos, which also included last year's outright champion in the GJW Direct SailJuice Winter Series, Michael Sims, who finished the Dash in 7th, a point ahead of professional sailor and fellow Solo competitor Jamie Lea.
While there was a good spread of classes throughout the top 20 in this 104-boat fleet at Draycote, the light airs suited the slow- and medium-handicap boats. There was good talent in the fast handicap fleet, such as GP14 World Champion Ian Dobson who was racing a Fireball this weekend with crew Ben Ainsworth, and former Fireball World Champion Tom Gillard sailing a 505 at Draycote with Richard Anderton. Dobson was the best of the fast handicap in 14th overall, and will hope that over the course of the eight events in the GJW Direct SailJuice Winter Series that the wind - and the luck - will even out.
Racing was close throughout the starts though Saturday's Race 3 was tougher on some more than others. The breeze died right off towards the end of the race, but due to the finishing timing, some of the leading boats sailed an extra lap and got stung in the dying breeze. That's the luck of the draw in handicap racing, but with seven more events to go in the Series, there's plenty of time for those boats to get their revenge.
Draycote Water would like to thank event sponsor Fernhurst Books for supporting the event and providing some well received prizes. The next event in the GJW Direct SailJuice Winter Series is the Datchet Flyer on 13 & 14 December.

Top Six overall at Fernhurst Books Draycote Dash
1st – Mike Lyons (Halo 812) Burghfield SC, 35pts
2nd – Craig Williamson (Laser 206880) Staunton Harold SC, 37pts
3rd – Jon Clarke (Solo 4748) Draycote SC, 44pts
4th – Nick Craig & Toby Lewis (Merlin Rocket 3749), Frensham Ponds SC, 46pts
5th – Simon Potts & Ally Martin (Merlin Rocket 3753), Burghfield SC, 55pts
6th – Jack Holden & Megan Fletcher (RS200 1481), Arun YC, 55pts

For full results: http://events.sailracer.org/eventsites/content.asp?id=39853&eventid=195890&templ= and to enter other events in the Series: http://www.SailJuiceSeries.com

PRIZES FOR COMPETITORS, CLASSES & SPECTATORS
Thanks to generous support from Series sponsors, we have some great prizes for competitors, and also for spectators and photographers. More details to follow in the coming weeks...
In addition to title sponsor GJW Direct Insurance (www.gjwdirect.co.uk/dinghy), the UK's largest direct boat insurer, our silver-level sponsors are:
Gul - Experts in Performance Apparel - www.gul.com
Trident - The Dinghy & Yacht Shop on the Web - www.tridentuk.com
Overboard - The Leaders in Waterproof Bags & Cases - www.over-board.co.uk
Lennon Sails - A new brand with a great heritage - www.lennonsails.com

ENTER NOW!
Enter the Series here: www.SailJuiceSeries.com
The website will tell you more about the events in the Series, more about the Great Lakes handicapping process, and we'll keep you updated on everything else you need to know.

Photo Credit ©: Tim Olin