2 February 2020
Andrew Lewis is on his way to a third Olympics after a dramatic final day in Miami...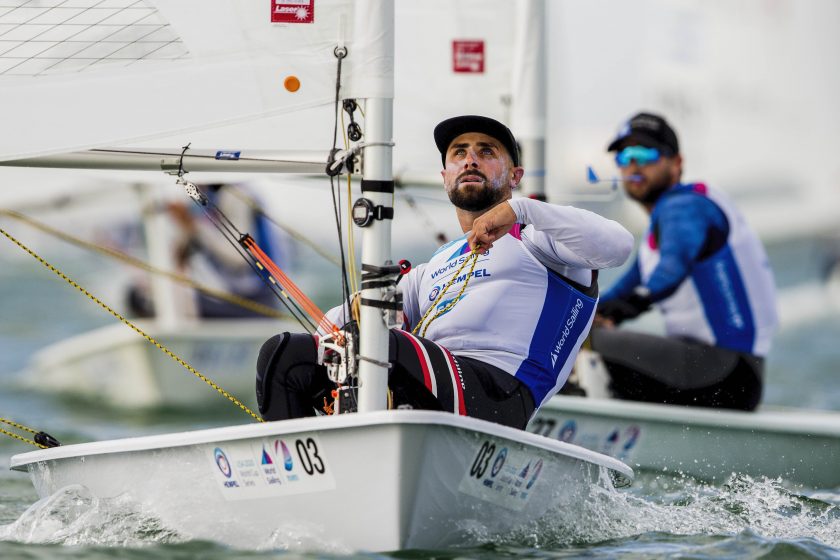 There was no shortage of drama on the final day at the Hempel World Cup Series Miami event which took place at the end of January. Last year Andrew Lewis, the Laser sailor from Trinidad and Tobago who succeeded in winning a World Cup medal in a mostly windless Genoa in Northern Italy. This time the stakes were much higher, with the Laser Medal Race coming down to a battle for an Olympic berth between Canada (population 35.6 million) and Trinidad (population 1.2 million).
Lewis went into the Medal Race with a 3-point gap over Robert Davis. The only problem for Lewis was Davis was accompanied by four team mates. Incredibly, Canada had five of the 10 athletes lining up on the Medal Race start line. "I was up against the whole of Canada! Even [prime minister] Justin Trudeau was there," quipped Lewis. Which meant the eagled-eyed International Jury were ready to pounce on any team racing by the combined forces of Canada against their Trinidadian rival.
Somehow Lewis managed to finish the Medal Race in fourth place, just behind the leading Canadian and as he crossed the line the Trinidadian punched the air and then pummelled the deck of his Laser in sheer relief. He then jumped off the boat and started celebrating in the waters of Biscayne Bay.
Lewis said that this was the sweetest of all his three Olympic qualifications. With World Sailing's drive to 50:50 representation between male and female athletes, the number of spots for the Men's Laser has been slashed from 52 nations at Rio to just 36 for Tokyo 2020. Lewis has had to massively up his game since Brazil and he has secured his third Olympic dream by the skin of his teeth. No one wished Canada any ill, but the neutral squad were squarely on the side of the Caribbean underdog. This is the man who was crushed by a collapsing wall a year before the Rio Games, an injury that he was lucky to survive but which still left him with two broken ribs, a broken tibia and fibula in his left leg, a punctured lung and nine fractured bones in his face. Fighting back from that near-death experience has made Lewis stronger than ever, and his many fans back home will be watching and cheering his every tack and gybe at this summer's Olympic Regatta.
This is an excerpt from a column originally published in....
https://www.yachtsandyachting.co.uk/
Documentary of the near-fatal moment that changed the course of Andrew Lewis's life and nearly ended his sailing career...
https://www.youtube.com/watch?time_continue=38&v=vk0IVumjo9o&feature=emb_logo