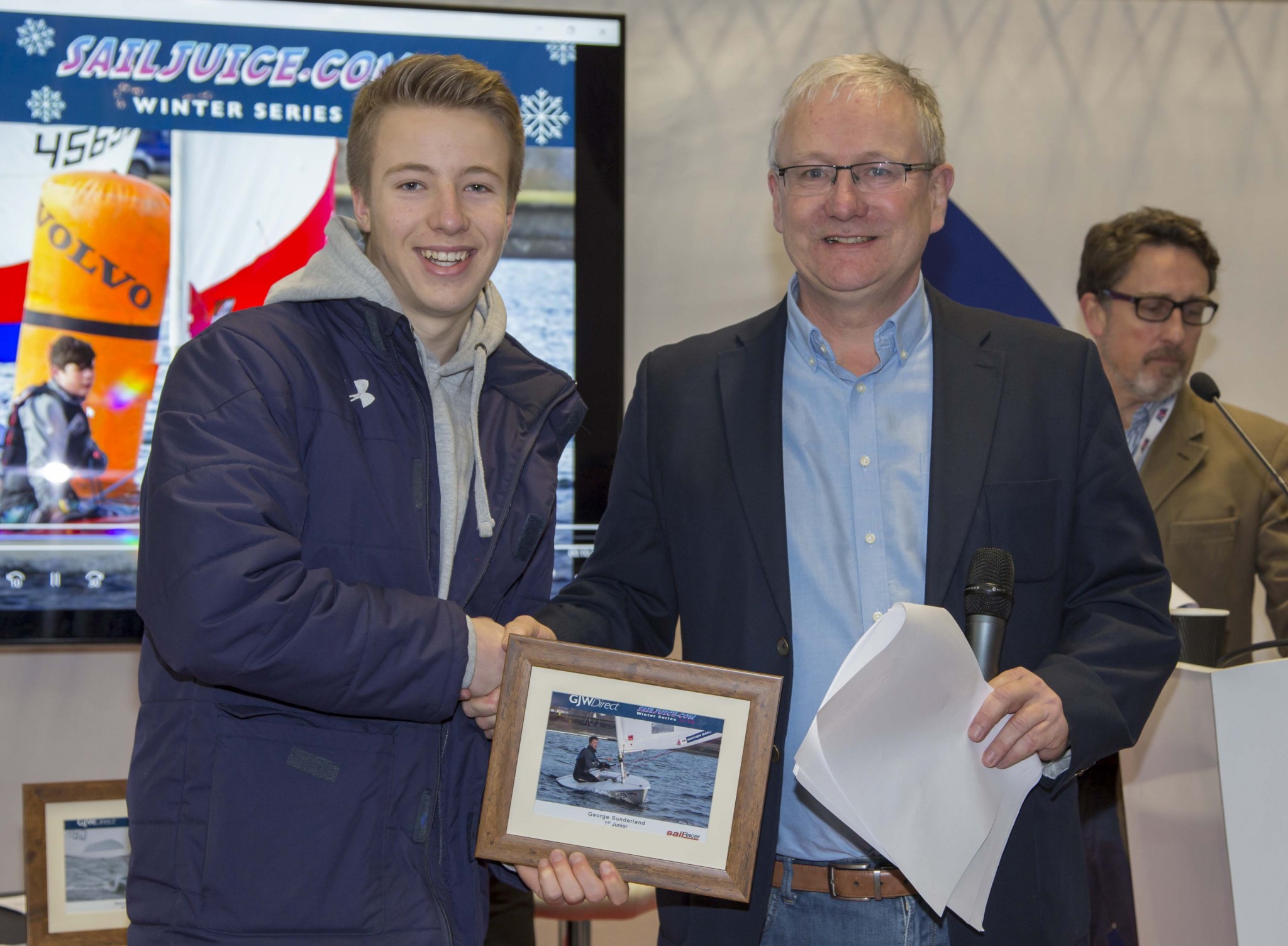 7 March 2018
Alistair Goodwin celebrated victory in the GJW Direct SailJuice Winter Series at the prize giving which took place on the Saturday morning of the RYA Dinghy Show. Goodwin was one of a number of prize winners who braved the heinous weather conditions to make it to Alexandra Palace in North London.
Series founder and co-organiser Andy Rice told the story of the seven events that made up the ninth edition of this Series, which has become established as one of the big focal points of winter competition in the UK dinghy racing scene. The majority of the events took place in light to medium airs, with only the Grafham Grand Prix and the John Merricks Tiger Trophy turning on the strong winds and seeing a different set of boats come to the fore.
Ian Walker took time out of his busy schedule as the RYA's director of racing to receive a cheque on behalf of the John Merricks Sailing Trust (JMST), raised from entry fees taken for the Series. Walker recalled the memory of his friend and sailing partner John, with whom he won an Olympic silver medal at Atlanta 1996. The winning skipper in the Volvo Ocean Race also showed up in an RS400 at last year's Tiger Trophy and managed to win, despite Ian not having raced much in dinghies for the past 20 years. "It's great to see so many people out racing in this Series during the winter months," said Ian. "And great that the Series supports the JMST and all the Trust aims to achieve." Past recipients of JMST grants include Dylan Fletcher and Stu Bithell who are the reigning World and European champions in the 49er Olympic skiff class.
This season's SailJuice Winter Series was the closest fought yet, and it all came down to the final race of the final event at Oxford last month. Goodwin is the first to win in a Laser. Over the nine editions of the Series, eight different types of boat have won, with only the Merlin Rocket winning twice.
Goodwin is from Haversham Sailing Club near Milton Keynes, where he has sailed since he took up the sport at the age of 10. He started out in Picos but soon moved into the Laser 4.7 and worked his way up through the different size rigs. "I was in the youth squad for a couple of years and I did spend some time training alongside the senior squad but recently I got a job and am going to focus on full-time work for a while," said Goodwin, who is now working at a health clinic helping people with losing weight and increasing fitness.
To hear more from Alistair, listen to his Sailjuice.com interview here: http://www.sailjuice.com/articles/alistair-goodwin-wins
Andrew Snell, who led for much of the Series, finished up very close on points to Goodwin but had to settle for the runner-up spot in his K1 keelboat while Ben Schooling came third, an impressive result in a season which really didn't suit the Musto Skiff particularly well. First doublehanded sailors in fourth overall were Phil Meakins and Tommo Tomson in an Osprey.
Here's a wrap-up of other competitions within the Series....
Dynamic Handicap Rankings
Based on dynamic handicaps that automatically adjust using SailRacer GPS data for each leg and various performance parameters calculated for each class and then compared to historic data. For the overall rankings across the SailRacer tracked events, Alistair Goodwin (Laser) was 1st, Andrew Snell (K1) 2nd and Ian Morgan (D-Zero) 3rd.
Youth and Juniors
Defending youth champion, George Coles (Laser) managed to hold onto to his title ahead of George Sunderland (Radial) who moved up to second place and top junior after a good performance at Oxford, with Hamilton Roaf (Graduate) completing the podium for youth rankings and second junior.
SpeedSix Challenge
Based on speeds recorded on the SailRacer GPS trackers, Ben Schooling (Musto Skiff) won the overall Series Ben Schooling (Musto Skiff) after a very consistent performance, followed by previous speed winners Ralph and Sophie Singleton (RS800) finishing in second. After leading the SpeedSix rankings for most of the Series Jonathan Carter (Vortex) dropped to third overall.
Allen Performance Challenge
This is awarded for the best improvement and progression towards the front of the fleet. Richard Botting who contested six of the seven events, jumped to the top, with Colin and Oly Murray (Norfolk Punt) in second and Ian Morgan (D-Zero) 3rd.
Trident Top Club
Rutland managed to hold on to top spot and scoop the Trident Top Club Award for the first time. Defending champions, Datchet had a strong showing at Oxford, and jumped three places to end the GJW Direct SailJuice Winter Series in 2nd spot, with 2015/16 Champions, Burghfield dropping to third overall.
GUL Top Lady
For the overall GUL Top Lady rankings, Emma Stevenson (Osprey) managed to hold onto top spot, with defending champion Eleanor Craig (Radial) in second and Val Millward (Challenger) in third.
Dinghy Rope Top Class
It was a close battle between the Lasers and Solos, but in the end the Solos prevailed and were crowned Dinghy Rope Top Class for 2017/18.
THE EVENTS
The following regattas constituted the GJW Direct SailJuice Winter Series 2017/18):
Draycote Dash, Draycote Water Sailing Club
18 & 19 November 2017

Datchet Flyer, Datchet Water Sailing Club
9 & 10 December 2017

Brass Monkey, Yorkshire Dales Sailing Club
27 December 2017

Grafham Grand Prix, Grafham Water Sailing Club
30 December 2017

King George Gallop, King George Sailing Club (replaces cancelled Bloody Mary)
6 January 2018

John Merricks Tiger Trophy, Rutland Sailing Club
3 & 4 February 2018

Oxford Blue, Oxford Sailing Club
17 February 2018