As an accomplished 49er sailor; former professional sailor; and an Olympic sailing coach for a Tokyo 2020 team, it's fair to say that Rick Peacock knows more than a thing or two about what it takes to be successful in a boat.
Whilst sailing and racing events are currently on hold in many different countries, maintaining sailing fitness over this unprecedented period in sports remains important for all sailors, but especially for those in the midst of their Olympic campaign.
At an early age, Rick started sailing on Redditch Lake in the Midlands, with his first boat being a Topper. However, when he moved to the 29er he had to move clubs, as the biggest boat allowed on Redditch Lake was a Merlin Rocket. Taking the RYA squad route to advance his sailing, Rick achieved his first World Championship title in the 29er in 2003. This was followed by top ranking positions in the 49er class coming 2nd in the 2009 and 4th in the 2011 Worlds.
Rick undoubtedly came into his own in the Team GBR 49er squad, winning medals in several World and European events, but he also found success in other professional sailing circuits, including the Extreme Sailing Series and the Soto 40 Circuit.
After missing out on the London 2012 Olympics, Rick took the opportunity to progress from 49er sailing to coaching Olympic teams, which started with coaching the Dutch 49er FX from 2013 right up to the Rio 2016 Olympics. This Olympic coaching role required more time in the Netherlands and Rick eventually moved there permanently.
In-between coaching commitments, Rick continued to get out on the water as much as possible sailing a Flying Phantom, Moth, and A-Class. During this time, Rick also took part in competitive regattas, which saw him compete in two World Championship regattas and a Kiel Week with the MUSTO Skiff class.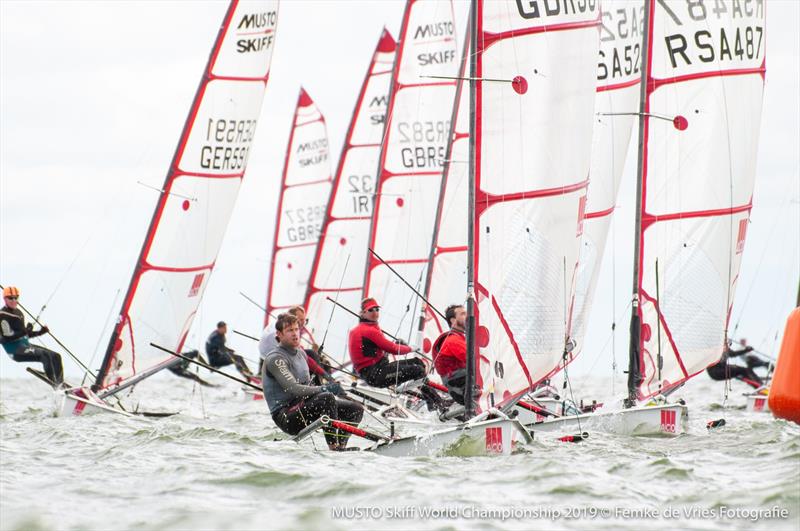 Rick is now fully focused on coaching the Dutch team's 49er program for Tokyo 2020 Olympics - albeit a completely different challenge right now given the recent COVID-19 pandemic which has, for many, prevented on the water activities and resulted in sailing club closures to promote safety.
Whilst not all of us are feeling the pressure to compete at Olympic level, staying sailing fit can improve boat handling, prevent you from tiring out too early, and even give you the stamina to get you over the finish line in first place. These are things that we all want to keep in check over the coming weeks and months, whatever level we are sailing at.
With a strong and competitive fleet in the MUSTO Skiff class, we asked Rick how things have changed for him since the lockdown and what advice he has for the MUSTO Skiff sailors to keep them fit and ensure they are ready to race (and have some fun!) when the sailing season starts up again.
Firstly, in the context of skiff sailing, how important is it to maintain a level of fitness?
Maintaining a level of fitness is really important - it takes a long time to get the fitness back after it has left you! When we can all resume normal activities you want to be prepared physically, giving you the best chance possible to enjoy your sailing. I think sailing, and especially MUSTO Skiffs, are hard enough to master at the best of times so controlling the areas like fitness, boat prep, and so on can get rid of unnecessary distractions.
What are the key muscle groups and fitness areas to focus on for skiff sailing?
There are a few areas to focus on. These are mainly aerobic capacity to withstand and recover from a full day, weekend, or week of sailing; strength required to complete the sailing tasks efficiently; and agility, balance, and coordination to move around the boat fast and smoothly with little disturbance to sails and foils.
What is a typical weekly routine for Olympic level sailors?
A typical week is tricky to summarise due the changes we make to the program throughout the year and cycle. Considerations are the phasing we are in - are we building up a base fitness or tapering for peak events? How much sailing are we doing? Are we training with lots of volume or racing 2hrs a day at a light wind venue?
Different sailing conditions for the day alter the load the athlete gets. (4 hours on a windy day for a crew is enough!). An example of a typical week could involve:
-4 or 5 sailing days
-2 x 1.5hr + aerobic training (maybe on bike)
-2 x strength training
-3 x core, stretch, agility

With Tokyo 2020 being postponed and lockdowns preventing on the water training, what are you recommending to keep the Olympic sailors fit right now? How much have the lockdown restrictions changed their usual fitness routine?

The Netherlands is currently not as strict as the UK with lockdowns. The selected Olympic sailors are allowed to hit the water whilst following social distancing and sticking with the local Government guidelines. We are really lucky being able to sail. The federation building and gym are all shut, so using the car as a changing room is popular! Sailors have also been given gym equipment and are doing a good job of creating home gyms and online classes.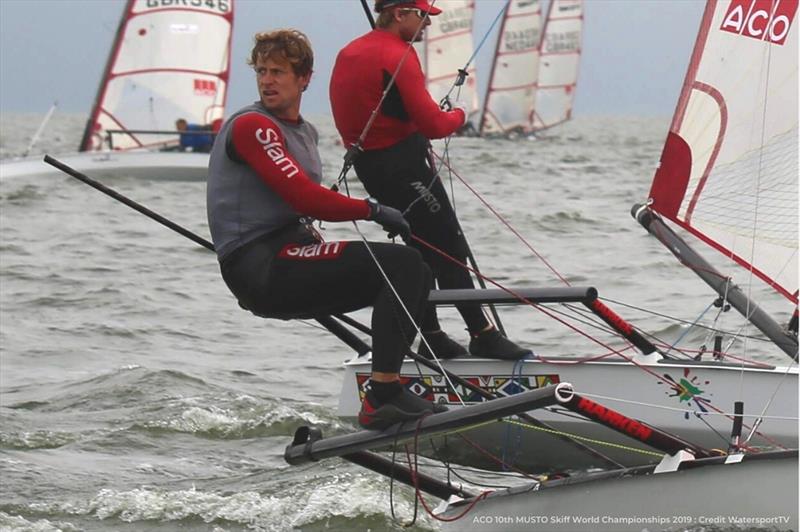 How important is nutrition in keeping sailing fit?
Nutrition is a key focus as we see big gains when we get this correct.
Crew weights - Olympic sailing is all about the small details and the competition is extremely tight. Being accurate with body weights and maybe even manipulating this for different venues is important. Some development sailors have to really concentrate on this to make the transition from different boats.
Staying healthy and fit - Keeping the immune system high is vital so we have zero missed days on the water, especially with International travel, etc.
Recover - Getting the correct and adequate food at suitable times allows us to train more efficiently with the body adapting and making gains.
Concentration - We need to be focused and alert in a sport where decision making is so important. Food and drink can help us to reach high levels.
What nutritional advice do you have for on the water supplies to maintain energy levels?
A few things - eat and drink before you feel like you need to; keep an eye on how long you have been on the water for; make life simple for yourself by choosing food that is easy to consume on the water; and finally, store it somewhere that you can grab it quickly.
Self-isolation snacking seems to be a trend right now. What would you suggest for healthy snack alternatives to help sailors maintain an optimum sailing weight?
Snacking doesn't have to be seen as a bad thing. Total daily calorie intake is worth considering. If you do snack, then just have less at meal times.
Healthy snacks can really add to your day and nutrition. For example, Nuts, fruit mix, and rice crackers. Also, it's worth considering why we snack. Is it habit or is it linked to certain other behaviours or feelings? Being aware of this is important.
Having experienced sailing the MUSTO Skiff, what would you recommend for sailors in the class to keep them sailing fit during this lockdown period - especially when sailing opportunities and trips to the gym are no longer possible?
Make sure you find a way to enjoy doing fitness. Make it fun. Find things you like doing, make it interesting. Then you can look forward to it and not see it as a chore. Cycling, running, online fitness classes, and circuits are all good to do. Keeping track of your progress can also really help with motivation.
At home we made a balance board and a climbing board. Good fun to play on and really challenging for the forearms. There is still nothing like sailing though! I find the agility and the range of motion in the hips difficult when I step back into a MUSTO.
Unlike pro-sailors, most MUSTO Skiff sailors aren't able to dedicate themselves full-time to training and sailing. With less time to commit, what are the most important things for them to focus on to ensure they can come out on the other side of the lockdowns ready to sail?
I think whatever you can do to keep active and mobile is a positive. Try and concentrate on all over body movement. Don't just do bench press for the next few months! Try and be inventive and enjoy your activities.
Sailing success is also about strategies and tactics. Do you have any good reads (or videos) to recommend for MUSTO Skiff sailors looking for tips and strategies to improve sailing performance?
There seems to be many great online videos or talks being created in this period. Sailing is a really broad sport, so it's great to get many different opinions or subjects covered. I have seen a big range, but a few that have caught my attention recently are the webinar from North sails on J70 set up or Rob Greenhalgh's one on moth rigs and foils. I also really enjoy Shirley Robertson's Sailing podcast.
I still think some of the books I read when I was younger are full of great ideas. You can't go too far wrong with Mark Rushall's RYA tactics.
Finally, you have sailed a lot of different boats during your sailing career, including the MUSTO Skiff at a couple of Worlds and Kiel Week. What attracted you to give the MUSTO Skiff a go?
My first MUSTO event was in 2015. I spotted that the MUSTO fleet were having their Worlds in Garda that year and the event fitted into the Olympic Calendar. I love having an event or goal to prepare for and I really enjoy Garda. The fleet were extremely welcoming, friendly and fun to spend some time with.
I then purchased another boat in 2019 when I realised their Worlds were going to be in Medemblik. I live in Amsterdam, so this was easy to arrange. Pim Van Vugt (49er NED team member that I coach) created a plan with me to do some extra racing alongside the 49er training. Medemblik regatta and Kiel week were nice build up events for the Worlds. The MUSTO also has similar skills to the 49er - good fun but with easy boat set up, low maintenance and a "hoist the main and go" ease of use.