At midday on 29 July, 24 Finn boats will line up on the Nothe Course, thousands of spectators will look down, the starting gun will fire and the London 2012 Olympic Sailing Competition at Weymouth and Portland, Great Britain will be underway.
Eyes will beam down on the course with the host nation's hopes pinned on Finn sailor Ben Ainslie (GBR). But despite the pressure of the home crowds, media attention and the chance of becoming the most successful Olympic sailor ever Ainslie's preparations could not be better.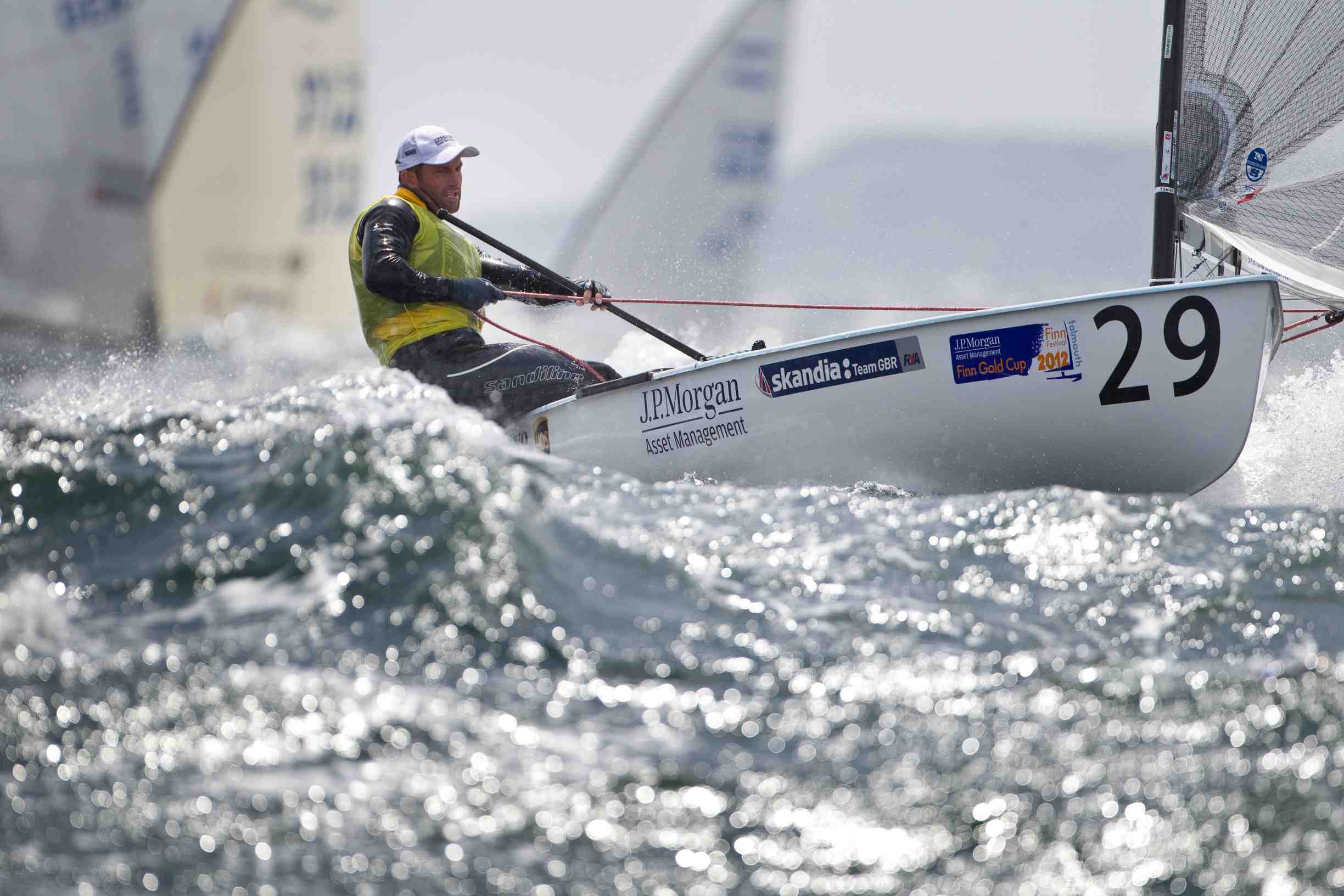 At the Finn Gold Cup in Falmouth in May Ainslie dominated a Finn fleet that featured his rivals for Olympic gold. Seven race wins out of nine races ensured the Brit finished 20 points clear of Ed Wright (GBR) in second and a mammoth 54 points ahead of Denmark's Jonas Hogh Christensen in third.
If Ainslie is to win gold at London 2012 he will eclipse Paul Elvstrom (DEN), who won four Olympic sailing gold medals from 1948 to 1960, to become the most successful Olympic sailor of all time. Elvstrom won his first gold medal at the London 1948 Olympic Games in the Firefly, he stepped into the Finn at Helsinki 1952 winning a second gold and further Finn gold medals came at Melbourne 1956 and Rome 1960.
Having picked up silver at Atlanta 1996 and gold at Sydney 2000, Athens 2004 and Beijing 2008, one more Olympic gold medal to the collection from London 2012 will further cement Ainslie's place in the Olympic history books.
Zach Railey's (USA) sixth place finish in the Medal Race at Beijing 2008 sealed silver medal and he's out for similar success at London 2012, "There is so much meaning wrapped up inside a medal when I look at an Olympic medal," said Railey. "I don't see the medal itself but look back on the sacrifice it took to win it not only from myself but of others who helped me get there. It is a special achievement and to do it again would be incredible."
2009 Finn World Champion Jonas Hogh-Christensen (DEN) has two top ten Finn class finishes at the Olympic Games to his name, but third time round the Dane is upbeat and a third place at Falmouth has put him on track for a podium finish. On his competitors the Dane said, "There's a good camaraderie in the Finn class. Tensions can be high but you've got to look after yourself. The level is very high so it makes it a lot of fun."

Slovenia's Vasilij Zbogar makes the step up into the Finn for London 2012 having sailed the Laser at three consecutive Olympic Games. Zbogar won bronze at Athens 2004 followed by a silver at Beijing 2008, if the trend is anything to go by the Slovenian could be on for the gold, but it would take a big performance from him.
Sweden's Daniel Birgmark lost out on an Olympic medal at Beijing 2008 by the slimmest of margins. Guillaume Florent (FRA) slipped into the final podium spot having finished fourth in the Medal Race, Birgmark's seventh meant they were on equal points but with the Frenchman ahead of the Swede in the last race bronze went to France. Four more years of experience and graft will hopefully come out for Birgmark at London 2012.
The Finn fleet boasts a mix of youth and wise old heads. At 19-years-old Brazil's Jorge Zarif is the youngest sailor in the fleet and is following in the footsteps of his father Jorge Zarif Neto who sailed the Finn at the 1984 and 1988 Olympic Games. "I think it's going to be a fantastic experience for me and to go to the Olympics like he [Jorge Zarif Neto] did, it is great for me and I feel very proud to be there and so do my family," said Zarif.
On the other end of the age scale is Czech Republic's Michael Maier who at 48 is the oldest competitor in the Olympic Sailing Competition. Maier sailed at his first Olympic Games in the Finn class at Atlanta 1996. London 2012 will be Maier's fifth Olympic Games and doesn't look like he'll be stepping away from the Finn anytime soon.
The 24-boat Finn fleet commence racing on the Nothe Course on 29 July at 12:00. The fleet enjoy a reserve day on 1 August followed by two further days of racing when the top ten will be decided for the Medal Race on 5 August.
Photo credit: Mark Lloyd