Wow, what a day!
Mine started with an early morning interview with BBC Radio 5 Live on Weymouth beach, and I was surprised to find Giles Scott already there. Giles, winner of just about every major Finn regatta including last year's World Championship, but not yet an Olympian, must have been finding it tough watching this week's racing.
That indeed is what the radio interviewer Chris Warburton put to him, and Giles couldn't deny it. I was asked how Iain Percy and Andrew 'Bart' Simpson would do, and what they needed to do to win. I started talking about the threat of Robert Scheidt and Bruno Prada and the points situation. It was only when Chris said: "Phew, I'm glad you referred to them as the Brazilian boat!"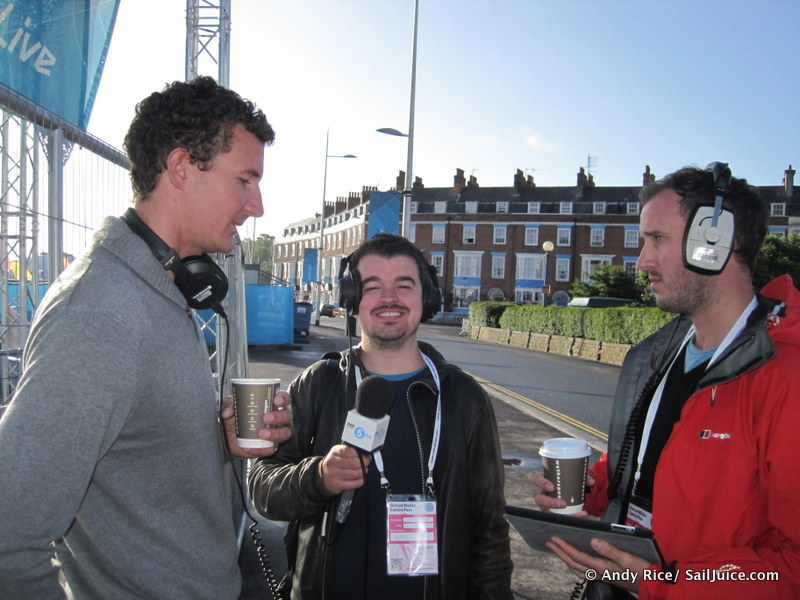 Giles Scott talking to Chris Warburton on BBC Radio 5 Live on the morning of the Finn Medal Race
Ah, yes, unwittingly I had mentioned the name that shall not be mentioned. No, not Voldemort, but Scheidt - whose name shall not be uttered until after the BBC 9'oclock watershed. No wonder Richard Simmonds on the BBC TV commentary refers to the Brazilian maestro as 'Robert Shide', with a silent 'T'. I had waded straight through 'Shite' without even realising how many people across the nation might at that very moment be choking on their weetabix.
Speedy Swedes
Anyway, as it turned out, it wasn't about the Brits or that, ahem, Brazilian gentleman today, but Freddie Loof and Max Salminen. Freddy Loof, so often the bridesmaid, and now at last the holder of the Big 'G'. Good on him, and big Max, who wants to compete for another gold four years from now in the Finn. Commiserations to Percy and Bart who, in a line-abreast run for the finish, missed the gold medal by just two seconds.
Ben beats DEN, but only just...
Ben Ainslie admits he got a right royal ticking off from Her Royal Highness Princess Anne, who was watching the action through binoculars on the boat next to our press boat. Ben certainly knows how to win the hard way, and not for the first time in his Olympic career, he put Anne and all the rest of us Brits through the mill today.
Victory was not within Ben's control, and it was only PJ Postma's bid for an extra place around the leeward mark, going for a space that didn't exist, that saw the Dutchman fall from gold medal position to fourth overall - the dreaded leather medal. PJ's boom hit the camera on the aft deck of Kiwi Dan Slater's Finn, and he was forced to take a penalty that saw him tumble from gold and all the way out of the medals. Jonathan Lobert's medal race victory gave him the bronze, with Jonas Hoegh-Christensen settling for silver behind Ben.
Was this more dramatic than Ben's match race against a certain Brazilian gentleman in Sydney 12 years ago? I'm not sure, but either way I see some movie rights being sold, hopefully to the masterful Danny Boyle, director of the Olympic opening ceremony.
Congratulations to Ben Ainslie, greatest Olympic sailor of all time.