Day one of the Olympic regatta and the talk of the Finn class was not Ben Ainslie but Jonas Hoegh Christensen of Denmark. Christensen got a great start in race one on the Nothe course where the Finn fleet will be contesting its medal race in a week's time. Although the Austrian sailor briefly got in front of the Dane towards the end of the first lap, Christensen was soon back in the lead and once ahead, extended. Christensen then nailed the start of the second race on the windy and wavy Weymouth West course and again sailed away from the opposition.
The Dane looked fast and very at home in conditions that others were struggling with. Ainslie commented: "He must have a hotline to Paul Elvstrom." Elvstrom, of course, being the most successful Olympic sailor of all time with four gold medals. The longstanding record that Ainslie will surpass if he manages to win a fourth Olympic gold in a week from now, to add to that silver he won back in Atlanta 1996 as a fresh-faced 19-year old.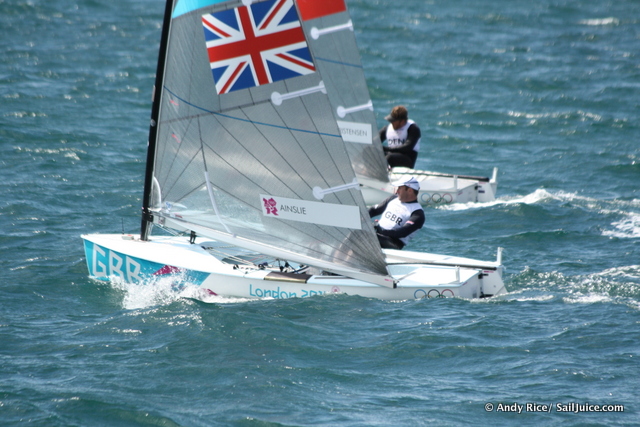 Ainslie playing catch-up as Christensen keeps the Brit covered
When asked if he did indeed have a hotline to the legendary fellow Dane, Christensen said no, although he did get the occasional SMS message from him. "But not recently, because my results haven't been good enough!" Hopefully he might get a nice text message in the coming days.
But what of Ben Ainslie? Well two 2nd places behind Christensen wasn't too shabby either. In fact it represents his best start to an Olympic regatta, of which London 2012 is his fifth. After all the pressure of the past year, the infamous disqualification at the worlds in Perth last December, the major problems with his back early in the year, and all the weight of home expectation, to square away two good scores must have been a huge relief. It certainly looked that way when he came to speak to us in the mix zone soon after coming ashore.