Jason Belben crossed the line first but a missed mark hands victory to Greenhalgh
Following a record advance entry the gusting winds and chilly conditions excited more to venture out and a monster 340 boats took to the water. Officially the Virtual Rigger 40th Bloody Mary Pursuit was the largest race since 2000.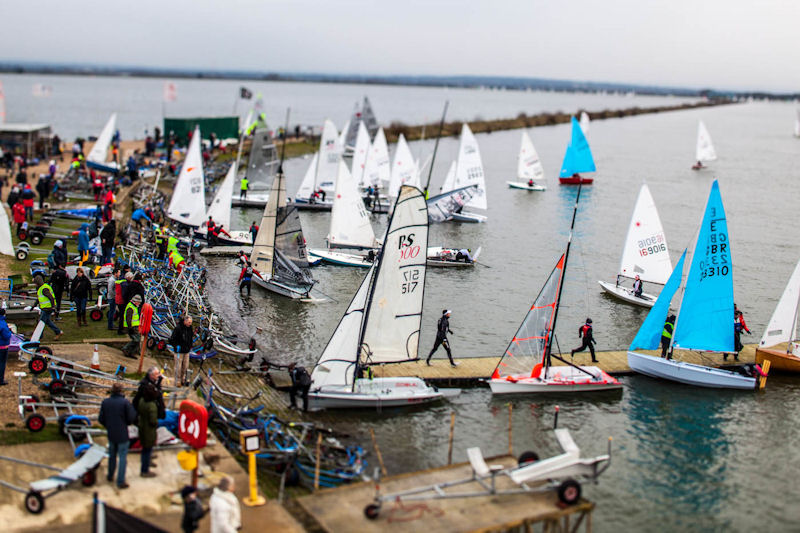 © Alex Irwin Photography
The crowds were entertained by great close up sailing action with the start line to the west and a gybe mark set close in shore on the east. The action was accompanied by BBC commentator Malcolm McKeag and included various interviews through out the day including a chat with Andy Rice, organiser of the GJW SailJuice Winter Series, of which this event was the fourth leg.
Sixty different dinghy classes entered and the largest fleet with 31 boats were the Merlin Rockets, followed closely by 30 Toppers and 28 Laser Radials. There were 12 classes with 8 or more entries all qualifying for a class prize.
The Toppers led off in a gusty Force 4 which progressively dropped to a Force 3. This helped the Toppers keep the lead for over an hour until the chasing Laser 4.7, Solo and Miracles overtook them. The faster boats enjoyed the fact that an easterly wind direction provided lots of reaches where they could fly their kites. With an hour to go, the wind was back up to a Force 4 which also favoured the later starters. Despite having put back the Moth start by 6 minutes from last year (and by 33 minutes from 2008), with 20 mins to go the Moth sailed by Jason Belben took the lead. In the final stages there were 11 classes fighting it out for the top positions.
The drama of the day was not over since a successful protest against Jason Belben saw his result disqualified.
The Winner of the Bloody Mary was Rob Greenhalgh from Stokes Bay Sailing Club in an International Moth. He walked away with a £250 voucher from event sponsor Virtual Rigger and Vodka and tomato juice for a well deserved 'Bloody Mary' from Thymelords catering team. He was followed home by Andrew Friend of Queen Mary and Peter Barton of Royal Lymington also in Moths. In 4th were Rick Peacock and Nick Murray in a 49er, in 5th was Stuart Jones in a Contender and in 6th was Rob Watson and John Clifton in an RS800.
The first lady helm was Vickki Payne who came 34th overall with Stephanie Orton in a 29er. The Grand Master prize went to John Cooper sailing with Becky Wiggly in an RS400. The first Junior prize went to Rob and Emma Loveridge in a 29er.
The winner thanked the club, sponsors, race team and the many volunteers on land for organising such a great event. This wrapped up a classic Bloody Mary at QMSC and the next event in the series is eagerly awaited.
Report by Tony Bishop, QMSC
You can find a full set of results from the Bloody Mary at: www.sailjuiceseries.com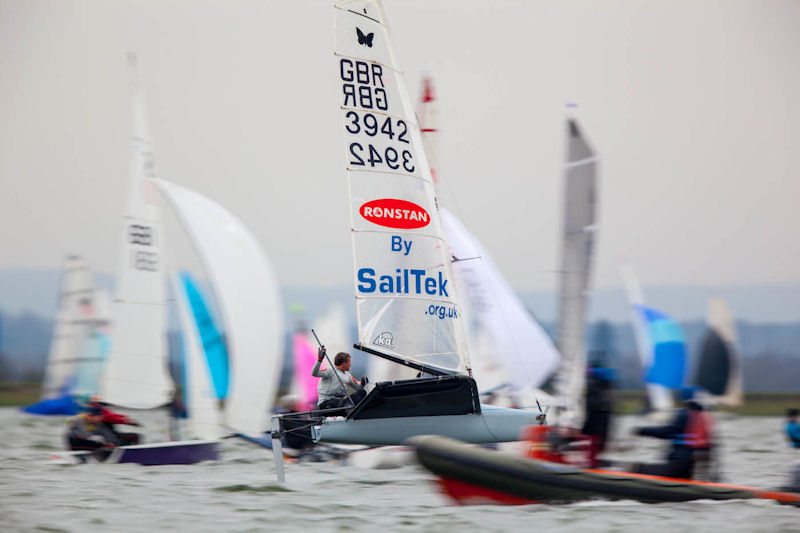 © Alex Irwin Photography