World and National Champions take the top spots in a high-wind handicap battle
With a high-wind forecast, no one could have expected all 170 entries to follow through with the trip to today's Grafham Grand Prix, but the 145 that got out of bed early to brave the conditions would be rewarded with a spectacular day's handicap racing. The average wind strength might have been in the late teens to early 20s, but it was the severity of the gusts - up to 35 knots - that provided the real test. There were capsizes aplenty although, amazingly, no broken masts.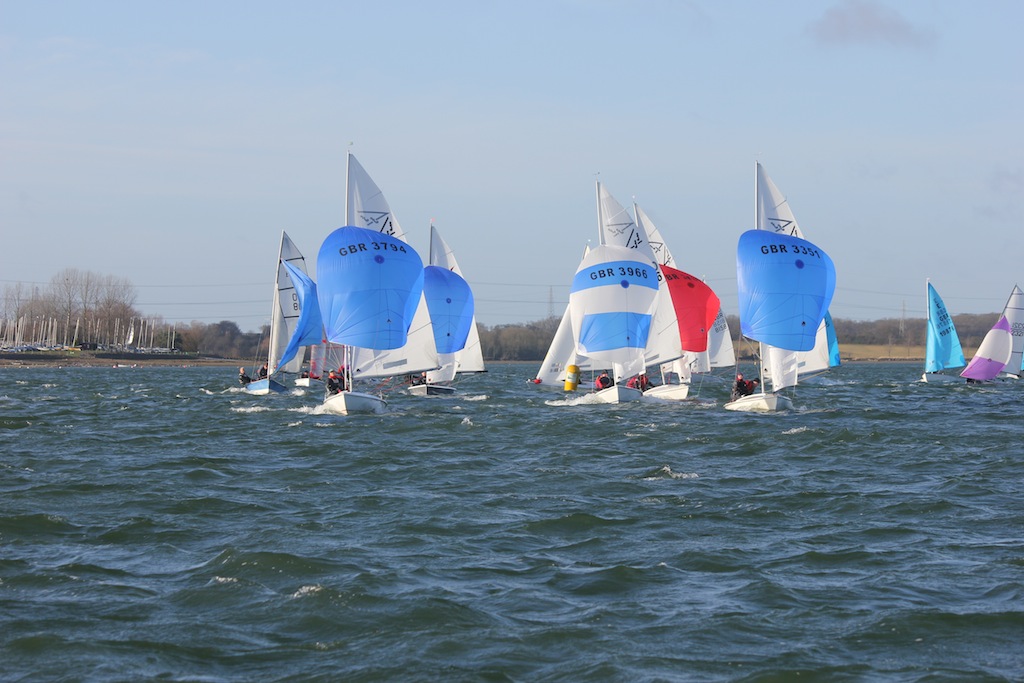 The Grafham Grand Prix is the third of six events in the GJW Direct SailJuice Winter Series, and three days earlier at the Brass Monkey at Yorkshire Dales Sailing Club, Tom Gillard and Simon Potts had already demonstrated their mastery of 'strong and gusty' in their Fireball, winning both races that day. The Sheffield Vikings followed up with two more bullets at Grafham today, with the Fireball teams dominating the Medium Handicap Fleet. Runners-up were Dave Hall and Paul Constable who have been sailing together for more than 25 years, and in third were Richard Cornes/ James Goodfellow. Peter Nelson was best of the rest in his RS600, followed by a 505 and a gaggle of Merlin Rockets.
Laser national champion Jack Wetherell also did well at the Brass Monkey, finishing runner-up to Gillard's Fireball. Today in the Singlehanded Fleet the young Wetherell beat 62 entrants to win his division. After the first race he was in a dead heat on corrected time with Radial sailor Jon Emmett, each sailor scoring 1.5 points. Following two years of intensive coaching of Lijia Xu to Olympic gold in the women's Radial at London 2012 earlier in the summer, Emmett clearly knows how to walk his own talk, a great sailor as well as coach. But in the next race the Weymouth veteran had to be satisfied with 2nd place to Wetherell's first, giving the young Laser sailor from Beaver overall victory. Behind that duel, next best was Michael Sims' Solo in 3rd place.
The 45-strong Slow Handicap fleet was one of the closest fought, but it was James and Will Rusden who came out on top with scores of 4,2 in their RS200. None of the frontrunners actually won a race. That honour went to Joe Sharp and William Russel in a Bosun, but a 28th in the next race put them out of overall contention. Instead, race 2 victory went to the Scorpion sailed by Tom Castle and Tim Hartley. However in 2nd overall it was two other Hartleys, Richard and Mark, who sailed their Wayfarer to a 2,5 score, equal on points to a 420 but beating Ben Hazeldine & Rhos Hawes on final-race countback.
In the Asymmetric fleet Neil Ashby and Sam Proctor from Shoreham scored a solid 2,1 in their RS800, winning by a point from race 1 winners in a 29er, Ed Connellan and Matthew Rhodes from Middle Nene. Third was Ian Martin in a Musto Skiff, who edged out former world silver medallist in the 49er, Rick Peacock crewed by Nick Murray.

Thomas Sandal's Sprint 15 took the Medium Cats fleet by a point from Stuart Snell. In the Fast Cats there was just one entry, the Inter 17 XL of Neil Klabe. It was there for the taking but Klabe was given a black flag disqualification for the single race in which he competed, so has the honour of scoring both first and last in his fleet.

There was some delay in processing the results as the multiple capsizes and retirements caused some confusion for the hard-working scorers on the race committee vessels, but sailors were impressed with the rapid turnaround between races. Sunny skies and strong winds made this a Grand Prix to remember.

For full results from the Grafham Grand Prix, go here:

http://events.sailracer.org/eventsites/content.asp?id=21241&eventid=51516