Halfway through the opening Star race of the Olympic Regatta, the Germans had a beautiful lead with defending Olympic champions Iain Percy and Bart Simpson looking comfortably in the top three as they sailed up the second beat.
With the way that the media boats are restricted from moving around the course, our boat was committed to waiting around near the lower gate and finish line area. When the fleet came back down the run for the second time towards the finish, the pecking order bore no resemblance to what we had seen earlier. The Germans had dropped back into the pack, and now it was the French who carried healthy lead down to the finish and won the race comfortably. The Greeks who rounded the leeward gate in last place crossed the line in third.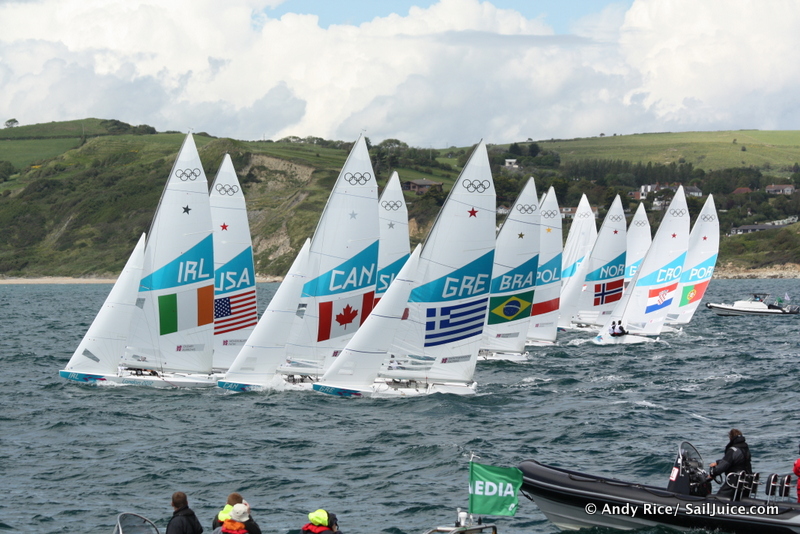 © Andy Rice : Shooting Stars and Photo Finishes
Something drastic had happened up at the top end of the course and we later heard that it was a 30° left hand shift. One of those who got dumped unceremoniously was the British boat which could only manage 11th place. But Percy and Simpson bounced back nicely in race two and, going down the final run were neck and neck with their archrivals, the Brazilians Robert Scheidt and Bruno Prada. It was a photo finish, with neither boats sure that they had won, but the Brits believing that they might have just clinched it. The Brazilians thought the Brits might have won too, but when they came ashore almost an hour later, it came as a happy surprise to Scheidt to discover that he had been given the win after all.
Maybe that was why Percy didn't seem his usual chirpy self, although he accepted the result for what it was. "It's not like I'm here with any burning misjustice, it is what it is," he said. What was bugging him more was the result in the first race. "It's more about not coming 11th again, getting caught on the wrong side of a 30 degree wind shift." But what did please post in Simpson was the day felt they had the downwind edge on Scheidt and anyone else they came up against.