Defending champions, Iain Percy and Andrew Simpson, sounded a warning signal to the rest of the Star fleet as they stealthily moved into pole position on day two of the Olympic Regatta at Weymouth and Portland.
The Beijing 2008 gold medallists picked up where they left off yesterday by collecting a third and a second from their two races on Monday to move to the top of the leaderboard, up from the fifth spot they occupied overnight.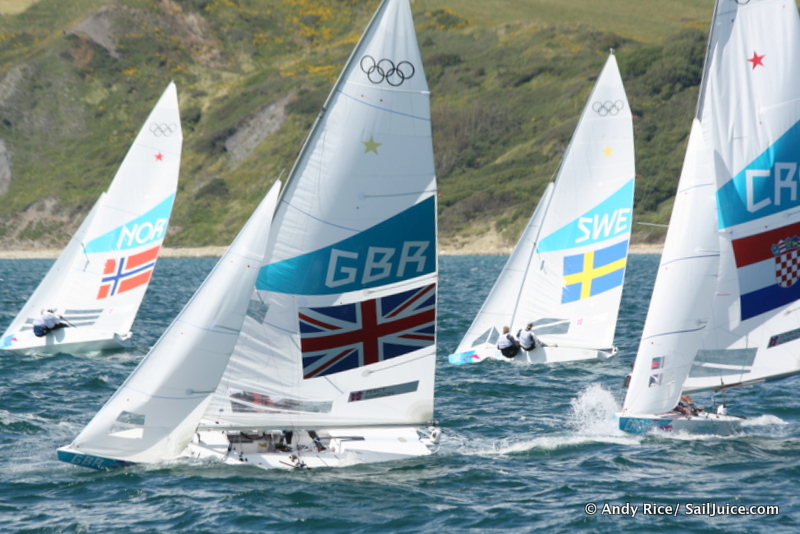 Brits take Star lead
In their first race of the day, the pair pulled up from seventh at the first mark to third, narrowly missing out on a photo decision in their favour for the second day running. But the result did help them make big inroads into the lead held overnight by Brazilians, Robert Scheidt and Bruno Prada, who finished ninth.
It was the Brits' brilliance downwind that paid dividends in their second race, race four overall. With shifting conditions once again playing their part in some cat and mouse racing, the boys propelled themselves from 10th at the first mark to second at the second mark, a position they held on to for the rest of the race.
Simpson said: "Well it was better than yesterday. We went well downwind again today so that's good news. Iain's fantastic at steering the boat in that stuff downwind and we should get more fun as we get onto the Weymouth Bay South course with a bit more waves, which is what we have done most of our work in.
"It's important you get over the nerves of starting an event and start to get on with it. It doesn't matter where you are as long as you're not miles behind at this point in this regatta. It was better today but it was still very tricky, a bit puffy and if you've got it right you're great but if not it's tricky! It's never a lottery, it's educated guessing."