16 March 2021
"Course C - why aren't we here all the time?" asked Nathan Outteridge plaintively from the commentary booth. Of course the former (but not former forever) America's Cup helmsman knows why - race officer Iain Murray and his team are constrained by the wind strength and direction. The stadium confines of Course C mean it only really works in a south-westerly, and the forecast of a 10 to 15 knot north-easterly for Wednesday is likely to see competition go back on Course A or E.
If only it could always be on Course C. That's what the skippers were saying, the commentators, everyone in Auckland. The shifty, unpredictable nature of the breeze makes it a tactician's race course and it was tactics - not boatspeed - that decided today's stunning duel between Luna Rossa and Emirates Team New Zealand.
"Sail like your boat is faster," is a phrase that Kenny Read has carried with him from his days sailing alongside America's Cup navigator Peter Isler. Kenny brought that up during Monday's nailbiting driftathon, explaining that if you believe your boat is faster you look at the race course in a different way. You see the possibilities rather than the roadblocks.
It's a great phrase that comes to mind often when watching Luna Rossa doing their best to fend off the marginally faster boat of Emirates Team New Zealand. If only they could be more confident in their speed. If only they could be more Isler. But the harsh reality is they can't. Yes, they're only a click slower, but it still makes life hard, just as Bruni and Spithill had made life so hard for the marginally slower Ineos Team UK a few weeks earlier. Nathan's 'make your elbows wide' observation of the Italians trying to stop the Kiwis getting past has become the new catchphrase of this Cup.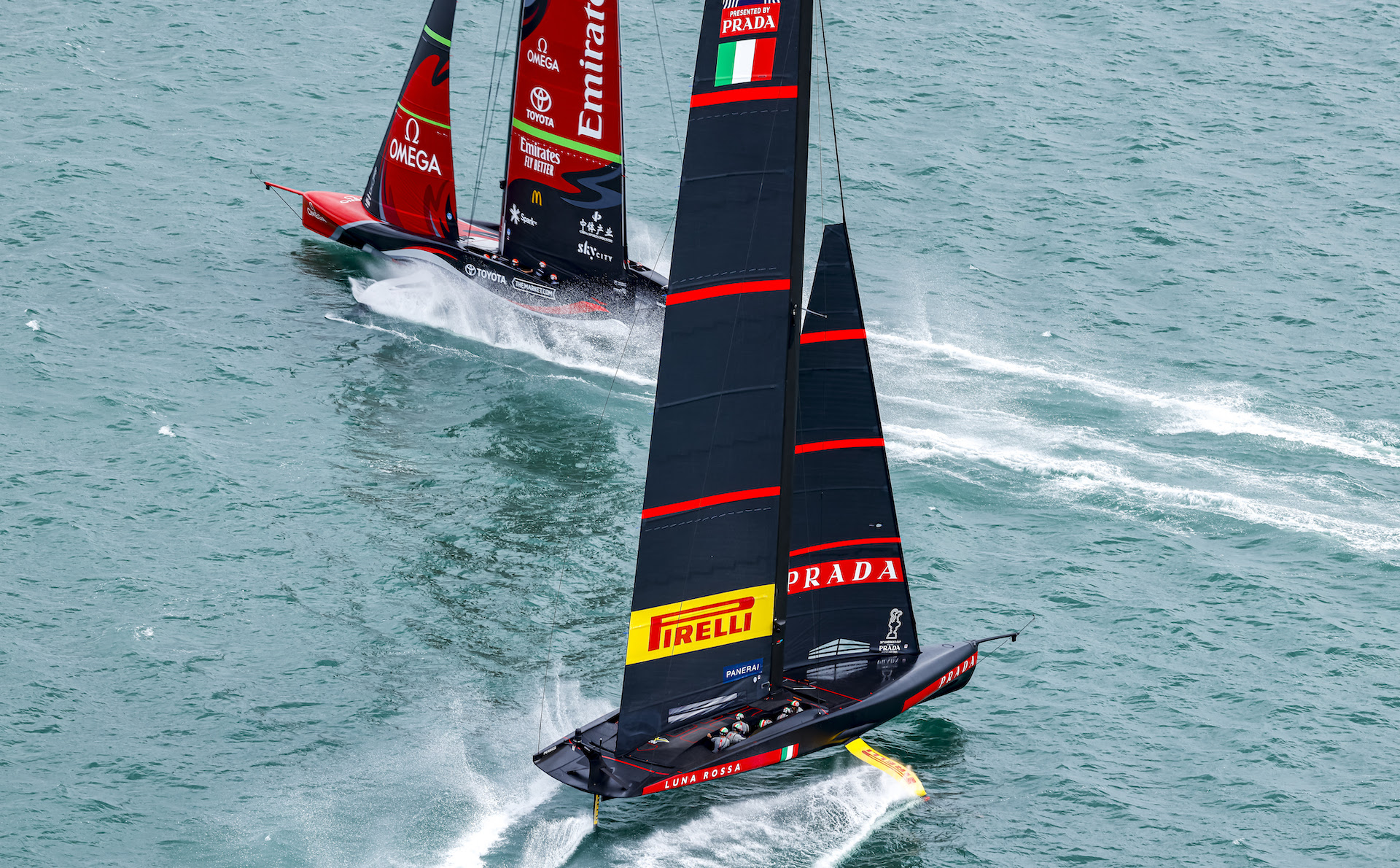 © ACE/ Studio Borlenghi
Thank goodness Jimmy Spithill, Francesco Bruni and the Italian crew have mostly got the better of the starts or this would have been a runaway victory for the Defender. They probably wouldn't stand a chance now with the scores at 6-3 and New Zealand on match point were it not for the fact that the Pitbull has been cornered in worse situations. Jimmy will be summoning all the spirit of 2013 and that comeback victory against Emirates Team New Zealand in San Francisco. If the wind stays light, we could yet see another impossible comeback.
However this Cup turns out, you and I will miss it when it's over. Top to bottom the TV coverage and presentation has been sensational. We should remember that none of this would be nearly as good as it is if the man that so many love to hate - Larry Ellison - hadn't bankrolled the development of Liveline technology for the 2013 Cup on his home turf of San Fran.
That incredible modern renaissance man Stan Honey was given the resources to put all his multi-Emmy Award winning skills into developing the ladder-rung grid that we have got used to seeing laid over the course. Occasionally today when the ladder rungs disappeared from the screen for a few seconds I was reminded how lost we all felt before this graphical overlay came along to tell us which was up and which way was down.
It's also been fun to get to know the commentary team and get in on their banter. Nathan threw a hospital pass at Shirley Robinson (as anchorman Stephen calls the double Olympic medallist about 80 per cent of the time), asking her to call which side of the upwind leg she'd favour. Shirley smartly sidestepped Nathan by answering a different question to the one he'd asked, so Nathan threw to the new boy in the chopper, Neil Hunter from Ineos Team UK.
Naively Neil actually answered Nathan's question by saying he preferred the right-hand side. Which didn't look so smart when Italy came back ahead from the left at the first cross on the final beat. But when Nathan asked him again, Neil stuck to his guns and once again plumped for the right. This time Chopper Hunter was right. Good for Neil, good for Team New Zealand being bounced off to the lucky side, bad for Luna Rossa. From being in a controlling position just 20 seconds earlier, the dejection in Jimmy Spithill's voice said it all. He knew he'd been passed and there was nothing that Italy could do about it. After pulling off the match racing move of the event at the leeward gate two minutes earlier, Luna Rossa deserved better.
At least the wind crapping out means Italy live to fight another day. It's another possibility to break Kiwi momentum, another opportunity to spring a surprise in a Cup that has been full of surprises.
Andy Rice