10 March 2021
How often do we come away from Day 1 of an America's Cup Match being none the wiser about who's going to win? We're meant to know in the first 30 seconds! Have you made your mind up? I know I haven't.
Yesterday I prefaced my blog with two of the most well-worn Cup clichés: "There is no second place", and 'Fastest Boat Wins'. Today's racing demanded a new America's Cup adage: "There is No Fastest Boat."
At least, what we saw from today's 1-1 draw was that any marginal speed advantage was so miniscule as to be insignificant to the outcome. The result of both races was decided by unforced errors.
Unforced Error #1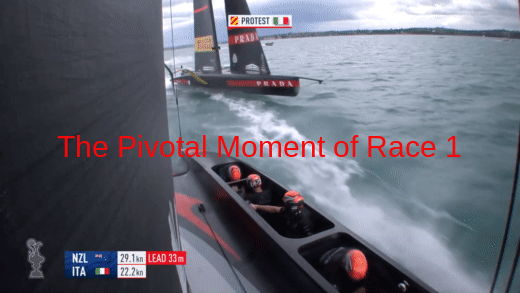 What was Jimmy Spithill thinking? Going for the penalty luff that almost but never quite was!
You know what?
I think Jimmy was thinking what a lot of the rest of us ill-informed armchair critics had been led to believe: that Emirates Team New Zealand were going to be emphatically faster. The Pitbull's move of desperation was borne out of a fear that once they got on an open race course the Kiwis would simply run away with it.
Now he, and the rest of us, know that's not true.
Te Rehutai is fast, but not stupid-fast. If he could have his time again, Jimmy would have held on to play the longer game, not roll the dice for a 6 in the just the first minute of the first race.
Unforced Error #2
"Fack!" I love it when the commentators feel obliged to apologise for fruity language. Just in case you missed it the first time, you can rewind it again to hear someone, Pete Burling maybe, utter the F-word some 15 seconds before they crossed the line. What a give-away.
After impeccable time-on-distance judgement in Race 1, the Kiwis' time-on-distance was way off in Race 2, handing an easy start to the Italians who never relinquished the lead after that. OK, so it was close by the finish, just a 7 second victory for the twin-helmed Italian boat. But this was a big momentum swing for the Challengers.
Just about all of New Zealand has been talking down the Italians' chances, so I would say that 1-1 in front of a large crowd of Kiwi spectators makes it a victory for Luna Rossa after day one.
So who's faster?
As Luna Rossa co-helmsman Francesco Bruni observed, and which was later expanded by TV commentators Ken Read and Nathan Outteridge, the Italians feel they are higher and slower compared with the lower and faster mode of New Zealand. Which would you rather have on a tight course hemmed in by virtual boundaries? I'd take higher and slower thanks, along with a superior tacking speed which the Italians also used to great effect against Ineos Team UK.
The common observation that the Kiwi foils are 30% smaller in surface area doesn't seem to be yielding the expected straight line advantage. Both boats look very evenly matched on these windward-leewards. But in stronger breeze maybe the smaller wetted surface area will finally yield a benefit for the Defender.
I'm looking forward to getting the inside scoop from Hamish Willcox on all of this after the Cup is done. We'll be using the America's Cup as a case study for lessons learned and which can be applied to Road To Gold, the online course I've put together with Burling and Tuke's 49er coach over the past number of months. (www.roadtogold.net)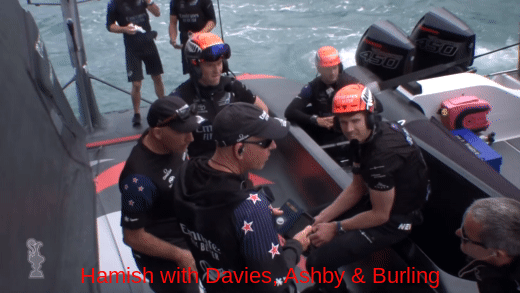 That's Hamish in between races talking with fellow ETNZ performance coach Ray Davies along with afterguard Glenn Ashby and Pete Burling. The Kiwis are far too cool ever to be rattled, but they do know they have a race on their hands now.
Andy Rice