21 February 2021
Not that I ever said it publicly, but I'm going to eat my unspoken words that an Italian team would ever be able to win the America's Cup. And of course, they haven't. Yet. Beating Emirates Team New Zealand will require yet another step-up from the ever improving Luna Rossa Prada Pirelli.
With the exception of the Iain Percy skippered +39 Challenge of Valencia 2007, this is the least Italian team I have ever seen on the Cup trail. No histrionics, no celebrations, constant reminders from Francesco Bruni to his team mates not to 'high five' as they crossed the finish line ahead yet again.
Jimmy Spithill's 'take no prisoners' attitude to everything in life is sometimes hard for most of us to swallow, but it's brutally effective. Jimmy makes for very entertaining TV, especially when he starts 'coaching' the umpires about the mistake they just made in not giving Ineos Team UK a penalty.
Aside from being a great technical sailor, the pugnacious Australian has brought a level of steel to this team that we haven't seen before. The Italians have taken on the persona of unflappable, level-headed Aussies or Kiwis, employing the same kind of 'steady as she goes' mindset that has worked so well for the likes of Coutts, Burling and Spithill himself.
The mindset of the Brits was just fine too. No real problems there, other than maybe a lack of confidence in the pre-start. This was surprising for such strong-willed individuals as Ben Ainslie and Giles Scott, but how much of that was down to a lack of confidence in Britannia? In breezes of 12 knots or less, the boat - literally and metaphorically - wasn't able to rise to the occasion. See the comparison of tacking acceleration for just one example of the performance gap.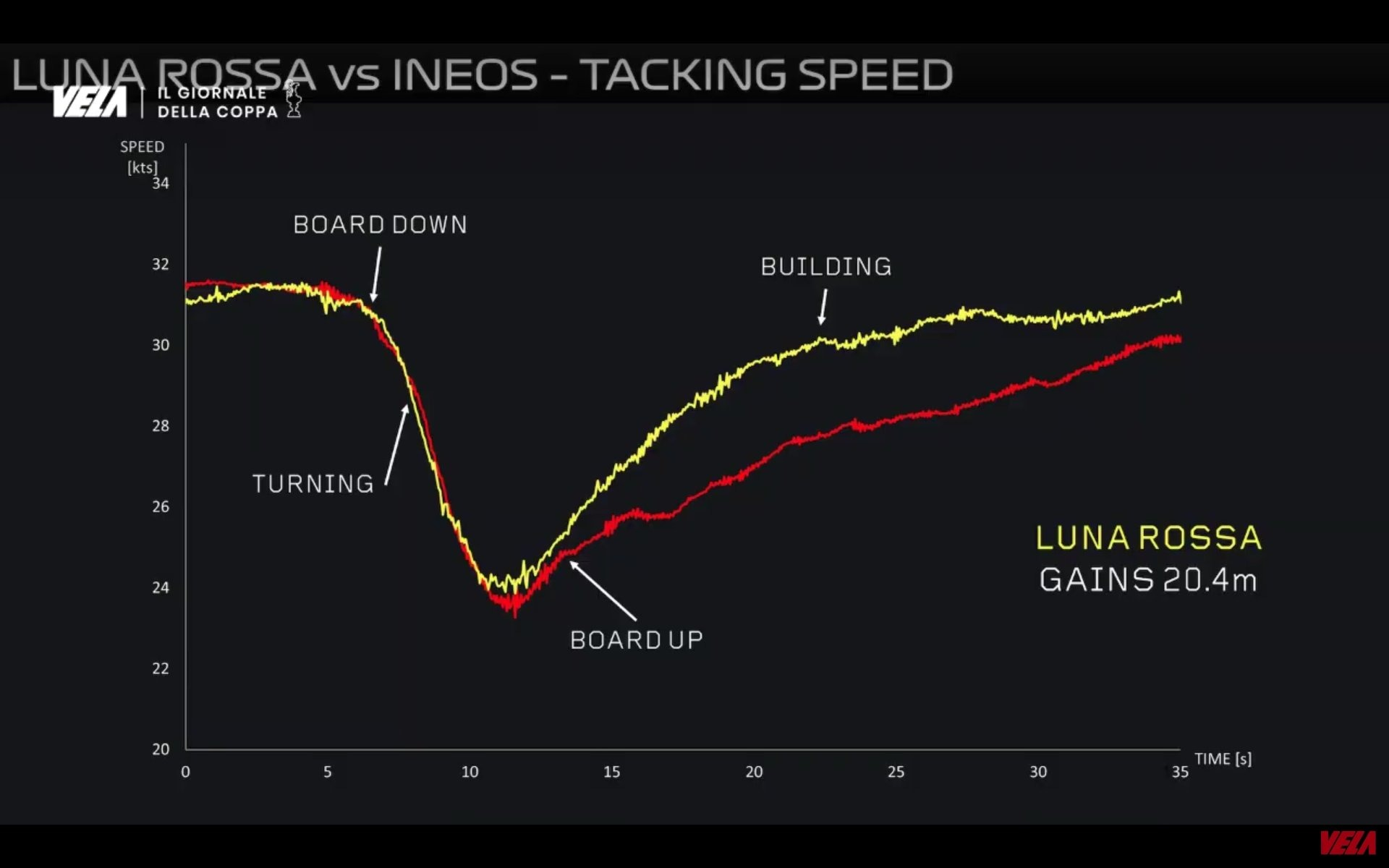 Sir Ben said he wouldn't be helping out either team from now on through to the Cup, "May the best boat win." So who does have the best boat? Nathan Outteridge is always my pick for the most expert ringside observer out there in Auckland. "Team New Zealand are going to have an advantage in terms of boat speed," he says.
But Nathan still can't get his head around how the Kiwis are going to be able to match the Italians in the lower wind range with a set of foils that are estimated to be up to 30% smaller in surface area. Compared with the challengers pre-Christmas, the Kiwis had no problem hopping up on the foils in lighter breezes, but how much more do the Un-Italians have left in the tank? With the current rate of AC75 development, two weeks is a long time.
We'll be picking apart some of what we've seen in Auckland at next weekend's Q&A Zoom call that I do every Saturday with Hamish Willcox on our Road To Gold program. www.roadtogold.net
Andy Rice