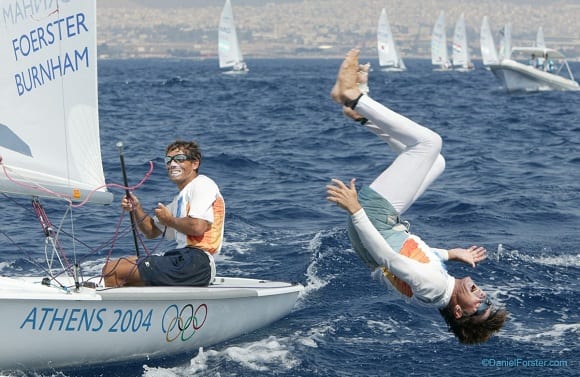 It's been a tough few weeks for the 470 class, losing two legends from the Olympic doublehander. First Dave Barnes who passed away a few weeks ago at the age of 62 after a long battle with multiple sclerosis. Together with Hamish Willcox, Dave won three 470 world titles in the early 80s. Their boat handlings skills were ahead of their time, and Hamish's trademark was to trapeze barefoot. Barnes & Willcox were 22 and 19 years old respectively when they won their first world title in France in 1981.
Meanwhile a keen American sailor of a similar age to Dave Barnes was learning his trade in the 470 although it would be many years later that Kevin Burnham's perseverance would pay off. Sailing up the final beat of the final race at Barcelona 1992, with the 470 gold medal already secured by Spain's Jordi Calafat and Kiko Sanchez, Kevin and his helmsman Morgan Reeser were in a six-way battle for the silver and bronze medals. The Americans, hardly seen as podium potential, sailed out of their skins at those Games to win an unexpected silver.
But for Kevin Burnham the best was yet to come. For Athens 2004 he teamed up with Paul Foerster who had also taken a silver medal in Barcelona at the helm of the Flying Dutchman and another silver in the 470 at Sydney 2000. Now aged 47, Burnham went into the final race in Athens against two young Brits in their 20s, Nick Rogers and Joe Glanfield.
"Nick and Joe used to call me Grandpa," Kevin told Gary Jobson in an interview earlier this year. "I was older than their parents. And I didn't let them know that it bothered me. But it did get me a little bit. And as we were going up when we tacked a bunch of times and they stopped. And I came off the wire. And Paul goes, 'What are you doing?' I said I'll go talk to them. And I said, 'Don't you have any more tacks for Grandpa?' And they tacked and we went back at it and stuff.
"And then we went downwind and we really opened up on them. We were a rocket ship downwind and we got to the gates. And Paul just fun and went head to wind between the gates. I go, 'what are you doing?' He goes 'well, we'll wait for them.' So I stood up in the boat and I said: 'Come on Grandpa's waiting for you! Let's go guys.' It was fun. It was really a good time."
You can see how much Kevin enjoyed that moment, the oldest competitor in any sport to win Olympic gold at Athens 2004, when he backflipped out of the boat after beating the Brits in that good-natured match race. Barefooted Kevin - forever the legend, never to be forgotten.
I used to compete against Kevin in the 470 for the year that I crewed the late, great Johnny Merricks. I remember having breakfast with Kevin and Morgan, with the two Americans looking quizzically at an English toast rack and asking why anyone would ever want to put hot toast in a 'toast cooler'! Being around those two was always a laugh, although I have to say that Kevin was quite a shouter when it came to sailing with him on a yacht at the Heineken Regatta in St Maarten in the Caribbean. His passion for the sport and for winning was always on full display.
RIP Dave Barnes and Kevin Burnham, two icons of the 470 fleet.
written by Andy Rice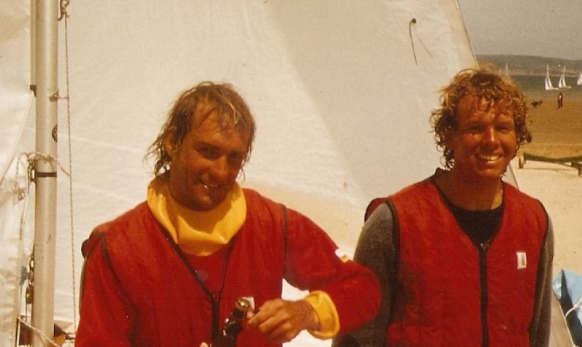 Dave Barnes (left) with Hamish Willcox after winning the 470 Worlds in 1981