This article was written in March 2018 but it seems relevant to publish it again, against the backdrop of catastrophic failures in the Vendee Globe...
In the past decade high-performance boats have become much faster. The pace of development has been meteoric, particularly with the widespread uptake of hydrofoiling. While the popularity of the International Moth took off in the mid-Noughties with introduction of full foiling, it took the flying exploits of the AC72 catamarans in the 2013 America's Cup to really capture the attention of the wider sailing world.
Since then the number of foiling craft has proliferated, from dinghies and small cats up to the likes of Wild Oats XI which has also dabbled with foils at the Maxi level. Now foils have become de rigeur on the latest generation of IMOCA 60s, and so it goes on.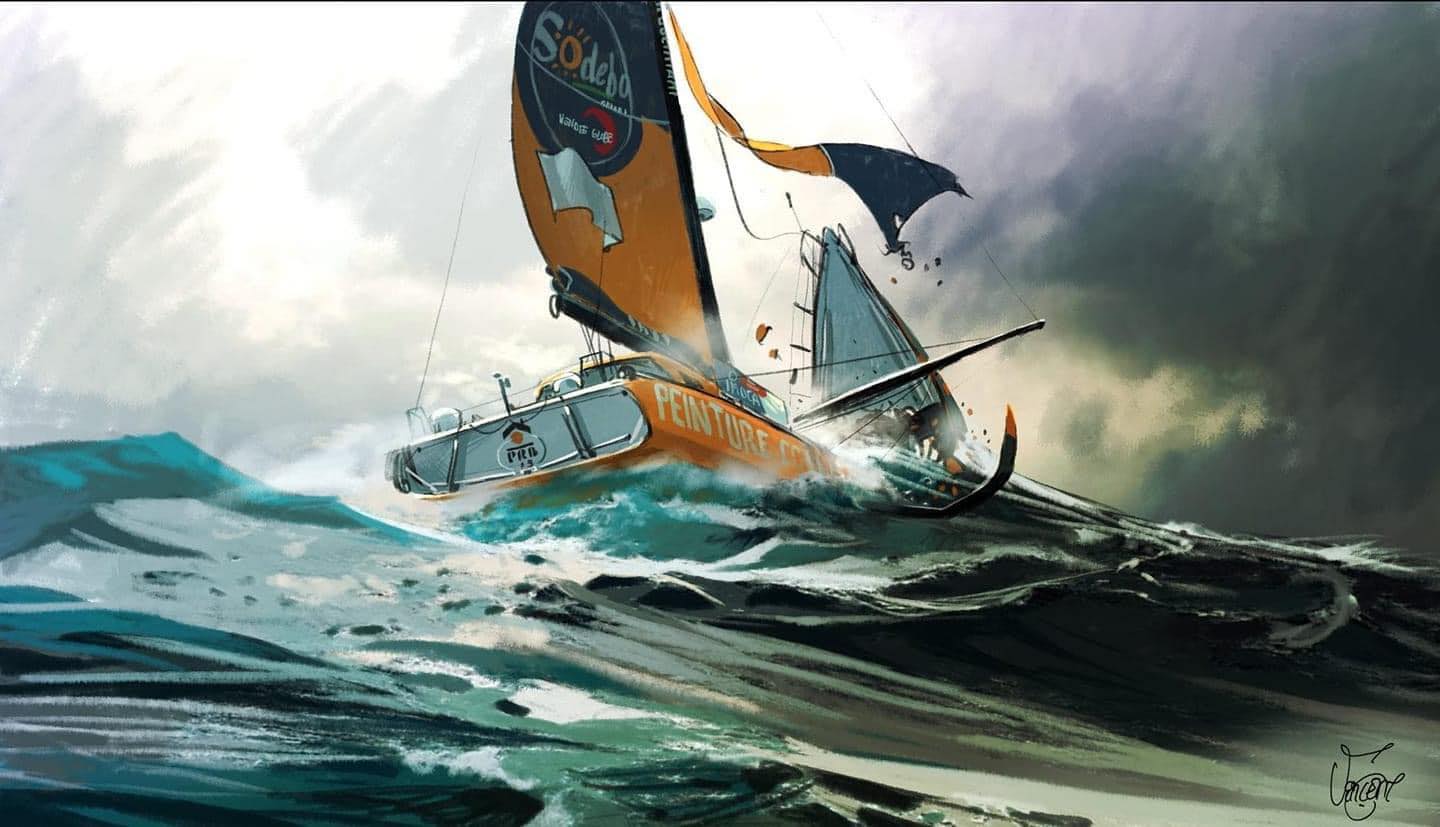 SPEED UP, RELIABILITY DOWN
While the boats have got faster, they have also become much less reliable. Breakage is an almost inevitable part of development. As legendary America's Cup designer Ben Lexcen once said: "If it doesn't break, it's too heavy." However, this trial and error approach to yacht design doesn't cut much ice with the insurance industry.
Simon Tonks, deputy head of marine at Hiscox has been insuring race boats for more than 20 years. "At Hiscox we're passionate about the sport of sailing and we love to support the latest developments," he says. "But with these increased speeds come increased risks, not only to the boats themselves but to the people sailing them and also people in the vicinity of these fast craft. When you've got MOD70s and other kinds of high performance boats flying around confined spaces like the Solent, these all have safety implications, and therefore insurance implications too."
STANDARD OF CREWS
One aspect that concerns Tonks is the standard of sailing ability on board some of these high-speed machines. "There aren't that many experienced helmsmen for foiling cats and we get asked for quotes from people who want to buy, say, a high performance, 30ft foiling multihull, and they've done some racing on a J/24 or J/122. So they want to go from a boat that barely does 10 knots to a foiling multihull capable of 35 knots, and with no qualifications or relevant experience." In order to race an M32 catamaran, the class requires the sailors to have undergone a licensing course where helmsman and crew learn the basics of handling the boat, the manoeuvres, how to get the mainsail on and off its halyard lock, and so on. While the licensing doesn't come without a cost, the safety benefits are obvious and it may well end up saving the owner money too, because of the basic but vital lessons learned before they even start racing the boat. Tonks would like to see other classes adopt a similar approach. "You wouldn't expect to see Formula One cars being raced around the track by weekend enthusiasts," he says. "But that's effectively what we're seeing in some parts of the sailing world."
Two organisations that Tonks believes are doing the job well are the Volvo Ocean Race and the Extreme Sailing Series. "What Volvo do very well is with the infrastructure of the Race. If there's an issue with one boat they can go through the whole fleet to do a risk assessment. The Extremes have very strong guidelines, in terms of when the racing can happen, what the wind speed cutoffs are, and so on. So there can be no pressure from the media or the TV. I think it's 24 knots of wind and above when the racing is stopped, and then there are lower wind strengths for when guests are taken off the race boats."
20 PER CENT BREAKAGE
Aside from risk to crew is the reliability of equipment. Tonks says that of the Class 40s insured by Hiscox, around 20% have broken a mast through carbon failure. It has now reached the point where many insurers won't even insure the rig. Hiscox still does, but only provided a 100% non-destructive test (NDT) is carried out on the rig. "If you're spending £400-500k on a Class 40, why wouldn't you want to go that extra step to get a full history on the rig, with a comprehensive NDT test? But the main reason we ask for NDT is simply that we want to eliminate build fault. Why wouldn't you want to do that?"
The answer, of course, is money, although as Tonks points out: "The cost of an NDT test is generally only .01% of the price of the boat. The average cost of a full NDT test is around £5k which doesn't seem very much when you balance this against safety considerations and the fact you know what's going into the boat is fit for purpose and isn't going to break mid-ocean."
One of the specialists Hiscox use for NDT testing is the MTD Group, a Cardiff-based organisation with a strong background in aerospace. Working in an industry where even the smallest level of failure can't be tolerated [because otherwise aeroplanes would fall out of the sky on a much more regular basis], MDT's business development manager Michelle Clapham tries to find a word that describes the marine industry's attitude to NDT testing and settles on 'agricultural' as a not-too-harsh description. One senses her frustration that the marine industry doesn't aspire to higher standards.
Despite the proliferation of composite construction, composite craft remain more or less unregulated compared with metal hulls which have to pass certification with one of the classification bodies. MDT's technical director Colin Thomas comments: "We've been working in aerospace for a long time, especially at the forefront of testing composites as it's become more and more used in the aircraft world. We have tried - and are trying - to apply it to the marine industry, but I have to say it has been met with a lot of resistance.
"We have constantly to deal with an airworthiness authority in the aerospace world and their demands must be met and they are scrutinising everything. Yes, for us the environment is probably easier because the regulatory authority exists and has a big stick. That's something that appears to be missing in the sailing world."
AVIATION INDUSTRY SETS THE PACE
It was catastrophic accidents in the aviation industry that led to the creation of such a tight regulatory framework today, and it's likely that it will require a few high-profile fatalities before things change in the marine world. The death of four sailors after the keel fell off the 40-footer Cheeki Rafiki, caused a few ripples. But as to whether it will create lasting change remains to be seen, according to MTD's division director Chris Thomas: "There was a recommendation from the Marine Accident Investigation Branch (MAIB) after the Cheeki Rafiki incident, but it's still not been fully adopted in the marine industry. They put out some flyers around the industry and two of the recommendations were around the certification of parts and for the introduction of NDT; the second recommendation was for the people carrying out that NDT to be suitably qualified." Some NDT testing comes down to little more than banging a carbon structure with a hammer, and unsurprisingly, the expert at MTD don't think that's quite good enough. Then again, proper NDT testing doesn't come cheap. Assessing a mast ranges typically from around £800 to £2000, according to Clapham. "Size, construction, history, access, rigging all have a bearing. A clean structure, i.e. one with few indications (which are found, mapped and then interrogated for type of 'defect') is much faster than one with many indications. Many indications doesn't necessarily mean a bad structure, it comes down to additional factors."
MORE DEATHS NEEDED FIRST?
It took the death of Andrew 'Bart' Simpson for the America's Cup community to start taking NDT seriously, and it was the same in Formula One more than 20 years ago. Mike Gascoyne, a keen Class 40 sailor who has raced doublehanded in events like the Transat Jacques Vabre and Rolex Fastnet Race alongside the likes of Brian Thompson and Josh Hall, has spent his career in Formula One engineering. He has worked at the top of many of the big names in F1 including McLaren, Sauber, Tyrrell, Jordan and Renault, as well as founding the Caterham F1 Team.
Gascoyne says it wasn't until that fateful weekend at Imola in 1994, with the death of Roland Ratzenberger during qualifying on the Saturday followed by the death of Ayrton Senna during the actual race, that the F1 community started to ask itself some hard questions. "There hadn't been a death for 10 years and we had started to become complacent," says Gascoyne, who now offers his engineering expertise to the marine and motor racing worlds through his business MGI Consultancy. The Imola double disaster brought about a sea change in how the motor racing world learns from every accident and incorporates those findings back into developing the next generation of cars, with safety always at the top of the agenda.
DON'T LET THE SAILORS DECIDE
Could we see a similar change in the marine world? Gascoyne is sceptical: "We had a very strong governing body in the form of the FIA and that rule change [after Imola] on the grounds of safety was absolutely key to making F1 team do what they should do. In IMOCA where you have skipper-run teams, a skipper is always going to go for the thing that will make them go faster and hope disaster doesn't happen to them. It's the same in most sports. Any competitor will say: 'Just give me the quickest thing and I'll sort it out.'
"At F1 you have very professional teams where the drivers are effectively employees of the teams. In sailing it's a very different model where the sailors are the heads of their teams. With all due respect to them, great sailors and athletes as they are, they're probably not the only people that should be making those decisions [about safety], as they are also driven by performance as a priority. It requires a governing body to create the framework for these changes to happen."
So where does Gascoyne think the impetus should come from? "World Sailing or some other body should be providing the oversight and this regulatory framework. There should be a technical delegate, someone like Charlie Whiting who's the guy we had in Formula One. He would come into the technical working group and say, 'look we've got this problem, we've had this accident. And on the grounds of safety I'm going to impose this regulation on you [the teams], unless you all agree to something else.' What that forced the teams to do was agree on something. He would come in with something ridiculous and say, 'unless you can come up with something different, that's what I'm going to do.' So in the sailing world, you see masts falling down on a regular basis.
"So let's say the Vendee Globe happens and 40% of the rigs come down. You could go in, and say 'that's unsafe, so I'm going to impose on every boat before every race, a mast load test. We'll pull it this way with x tonnes of load, sideways with y tonnes, whatever. And we're going to do that.' Then the teams might say, 'oh no, all our rigs would fail!' and you go, 'OK, you come up with a better regulation then, but one that means the rigs won't fail. But of course it is not always as simple as that in practice.'"
The example of Formula One certainly offers a way forwards for the marine world, but will it happen? Or will it continue to be left to the insurers to be the arbiters of what is and isn't safe in high performance sailing?
written by Andy Rice