2 March 2010
Olly Turner has won the SailJuice Global Warm-Up, the four-event winter travellers' series which concluded at the weekend with the Hoo Freezer. Turner's victory is particularly special because he sailed as crew in three events and as helm in the other, proving himself a versatile sailor at both ends of the Merlin Rocket that he competed in.
Turner, crewing for Richard Whitworth at the Hoo Freezer in Kent this past weekend, finished 9th in Saturday's practice race, which was won by the International Canoe sailed by Simon Allen. At the time Turner can't have realised the significance of completing the practice race, but with winds gusting up to Force 7 across the Medway estuary on Sunday morning, Saturday's warm-up took on a new level of importance.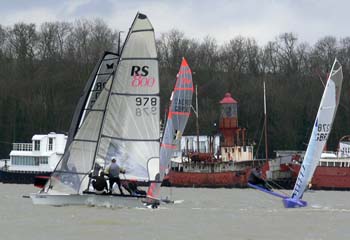 © Roy Winnett: Hoo Freezer 2010
With organisers at Hoo Ness Yacht Club strongly advised by the Coast Guard not to hold the race on Sunday, the race was cancelled and the event Notice of Race determined that the results of the practice race would now stand as the overall result for the 39th edition of the Hoo Freezer.
And so Simon Allen won the Hoo Freezer, an event he first competed in back in 1973, while Turner/Whitworth's 9th moved them to the top of the rankings for the SailJuice Global Warm-Up 2010. Pete Barton had led the Series going into the final event, and he was there on Sunday at Hoo Ness Yacht Club with crew Dave Ellis ready to race his Cherub to overall victory. However, not having competed in the previous day's practice race allowed Turner, the reigning Merlin National Champion, to slip in ahead and win the Series ahead of Barton. If there was a silver lining for Barton, it was that he managed to sell his National Championship winning Cherub at Hoo and free up some cash to purchase his new boat for the coming season, an International Moth.
Both the top two sailors in the overall series competed with more than one sailing partner, which was permitted under the rules of the series. Olly Turner crewed for Richard Whitworth in three events and steered the Steve Nicholson Trophy with Carly Turner crewing. Pete Barton sailed with Ben Paton, Bonnie Moody and twice with Dave Ellis. "Congratulations to Olly for winning the SailJuice Global Warm-Up," said Series organiser Andy Rice, editor of SailJuice.com. "It's hard to get the same two people to commit to sailing together across such a demanding series of events as the ones we've had this year, so it was important to offer helms - and crews - the flexibility of sailing with different people. Also, I wanted crews to get equal recognition to helms in this series, although I hadn't foreseen one person fulfilling both roles to such a high level. Olly has proven he can make a Merlin go fast from both ends of the boat."
The first consistent partnership in the overall series were Neil Ashby and Sam Proctor who raced their RS800 together at all four events and finished third overall, after coming 2nd at the Hoo Freezer. In total, only four boats braved the weather for all four events of this no-discard series, with Chris Bilton sailing his Laser into fifth place overall. Andy Smith and Tim Needham were 4th overall, despite this 505 team not attending the final event. However some good scores at other events including victory at the Bloody Mary kept them in the frame. "It was a big ask to expect people to battle their way through the kind of weather that we've had in the UK this winter," said Rice. "The ice and snow made it impossible for many sailors to make it to the Bloody Mary. Maybe calling this series the Global Warm-Up put a jinx on the weather, so you can blame this winter on me. But it says a lot for the tenacity of the sailors who did go to a huge effort to attend all four events, and they deserve great credit for completing the series."
Olly Turner and the other prize winners will receive their prizes this Saturday at the RYA Volvo Dinghy Show at London's Alexandra Palace. The prizegiving will take place at 1pm on the Volvo Main Stage. Details of next year's Series will also be announced.

The four events of the 2010 Series were:

Bloody Mary, Queen Mary Sailing Club
9th January 2010

Steve Nicholson Memorial Trophy, Northampton Sailing Club
30th January 2010

John Merricks Tiger Trophy, Rutland Sailing Club
6th/7th February 2010

Hoo Freezer, Hoo Ness Yacht Club
28th February 2010
Prizes include a two-day 'Learn to Fly' sailing course in Spain. This is not just any sailing lesson, but an opportunity to learn how to sail a foiling Bladerider Moth at Pro-Vela's spectacular Performance Sailing Tuition centre in Mar Menor, Spain. Rooster Sailing is supplying £300 from its technical sailing clothing range, and Holt is offering £300 of gear from its High Performance Hardware range. Hyde Sails is offering a voucher for £200 worth of sails or accessories. Yachts & Yachting is providing annual digital subscriptions to the UK's leading performance sailing magazine, and SailJuice.com is giving annual subscriptions to its 'How to Sail Faster' website.
To find out more about the SailJuice Global Warm-Up, go here: www.sailjuice.com/categories/global-warm-up-2010
For a race report and results from last weekend's Hoo Freezer, go to: www.hooness.org.uk
For full overall results of the Series, go here: www.sailracer.co.uk/sailjuice.asp
Sponsors of the SailJuice Global Warm-Up
Pro Vela: www.pro-vela.com
Rooster Sailing: www.roostersailing.com
Holt: www.holt.eu
Hyde Sails: www.hydesails.com
Yachts & Yachting: www.yachtsandyachting.com
SailJuice: www.SailJuice.com