With the Steve Nicholson Memorial Trophy just completed, the SailJuice Global Warm-Up 2012 has passed the half-way stage, with a Fireball still sitting in pole position. It was a light wind regatta at Northampton last Saturday, which was booked to maximum capacity of 150 entries. A good opportunity for some of the hiking classes like the Merlin Rocket and RS400 to come to the fore after the windier outings at the Grafham Grand Prix and Bloody Mary earlier in January.
Dave Winder and Pippa Tayler held together a consistent day to win the doublehanded division, but Sam Mettam and Richard Anderton hung in with a 6th place in their Fireball to maintain the lead in the SailJuice series. Meanwhile Peter Gray and Alex in their Scorpion scored 3rd in the division and also sit in 3rd overall in the Series.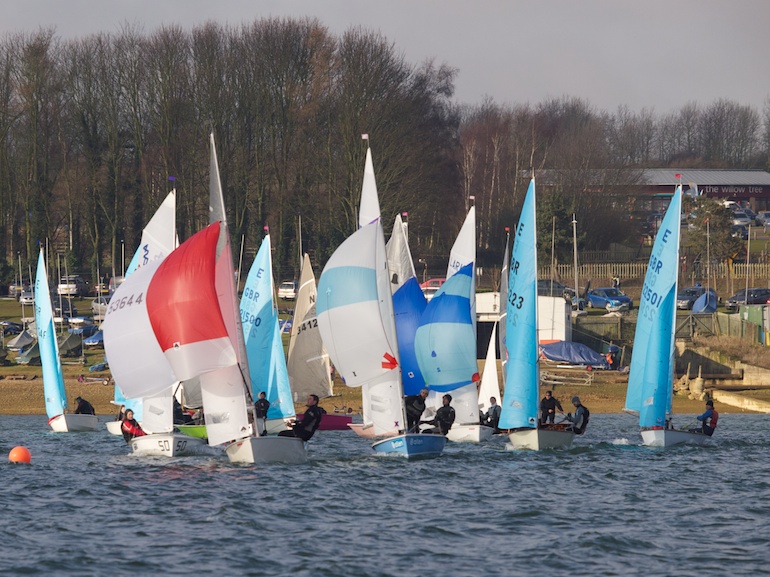 © ChunkyPics.co.uk

In the singlehanders, while two Phantoms led home the division on the day, Ian Morgan's 7th place in the Laser gives him 2nd overall in the SailJuice Series as the focus now turns to this weekend's John Merricks Tiger Trophy at Rutland Water.

Last year Andy Smith and Tim Needham dominated a windy Tiger Trophy, winning all three races on the Saturday and becoming the first team ever to win the £1000 prize that has been on offer for many years to any boat that could win every race at the Tiger. This weekend the forecast is unpredictable, with the prognosis changing by the day. It could be a drifter, it could blow a gale, but past competitors will know that it has to be extreme before the Tiger Trophy is cancelled.

Three races will be sailed back to back on Saturday with the fleet divided into fast and slow handicap but all sailing the same course. This enables average lap times to be established over the whole fleet and an overall winner decided. The annual Tiger Trophy Pursuit race on Sunday is non-discardable and has for many years been the downfall of some exceptional sailors.
N.B. to qualify for the prizes in the Series, you need to have entered at least one of the events via the SailRacer entry system. Make sure you enter online to either of both of the two remaining events in this year's series, the John Merricks Tiger Trophy at Rutland, and the Draycote Dash at Draycote Water Sailing Club. Enter the events via the Series website here:
www.sailracer.org/globalwarmup