Tom Jeffcoate and Tom Pygall won the John Merricks Tiger Trophy 2012 by the skin of their teeth. Competing in sub-zero conditions, the Scorpion National Champion equalled Merlin Rocket racers Matt Biggs and Ben Hollis from Blithfield with 20 points apiece from the four races. But on the tie-break the trophy went to the Scorpion sailors.
Nine different classes filled the top 10 places, with 139 boats coming to Rutland to compete at the two-day regatta despite a heinous weather forecast. With ropes and boats icing up even as the fleet set out for three back-to-back races on Saturday, the challenge was to stay warm enough to be able to race effectively. International Moth sailor Ricky Tagg was concerned about his foiling mechanism icing up, but in the moderate breezes he hammered out of the congested start line at full pace and made mincemeat of the trapezoid course, winning two of the three races on handicap. Former Musto Skiff World Champion Richard Stenhouse professed to 'feeling rusty' but still did enough to hold a top-three position after the Saturday, and there was a good variety of classes well in the hunt.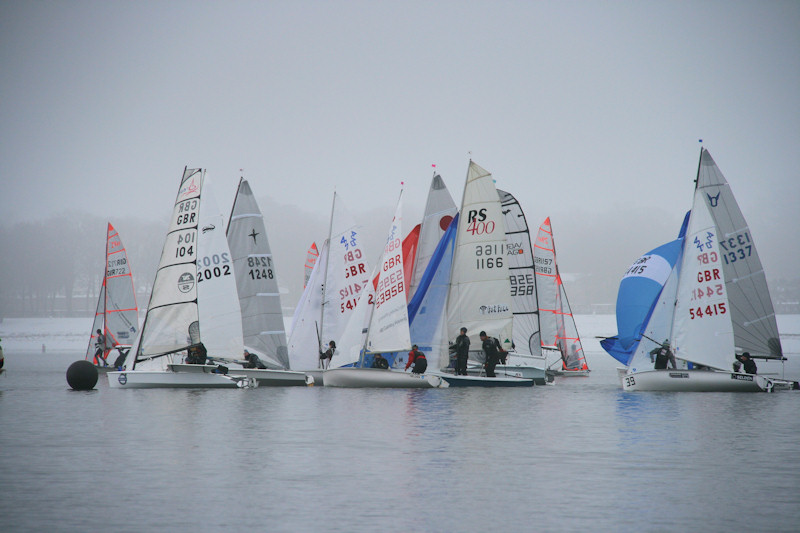 © Martin Hollingshead: Tiger Trophy Pursuit Race
That evening the snow started to fall, but sailors still enjoyed a two-course dinner at the club before heading off into the freezing night. Two sailors left it a bit late leaving a pub, however, and had to stay put for the night, only being delivered back to the hotel they had paid for in Oakham the following morning when a farmer drove them back into town on his tractor. With the prospect of a two-hour pursuit race in fog, melting snow and next to no wind, some competitors called it a day. But more than 80 boats braved the final, no-discard race to see how they would fare.
Stuart Bithell, recently selected in the 470 for the British Olympic Sailing Team, steered a Merlin to victory with crew Ed Clayson, ghosting across the line ahead of fellow Merlin sailors Biggs and Hollis in second. Peter Gray and Rachael Rhodes in a Scorpion were third across the line, but title contenders Jeffcoate and Pygall were further back in 15th place. A close finish, but in the end that proved just enough for the Scorpion to hold off the challenge of the Merlins. Thanks to Rule 26 for event logistics and site branding, and Everards Brewery for all the umbrella prizes and Tiger beer for every entrant.
John Merricks Tiger Trophy 2012 winners:
John Merricks Tiger Trophy Tom Jeffcoate & Tom Pygall - (Overall Winner) Scorpion - Notts County SC
John Merricks Lady Tiger Trophy Vicki Payne & Stephanie Orton (First all girl crew) 29er - Emsworth SC - 23
rd
Shere Khan Trophy Richard Stenhouse (Combined crew of 75+ or helm aged over 45) Musto Skiff - Rutland SC - 6th
Youth Trophy Toby Morsley & Matt Wallis 420 - Port Dinorwic SC - 4th
For full overall results of the Tiger Trophy, go here:
http://www.sailracer.org/results_report.asp?status=0&usr=sr&event=24695
The Tiger Trophy was the fourth event in the SailJuice Global Warm-Up 2012 series. The last event is the Draycote Dash on 25/26 February.
www.sailracer.org/globalwarmup