10 February 2011
The SailJuice Global Warm-Up 2011 concluded in dramatic fashion at a very windy John Merricks Tiger Trophy last weekend. While the 505 of Andy Smith and Tim Needham swept all before them to win all three races on Saturday and a £1,000 cheque for their hat trick, the Merlin Rocket of Matt Biggs and Ben Hollis quietly went about its business to finish 3rd overall at Rutland Water.
That solid result was sufficient for the Blithfield duo to secure victory in the SailJuice Global Warm-Up 2011, a series based on four of the winter's most popular dinghy handicap racing events. Rutland looked set to provide a tense showdown between the leading Merlin and Whitstable's Andrew Peake sailing a Musto Skiff. However the big breeze at Rutland proved too much even for Peake and the Musto Skiff fleet. He was the only Musto Skiff to complete more than one race, and even when his trapeze ring broke in the third heat Peake still battled on to score three finishes.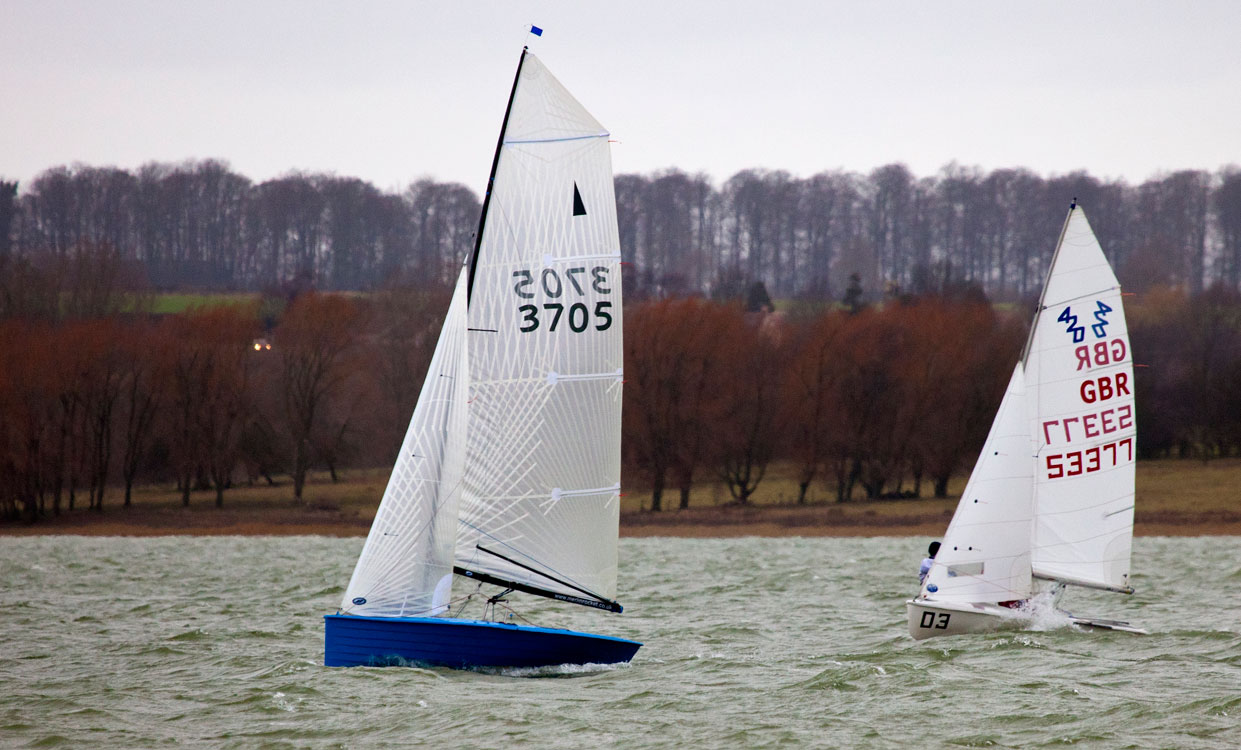 © Tim Chapman
But the big breeze and short trapezoid course did not lend itself to singlehanded, trapeze and asymmetric sailing, with Peake finishing 28th overall. So Peake stays in 2nd overall, while a 13th place finish at Rutland lifted the Shustoke pair of Stuart and Nick Hydon into 3rd overall sailing their Lark.
Biggs was pleased to have sailed such a strong series, which started with victory in the doublehanded division at the Grafham Grand Prix at the beginning of January. "It was good to start the series with a win," said Biggs, "and then we just sailed consistently at all of the events. We played it safe at Rutland, only got our kite out a couple of times. We saw the other Merlins stacking it - which was nice - so we stayed behind them and followed them round, trying to make as few mistakes as possible."
For winning the 2011 Series, Biggs and Hollis win £300 of Rooster Sailing gear, which they will receive at the official prizegiving, set to take place at the RYA Volvo Dinghy Show at Alexandra Palace at 1245pm on Saturday, 5 March 2011.
Peake wins a £200 voucher to spend with Hyde Sails, and the Hydons win a £100 voucher to spend on equipment from Holt. There are many other prize winners, thanks to the other sponsors of the Series: Laser Performance, RS Sailing, the Musto Skiff class, YachtsandYachting.com and SailJuice.com. A full list of prizewinners will be published next week.
Thanks to Queen Mary Sailing Club in their role as the Organising Authority for the Series, and also to SailRacer for their support, through provision of series website, scoring and online entry for individual events.
Final Top 10 Standings after four events

Pos Class HELM POINTS
1 Merlin Rocket Matt Biggs 21.46
2 Musto Skiff Andrew Peake 32.29
3 Lark Stuart Hydon 61.64
4 Phantom Andrew Wilde 72.86
5 Phantom Simon Hawkes 89.95
6 29er Callum Ellis 93.09
7 Scorpion Peter Gray 95.01
8 Merlin Rocket Paul Hollis 115.11
9 Musto Skiff Ian Martin 124.16
10 RS200 James Stewart 125.50
For full results:
www.sailracer.org/globalwarmup