After such a spectacular opening ceremony in London, I wonder if Iker Martinez and Xabi Fernandez have any regrets about turning down the offer to carry the flag in front of the Spanish Olympic team.
Their singleminded focus is admirable. "To attend the Opening Ceremony would have meant losing a whole day of training and we are already short of time," said Martinez, little more than three weeks after completing the Volvo Ocean Race. "It is difficult to know how it would have hurt us, maybe nothing, but the Games are the Games and it would be wrong to accept that responsibility if it would harm our chances."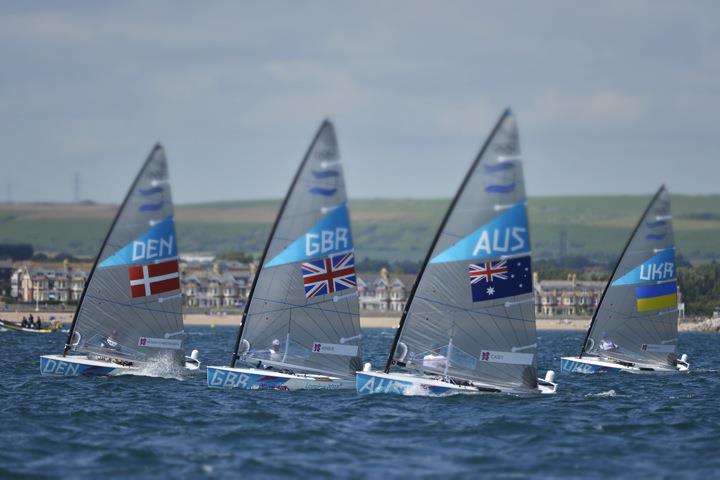 © Jurg Kaufmann: Finns get racing at Olympics
Actually a lot of sailors stayed away, as I'm sure they did in other events. Only four Brits, the Mens and Womens 470 reps, were there from the home contingent, Ben Ainslie et al staying tucked up in bed and resting up for the first Finn, Star and Match Racing heats on Sunday.
Zach Railey, on the other hand, decided to go. And he loved it. Zach told me that going to the opening ceremony with his little sister Paige, the USA Radial representative, was a really special moment. Zach, who won silver behind Ainslie in the Finn in Qingdao four years ago, was sounding relaxed and happy with preparations. He selected his equipment weeks, even months ago, while he reckoned Jonas Hoegh Christensen, the Danish Finn sailor, was still testing different sail options just two days ago.
In fact that ties up with what Jonas told me when I saw him a month ago in Weymouth. He said he was going to look at the long range weather forecast and select his gear based on what the likely scenario was for the coming week.
Well, based on what Windguru tells us, it looks like Jonas will have chosen his flatter sail in anticipation of a bit of breeze. A bit more than a bit of breeze for mid-week, in fact. Could be barnstorming.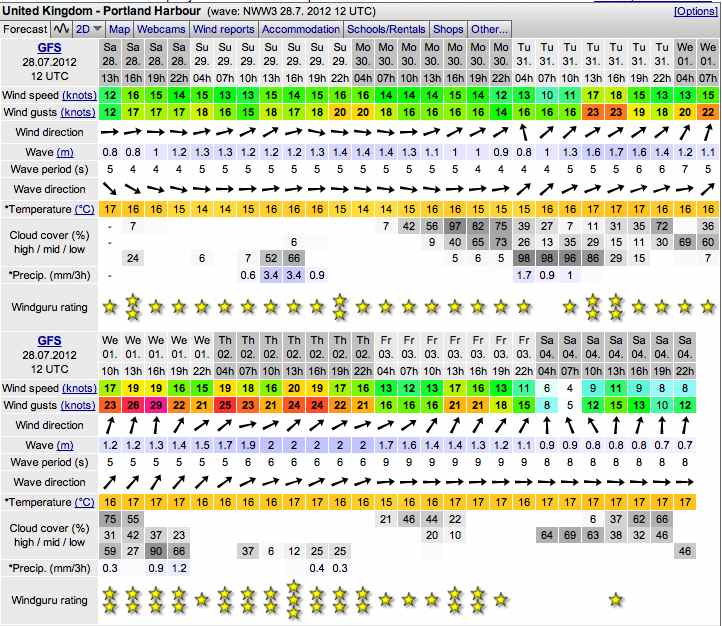 © Windguru.com: Weymouth wind over the next week
Today the Finns and Stars got some practice racing in, and some useful lessons for the marshall boats too, who got far too close to the boats at times. As Ben Ainslie well knows, it's usually the media boats that get into trouble for this, and it would be ironic if it was the on-the-water police that ended up causing the most mess. Hopefully all useful lessons that will be ironed out for tomorrow.
Meanwhile, one of the Korean coaches has learned a hard lesson that can't be resolved. He got busted for drink driving by the local police, and the Korean team managers were so mortified and embarrassed that they put the coach on a plane back home.