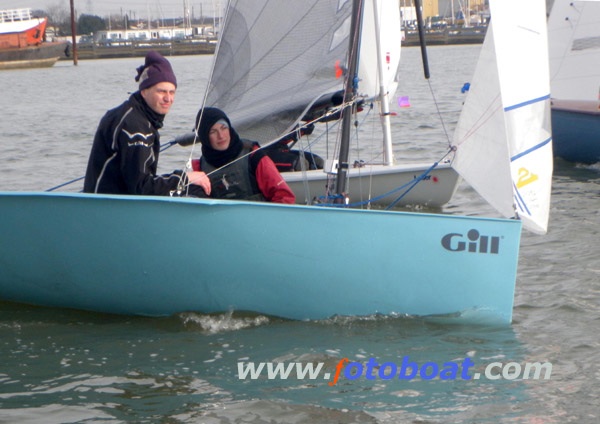 26 February 2010
Some of the UK's top dinghy sailors are steeling themselves for a windy conclusion to the SailJuice Global Warm-Up Series at this weekend's Hoo Freezer in Kent. Hosted by the Hoo Ness Yacht Club with the assistance of nearby Wilsonian Sailing Club, this will be the 39th edition of this historic event. Competitors can compete in a practice race on Saturday, in readiness for the main event on Sunday 28 February.
There will be two starts, the Fast Handicap fleet for boats with a PY of less than 1000, and a Medium Handicap for boats with PYs from 1001-1160. With tide and current to contend with, this event is a challenging conclusion to the four-event SailJuice Series which began with the Bloody Mary at the start of the year.
Last year's winners of the Hoo Freezer were Graham Camm and Zoe Ballantyne in their National 12, but with a windy forecast this year's contest may play into the hands of the trapeze boats.
Current leader in the SailJuice Global Warm-Up Series is Lymington's Peter Barton, who has put together a good series of results in his Cherub, sailing with three different crews in three different events. Hot on his heels is the 505 of Andy Smith and Tim Needham from Staunton Harold who won the Bloody Mary despite having only sailed the boat for a few weeks. The Merlin Rockets and Phantoms have also been featuring strongly in the events so far, and it will be interesting to see who prevails at the Hoo Freezer.
The four events of the 2010 Series are:

Bloody Mary, Queen Mary Sailing Club
9th January 2010

Steve Nicholson Memorial Trophy, Northampton Sailing Club
30th January 2010

John Merricks Tiger Trophy, Rutland Sailing Club
6th/7th February 2010

Hoo Freezer, Hoo Ness Yacht Club
28th February 2010

Prizes include a two-day 'Learn to Fly' sailing course in Spain. This is not just any sailing lesson, but an opportunity to learn how to sail a foiling Bladerider Moth at Pro-Vela's spectacular Performance Sailing Tuition centre in Mar Menor, Spain. Rooster Sailing is supplying £300 from its technical sailing clothing range, and Holt is offering £300 of gear from its High Performance Hardware range. Hyde Sails is offering a voucher for £200 worth of sails or accessories. Yachts & Yachting is providing annual digital subscriptions to the UK's leading performance sailing magazine, and SailJuice.com is giving annual subscriptions to its 'How to Sail Faster' website.
To find out more about the SailJuice Global Warm-Up, including the Notice of Series, How to Enter, etc, click here:
www.sailjuice.com/categories/global-warm-up-2010
To find out more about this weekend's Hoo Freezer, go to:
www.hooness.org.uk
For full results after the first three events of the Series, go here:
www.sailracer.co.uk/sailjuice.asp

Sponsors of the SailJuice Global Warm-Up

Pro Vela: www.pro-vela.com
Rooster Sailing: www.roostersailing.com
Holt: www.holt.eu
Hyde Sails: www.hydesails.com
Yachts & Yachting: www.yachtsandyachting.com
SailJuice: www.SailJuice.com