4 January 2010
Nick Craig is the early leader of the SailJuice Global Warm-up 2011 after winning the single-handed division of the Grafham Grand Prix on Sunday. Craig, from Frensham Pond Sailing Club, scored equal points with fellow Phantom sailor Simon Childs from Hayling Island. Childs won the first race, and was second in the next, while Craig scored his second and first the other way round, and won the singlehander division by virtue of winning the final race. The Phantom fleet dominated the division, taking the first five places overall.
The 46-boat single-handed division was the largest fleet racing at Grafham which, despite the Arctic conditions of recent times, still attracted a total of 135 boats competing in four separate fleets. With the formula that governs the scoring for the SailJuice Global Warm-up attributing a higher value to racing in a larger fleet, Craig's victory puts him at the top of the standings at this early stage of the series.
Lying in second overall is the Flying Fifteen keelboat raced by local Grafham sailors, Dave Lucas and Mark Longstaff. It was a controversial event for the Fifteen fleet, with visiting sailors from Hayling, Charles Apthorpe and David Rickards, suffering a disqualification after attempting to cross the fleet on port tack. Lucas and Longstaff stayed clear of the melée to win their fleet, which made it the third year in a row that Lucas has won at the Grand Prix. "I forgot to collect the trophy from the engravers," admitted Lucas to fellow competitors at the prizegiving. The way he has sailed the past three years, perhaps it could become the Lucas perpetual trophy.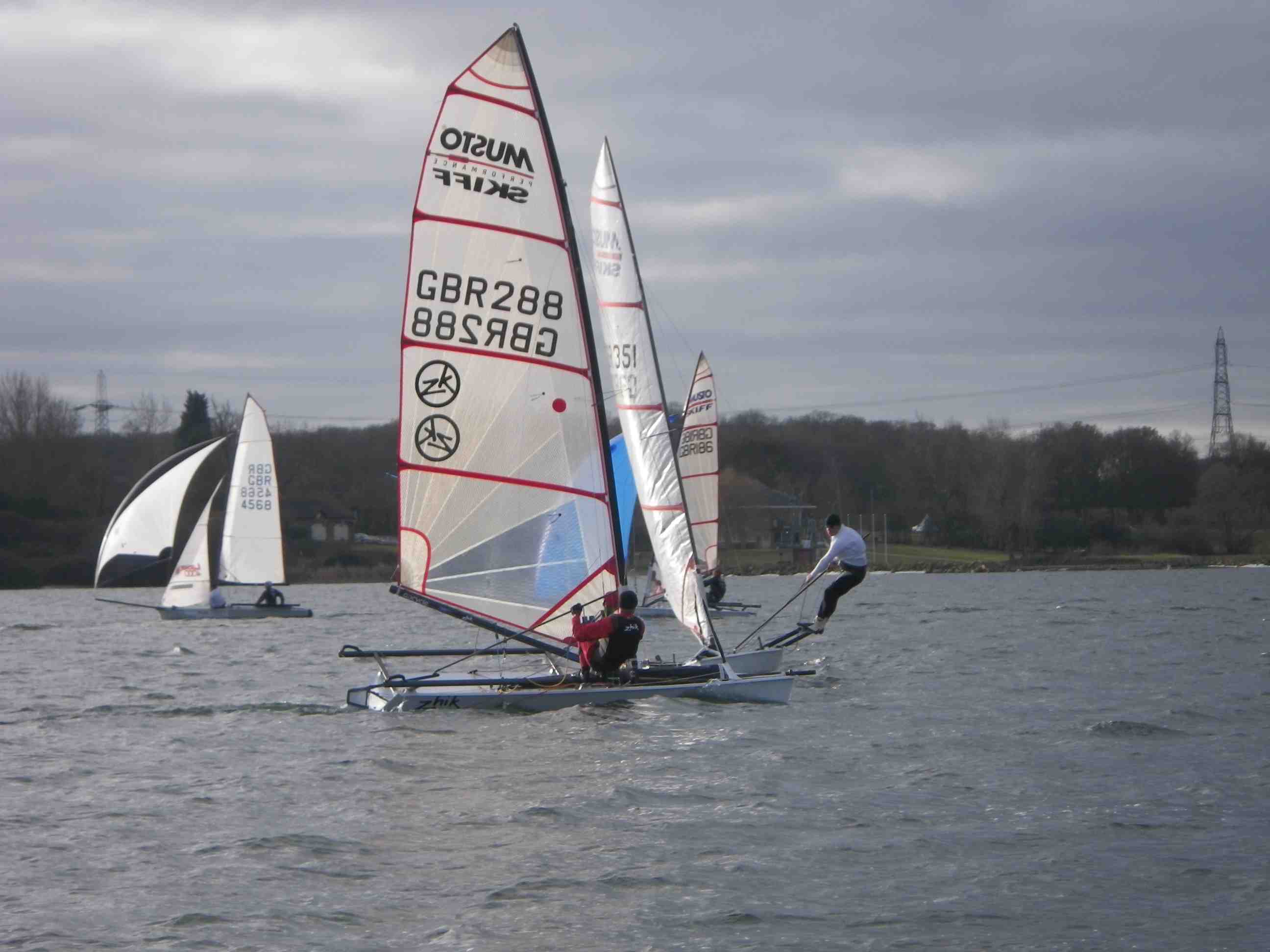 © Ian Fairclough
Andrew Peake lies third overall in the series after winning the Fast Asymmetric fleet, while Merlin sailors Matt Biggs and Ben Hollis are in fourth having won the Medium fleet.
There are some races within races in the SailJuice Global Warm-up 2011, with some class-specific prizes up for grabs. Leading the race for a £100 voucher from RS Sailing are RS 200 duo, James and Eluned Stewart from Weston Sailing Club, while another Weston club member, Ian Morgan is top-placed Laser in the race for one of two brand new sails being donated by Laser Performance.
This coming Saturday is the second event of the Series, the Bloody Mary at Queen Mary Sailing Club. A National and World Champion in multiple classes, Nick Craig was undecided as to whether he will be showing up again in the Phantom or whether to pull out another vessel from his quiver of dinghies. However, to be eligible for the overall prize in the SailJuice Global Warm-Up he's going to have to stick to one boat, and judging by the runaway performance by the Phantom fleet at Grafham, the Phantom would be a strong bet for Craig.
Link to overall standings in the SailJuice Global Warm-up 2011:

http://www.sailracer.us/eventsites/content.asp?id=1655&eventid=51516

Link to overall results from the Grafham Grand Prix...

http://www.sailracer.org/events/v2-results.asp?eventid=68684
The Grafham Grand Prix was the first of four events in this year's SailJuice Global Warm-up, with competitors counting their best three results from the following events:

Grafham Grand Prix, Grafham Water Sailing Club
Sunday 2nd January 2011

Bloody Mary, Queen Mary Sailing Club
Saturday 8th January 2011

Steve Nicholson Trophy, Northampton Sailing Club
Saturday 29 January 2011

John Merricks Tiger Trophy, Rutland Sailing Club
Saturday 5th & Sunday 6th February 2011
With an entry deadline of 5 January, you have to be quick, but you can still enter the Series here:
www.sailracer.org/globalwarmup
With the final prize-giving for the series set to take place at the RYA Volvo Dinghy Show at Alexandra Palace on the weekend of 5/6 March 2011, there some great prizes being provided by: Rooster Sailing, Hyde Sails, Holt, RS Sailing, Laser Performance, YachtsandYachting.com and SailJuice.com
Enter the Series here: www.sailracer.org/globalwarmup