31 January 2011
Andrew Peake has closed the gap on series leaders in the SailJuice Global Warm-Up 2011, the Merlin Rocket of Matt Biggs and Ben Hollis. Peake scored two bullets in the asymmetric division at the Steve Nicholson Memorial Trophy at Northampton Sailing Club last Saturday. Two 3rd places gave Biggs and Hollis 4th overall in the doublehanders fleet, to add to their other consistent scores from the Grafham Grand Prix and Bloody Mary.
With all three events counting towards the series leaderboard at this stage, Biggs and Hollis lead with 29.08 points to Peake's 32.29. However when these two competitors discard the worst of their scores thus far, the Musto Skiff leads the Merlin by just over 4 points. In other words, there's nothing in it, and all to play for at the final of the four events this weekend, the John Merricks Tiger Trophy at Rutland Water.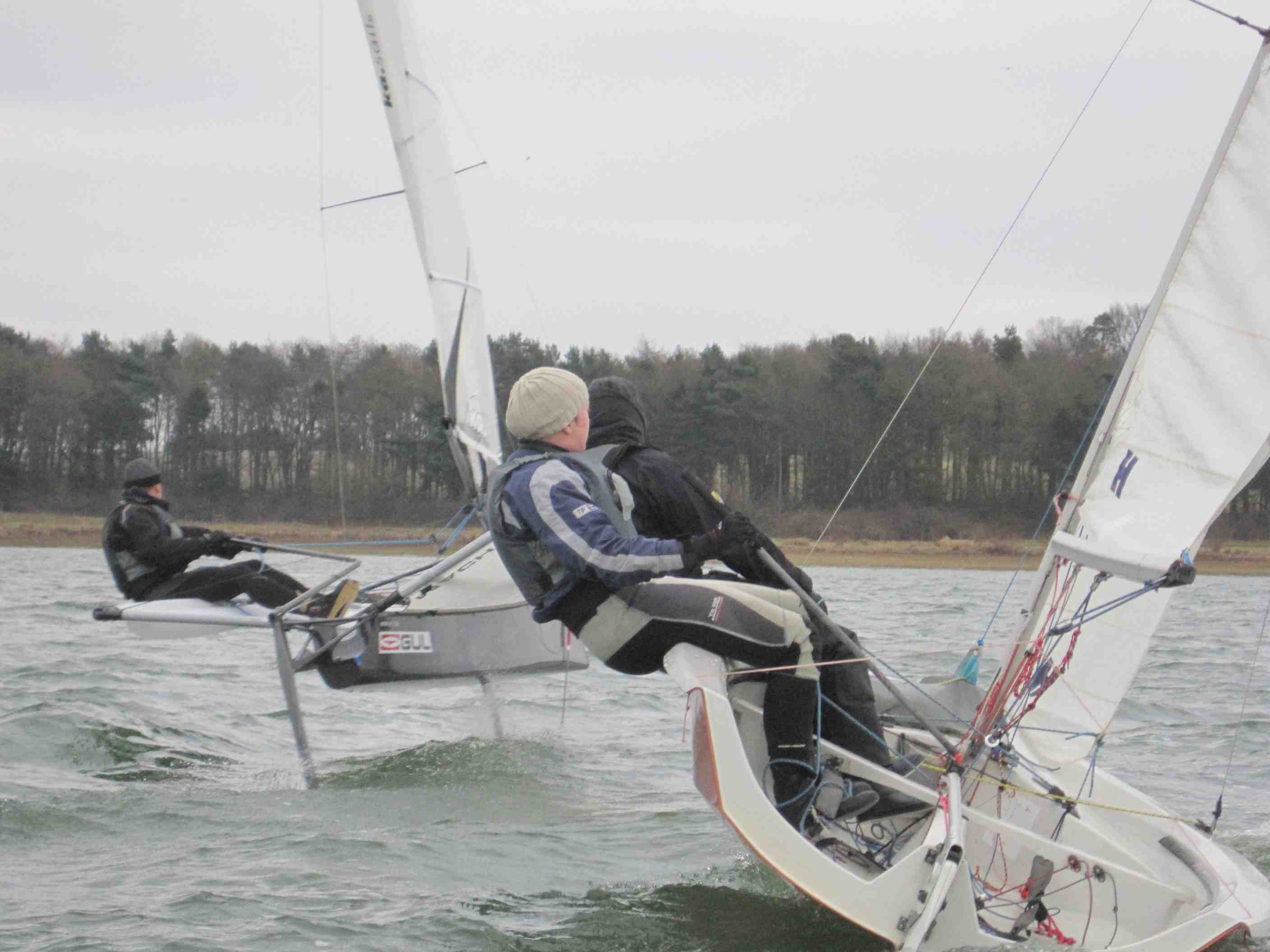 © Chris Weston / SailJuice.com
Biggs and Hollis won last year's Tiger Trophy, so they know their way around Rutland Water, and Peake will have to be on top form to topple the Merlin. Then again, there are others are waiting in the wings when the discard kicks in, notably Simon Childs's Phantom and Tom Stewart/ Rachel Williamson's National 12, both of whom have the ability to displace the Merlin and the Musto from the top of the tree if they finish high up the Rutland rankings.
With a record 172 boats competing at last weekend's Steve Nicholson Trophy, the asymmetric and non-asymmetric divisions took it in turns to race on the confined waters of Pitsford Reservoir. It's for weekends like this and the Grafham Grand Prix that the scoring formula devised by
SailRacer.co.uk
comes into play, as SailRacer's Simon Lovesey explained: "Scores for each fleet are referenced and adjusted to the fleet that has the most number of entries across the whole Series, which up to this point was the Bloody Mary with 194 boats."
On the other hand, the Tiger Trophy pits all competitors against each other on the same leaderboard, with the whole fleet racing on Rutland Water at the same time. Looking at the long-range weather forecast, with big south-westerlies expected, the outcome of the SailJuice Global Warm-Up could yet be determined by who capsizes the least.
With the final prize-giving for the series set to take place at the RYA Volvo Dinghy Show at Alexandra Palace on the weekend of 5/6 March 2011, there are some great prizes being provided by: Rooster Sailing, Hyde Sails, Holt, RS Sailing, Laser Performance, YachtsandYachting.com and SailJuice.com
Provisional Top 10 Standings after three events
Pos Class HELM POINTS
1 Merlin Rocket Matt Biggs 29.08
2 Musto Skiff Andrew Peake 32.29
3 Phantom Andrew Wilde 103.46
4 Musto Skiff Ian Martin 124.16
5 Merlin Rocket Paul Hollis 135.45
6 Phantom Andrew Gregory 213.28
7 Phantom Simon Childs 213.61
8 National 12 Tom Stewart 217
9 Fireball Chips Howarth 236.02
10 Lark Stuart Hydon 236.15
For full results: www.sailracer.org/globalwarmup