10 January 2011
At the halfway stage of the SailJuice Global Warm-Up 2011, Matt Biggs and Ben Hollis have sailed their Merlin Rocket to the top of the leaderboard after notching up a useful 9th place from 238 entries in this weekend's
Sailboats.co.uk
Bloody Mary pursuit race.
Biggs and Hollis had won their handicap division at the previous weekend's Grafham Grand Prix and they have been the most consistent across the two events by some way. Under the series scoring system devised by
SailRacer.co.uk
, all results are referenced against the largest single fleet of all four events in the SailJuice series. Thus far it is the Bloody Mary fleet which becomes the benchmark score, meaning that those who performed well in the variable conditions at Queen Mary Sailing Club on Saturday have put some useful points in the bank.
Winners of the Bloody Mary were Roger Gilbert and Ben McGrane, the national champions who sailed their International 14 into the lead with 20 minutes of the race still to run. It was a dominant performance which puts them in 17th overall after two events, even though they didn't show up at Grafham. With one discard in the Series, there will be a good deal more reshuffling of the pack once the Steve Nicholson Trophy and John Merricks Tiger Trophy have taken place just under a month from now.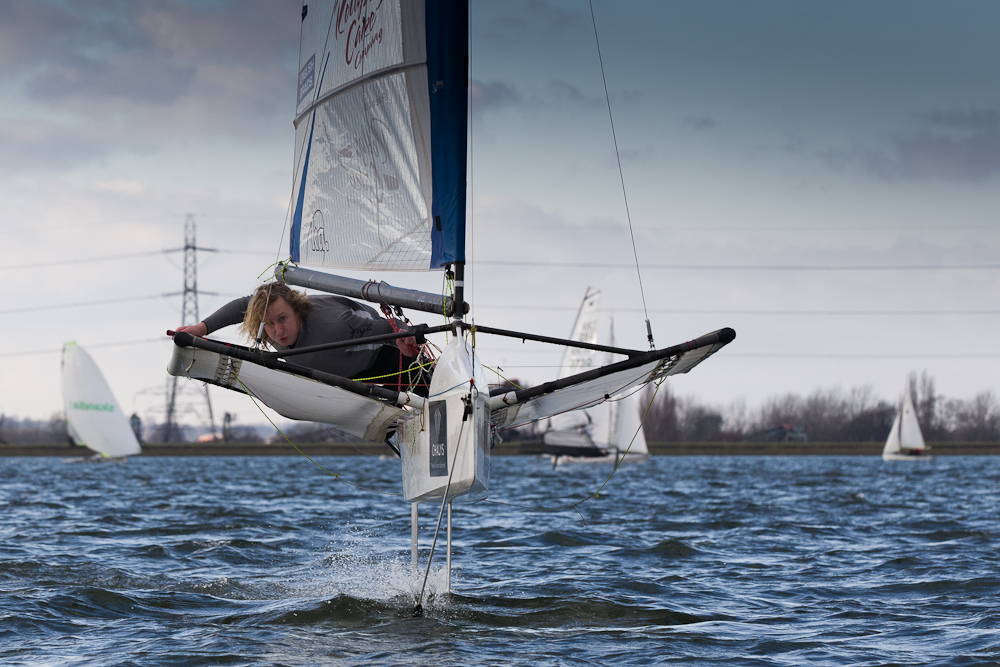 © www.ianroman.com
A second place at the Bloody Mary puts Fireball World Champions Chips Howarth and Vyv Townend in 3rd overall, behind the Musto Skiff of Andrew Peake who is now 2nd in the SailJuice series after finishing 20th at Queen Mary.
Eight different classes feature in the current top 10 standings, with only the Merlin Rocket and Musto Skiff appearing twice. It was notable how mixed the top finishers were at the Bloody Mary, with Queen Mary Sailing Club's careful reappraisal of the standard RYA PY numbers paying dividends. With a Graduate and an International Moth both finishing in the top 10, along with a variety of other hiking and trapeze boats, Queen Mary's analysis of past finish data from previous Bloody Marys appears to be opening up the field to more and more contenders.
Online entry to the Series has been extended up to 28 January, the eve of the third event, the Steve Nicholson Trophy. So if you have competed in the Grafham Grand Prix and/or the Bloody Mary, then make sure you've signed to the SailJuice Global Warm-Up too. Online entry on
SailRacer.co.uk
costs nothing, and there are hundreds of pounds of prizes to be won from the Series sponsors.
With the final prize-giving for the series set to take place at the RYA Volvo Dinghy Show at Alexandra Palace on the weekend of 5/6 March 2011, there are some great prizes being provided by: Rooster Sailing, Hyde Sails, Holt, RS Sailing, Laser Performance, YachtsandYachting.com and SailJuice.com
Enter the Series here: www.sailracer.org/globalwarmup
Provisional Top 10 Standings after two events
Pos Class HELM POINTS
1 Merlin Rocket Matt Biggs 16.5
2 Musto Skiff Andrew Peake 26.72
3 Fireball Chips Howarth 39.5
4 Solo Michael Sims 74.67
5 Scorpion Peter Gray 80.14
6 29er Callum Ellis 81.52
7 Phantom Andrew Wilde 83.2
8 RS 200 Steve Restall 100
9 Merlin Rocket Paul Hollis 104
10 Musto Skiff Ian Martin 107.45
For full results: www.sailracer.org/globalwarmup